June 30, 2009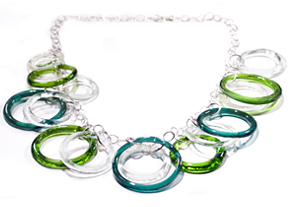 I've always been drawn to glass. From my ridiculous collection of wine goblets and barware to blown glass home accessories and sculptures bursting with vivid pops of color. So what better way to nourish my glass obsession than wearing it?
Kathleen Plate may not be a household name, but her work, Smart Glass, is. This remarkable jewelry line was way ahead of its eco time. She's cutting edge, creative, and yes, very, very smart.
June 26, 2009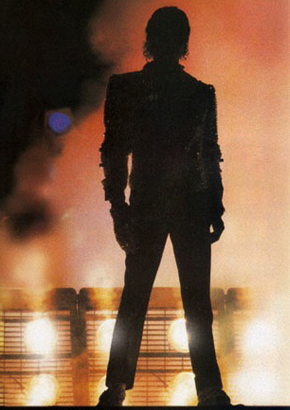 This was a piece originally posted in April, but I find it only fitting to repost. Rest in peace, MJ. And thank you, for one of the greatest nights of my life. xoox, from danapop to the King of Pop.
Growing up, music was always a pretty big deal in our house (um hello Bruce Springsteen garage door). I remember slumber parties my twin and I hosted where we were embarrassed by my father's wake up call – usually Stevie Wonder or Rod Stewart blaring through the Bose speakers in the living room at 7 am. Not fun after a night spent gossiping about boys and stuffing ourselves with soda and Pizza Hut and definitely not cool either.
Since music was such an enormous part of our life, it's no surprise that my first concert would have an amazing back-story. The biggest concert of the year, hands down in 1984 was when Michael Jackson toured with his brothers in what was called The Victory Tour. The first stop of the tour was – you guessed it – Kansas City, Missouri and us folks in the Heartland were such big fans that they had to schedule three performances. You must remember this was at the absolute height of Michael's career; back when MTV actually aired videos and would show Thriller in its half-hour entirety. All us kids were cuckoo for cocoa puffs over Michael Jackson.
Read More
June 23, 2009
I wonder what William Randolph Hearst would think about the notion of blogging. Would Ernest Hemingway have traded his typewriter for a laptop with a super fast wireless connection to update his loyal readers with his latest musings…
Went to the cellar. Drank three liters of wine. I lost all track of time. Stopped by Sloppy Joe's. Had a conversation with some guy, called himself Danny. He showed me the contents of his knapsack. They included an elephant tusk, British pounds, swatches of fabric woven from the Incas and a withered photograph of him as a young boy, sitting in the front seat of his father's Hudson Hornet. After that, I headed home to pet the cats.
I've been thinking about journalism a lot lately. I guess you could say that I've been a part of the industry since birth – my father was a print journalist – a reporter in the Army and later a public affairs officer. I loved hearing him talk about covering 1967's Six- Day War or transporting high-profile prisoners to Ft. Leavenworth. I just knew that I would eventually follow suit. And I did. I graduated in 2000 with my B.S. in Broadcast from the William Allen White School of Journalism at the University of Kansas (on the six-year plan).
I remember my father saying how broadcast was the next step in the industry (it sounds archaic to even say less than a decade later). So, in theory, print bred broadcast (TV and radio), which bred online, which bred blogs. And so it goes.
June 19, 2009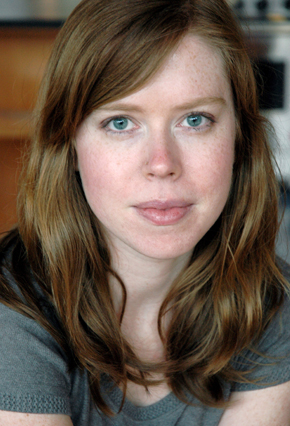 Just before I started danapop, I was working as a publicist, mostly doing press surrounding restaurant openings. In the course of that work, I discovered a fantastic food blog called Orangette – written by Molly Wizenberg – and it got me…the way she writes about food is extraordinary.
And then, I read Ms. Wizenberg's (a.k.a. Orangette) book A Homemade Life and found out there were quite a few eerie parallels in our lives. We both lost our fathers suddenly while in our early twenties, both got engaged to the loves of our lives after about a year of dating, twins run in her family as they do in mine (her mother is a twin, I'm a twin), she was raised in Oklahoma City – my parents grew up there and met during high school, married and settled there before my dad joined the Army. It's sort of uncanny.
So I look at the arrival of Orangette in my life as a turning point; the point where I took the jump. And for that I'll always be grateful to her – for showing me that it could be as simple as just writing what you want and being true to who you are. I got a chance to interview Molly in between her book tour stops. The Q&A follows…
June 16, 2009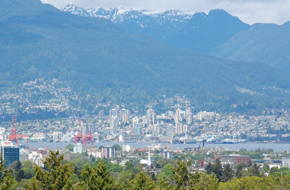 In less than eight months, the world will know what I know – Vancouver is simply, spectacular. After visiting, I'm not all that surprised that it won the bid to host the 2010 winter Olympics. But, I am however, happy that I discovered it before the rest of the world is introduced, courtesy of NBC.
There's a lot to adore about VC, BC. First off, it's clean. Like tap water pouring straight in the glass clean and recycling bins sitting next to almost every trash can in the city clean. And just overall clean living – people running, hiking, kayaking, biking all around town, a nice welcome change from the hours of television and video gaming Americans rationalize as hobbies.
Second, you couldn't meet nicer folks (bar the staff at Honey, more later). Vancouver's hospitality held it's own next to my personal barometer – the hospitality I experienced in Ireland – a country long known for its friendly faces and stories easily and readily shared over pints.
This week's travel, the pop on Vancouver, British Columbia – my, how I love you! And my, how I could move to you!
Read More
June 12, 2009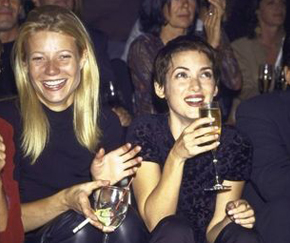 Whether you call them toxic friends or frenemies (the latest amalgamated word), there's no denying that some relationships are loaded with destructive drama that leave us feeling overall worse, rather than better, about ourselves. As Gwyneth Paltrow put it so eloquently (har har) in her recent GOOP newsletter, these are those "frenemies, hell bent on taking us down."
For most of my adult life, the e.e. Cummings poem, Let it Go has been one of my favorites. My very loose (and incredibly simplified) interpretation of it is that when you let go of the gunk, in comes the good. Cummings is specifically speaking of relationships, which intrigues me because one of the hardest lessons I've had to learn is letting go, particularly, letting go of friendships that are on life support. Read More
June 9, 2009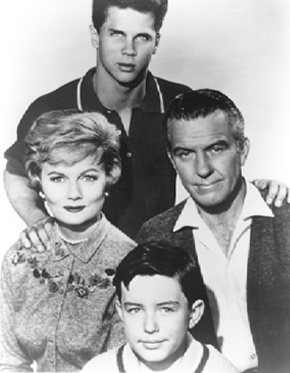 Everything old is new again, and so it goes. Maybe it's the economy, maybe it's the fact that formulaic "reality" television has run its course as a source of entertainment. But, suddenly, I'm seeing everything in retro with a resurgence in all things mid-twentieth century, and women taking up knitting, sewing and the iconic Potluck supper.
Here are the trends making the retro rounds…
Read More
June 5, 2009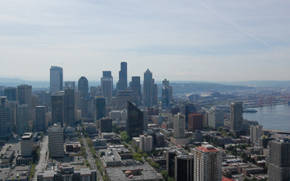 The one-day wander. That quick stopover, scheduled or unscheduled, en route to another destination – a small, often highly rewarding detour from the longer journey ahead. This week's wander is through the Northwest's nicknamed Emerald City.
I recently found myself headed to Vancouver by way of Seattle with less than 24 hours to spend in the emo-capitol of the world. My thoughts on Seattle prior to arriving were this – Kurt Cobain, Bill Gates, Starbucks, and the famed space needle. Not stereotypical at all.
Everything about Seattle, I found, is intelligently done (including the aforementioned musician, computer genius, coffee corporation, and that futuristic structure punctuating the sky). From architecture to food, Seattleites sure seem to be doing their part to make the world a bit better. So, it comes as no huge surprise that data matches the observation with The United States Census Bureau noting that Seattle (in 2008) was the most educated city in the U.S.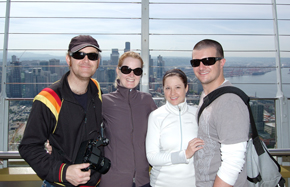 This week's travel, the one-day pop on Seattle with my favorite smarty-pants traveling partners in crime – my twin sister, her boyfriend, and my husband.
Read More
June 2, 2009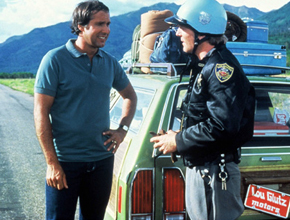 It's summertime and for most American families that heralds a vacation together as a collective unit. Growing up, we weren't exactly a vacation kind of family. I can remember only two honest-to-goodness true vacations with all six of us Hazels. One was in 1987 to attend the Pan American Games in Indianapolis, Indiana (and if memory serves, we only really went because my father knew the wrestling coach for the American team).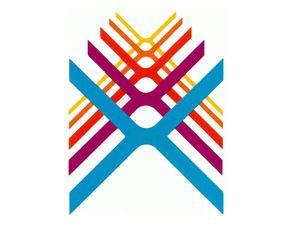 Even so, I loved the poster I picked up from the games – it hung on my bedroom wall throughout my adolescence…I loved the colors and simple design of the X's.
The other was between my Junior and Senior year of high school. In retrospect, I'm fairly certain this vacation was my mother's brainchild because her own children were just about to fly the nest. We went white-water rafting on the White River somewhere in Missouri. It was really more like molasses than white water with its gentle flow, but fun, nonetheless.
So, how ironic that I should marry into a family who could give the Griswold's a run for their money in the vacation department? My husband's family, now they vacation. Like clockwork, my father-in-law would load the entire family (some years this included three kids and a Labrador Retriever) into the wood-paneled station wagon and set out from Cincinnati bound for Myrtle Beach, South Carolina where they'd proceed to car camp for two weeks. Oh and did I mention they had a pop up camper? Now, these are folks that vacation.