April 27, 2010
My mother has a set of girlfriend's she's known for about 50 years now. The Lindas they're called, because there's Linda N. and Linda G., and then my mom, (who's not a Linda). But, they all met in Oklahoma City, circa 1959 and 1961. I've written about them before on these pages–here's where they were my Madras testers. I don't think they minded in the slightest.
Linda N. has an absolutely refreshing mint lemonade recipe, which will forever remind me of the first time I drank it, on a mild May day at her cabin in the Colorado mountains while on vacation with my family. It makes me think of old friends and family. Well, and springtime, and something to quench your thirst after weeding around all the mint in the garden.
April 20, 2010
I read Shutterbabe the first year I worked at CNN. I was fresh out college with my journalism degree in tow, drowning in a newsroom pool of brilliant minds and it couldn't have come at a better time–I was an incredibly small fish in a vastly deep pond, struggling to swim. An ex-boyfriend brought the book over, along with a stack of others on our first date. Sounds promising, but I assure you, the book was the best thing out of the relationship.
Since reading it, I've likely lost, loaned, or gifted at least 20 copies. It's just such a great read. I'm beyond thrilled to interview Deborah Copaken Kogan, the author of (among other titles) Shutterbabe. Read More
April 13, 2010
I've been thinking a lot about Southern women and the balance they have between their lives and their careers. Specifically Southern women writers. When I first moved to Atlanta it struck me how many people were not actually from here. They were transplanted here, mostly for work, like myself.
But, now, 10 years later, I'm surrounded by women who are actually from this area. I'm finding myself around especially strong women loaded with careers and creative aspirations (and all the while looking beautiful to boot).
Which sort of conflicts with the way I was raised. Growing up, you sort of had one or the other … not necessarily both (and certainly not at the same time). But, it seems like Southern women have mastered what their priorities are with a gentle balance of what's expected of them and what they actually want for themselves. This is in sharp contrast to my own stereotypes of what I thought women from the South behaved and the life I assumed they wanted (an M.R.S. degree earned from a state school, cheering on SEC football while wearing a strapless dress and high heels).
Now, the word grace comes to mind when I think of Southern women. So, I'm looking towards women writers–Katherine Anne Porter, Harper Lee, Margaret Mitchell, Flannery O'Conner to allow me to be strong, yet graceful, in my writing and my life. And soaking in the Southern creative women surrounding me that embody it all and are guiding me down that path of elegance in life.
* For more of Augusta Hyland's fantastic paintings (and great writing), check out her blog The View from my Studio Window.
April 6, 2010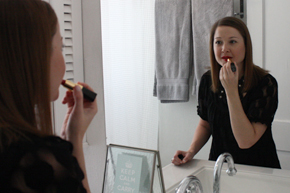 My Grammy turned 90 this year. And if I had to guess, about 74 of those 90 years have been spent with her "face" done. That's what she calls it, "doing her face." Something along the lines of, "just let me put my face on." Overall, she's an avid Estée Lauder devotee, and more specifically, besides her face, she wouldn't dream of going anywhere without lipstick. Her purses I'm sure all contain half-used tubes in secret compartments complete with mirrors hidden away for easier application. And at the end of the day, she takes off her face with cold cream and tissues.
Despite being related, the lipstick gene didn't totally pass through to me. On any given day, you can find any 1 of these 3 things on my lips:
1.    Burt's Bees lip balm
2.    Estée Lauder high gloss in ivory (obviously a gift from said Grammy). Essentially this is clear lipgloss.
3.    Estée Lauder pure color lipstick in beige (ditto on the Grammy gift). Basically, it's a hue the same color as my natural lips. I know, daring!
But I've noticed this spring, vibrant pink and red lips are popping up everywhere. There are always those classics that pretty much everyone from Rachel Zoe to Nina Garcia dish out. In fashion, it's generally as standard as a structured tote, a strand of pearls, black stilettos, and so on. And in beauty, it usually circles back to one thing … lip stain, in a signature red.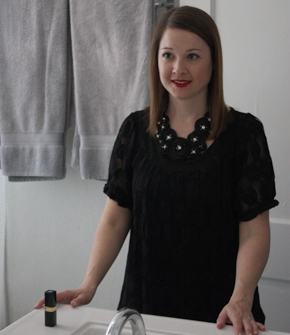 So, in the spirit of change, and my Grammy, I marched myself over to the Chanel counter to try out the new Spring 2010 Rouge line. Finding the perfect shade is no easy task. It took multiple tries in the name of research. But guess what? I found my perfect shade … it's called Gabrielle and it makes my lips pop–just in time for spring.
I'm in love with my new look. Here's to taking it all off with cold cream.