May 25, 2010
For my job, I'm acutely aware of food trends. I'm not a critic or chef, nor do I work at a culinary publication. However, I do cover restaurant openings a ton. And with that, I get to see what's popping up before anyone else, so I've started to notice patterns. Here are my picks of things I love on today's menus and the things I wish would disappear. Bad news first…
A year ago I wrote about burgers, burgers, everywhere burgers. While I love a good burger (really, I do), I'm a bit over them. In Atlanta alone, it's gourmet burger city right now, so I can only imagine what the rest of the country is looking like between two buns. Those jazzed up kinds topped with wine-infused ketchup and rock star chefs making them in places not called restaurants or diners, but boutiques. So annoying.
I'm not really complaining about the farm-to-table food trend here. Honest. I'm just so effing over restaurants patting themselves on the back about serving fresh, quality food that goes from its source to your mouth. I mean isn't that your job as a chef? To give me the best ingredients in their peak state and serve it? Are we really so far gone in the food industry that just eating non-processed, chemical-free food is to be touted from here to California? Seriously, stop bragging about it.
Some things I love right now? Salts. Last year, for an article I was researching and writing, I tried hickory smoked salts, and man alive, they are divine. We put them on everything. I also cannot get enough of the recent salted dessert craze showing up everywhere on menus, like caramel pot de crème with vanilla salt.
I've written about food trucks here before, but I failed to mention my first introduction to them. It was an old Airstream called Moya Taco just north of San Francisco. Perfection. We ate there after a long day of travel (my twin sister had us on planes, trains and automobiles, except instead of trains it was a commuter bus with me holding my luggage on my lap for the better part of 2 hours. Sorry tangent, apparently that one left a mark). But, it led us to the magical Sonoma glow that is Healdsburg and just after that we saw the Moya trailer shining like a beacon in the night. On its picnic tables I ate the best burrito ever washed down with a cold, coke classic out of a can. That was my first true introduction to California cuisine. On that note, with food trucks comes the easier accessibility to a variety of ethnic foods. And right now I'm seeing words like bulgogi appearing before me. Thumbs up, absolutely.
May 18, 2010
One of my dearest friends is moving from Atlanta. After 17 years in this city, she and her husband are moving to L.A. Her move got me thinking of all the change this year has brought, not just for her, but so many people in my life (including us).
Not just in 2010, but for some reason around August/September of last year, there was a huge shift in our life. And right now, several of my close friends (and family) are entering life-altering transition phases. I have more than one friend going through a divorce. One of my twin's friends came out of the closet, two children and a marriage later. My brother and his family, who've always lived near my mother in the Kansas City area, are moving to Dallas. Not all of this is bad. Closing the door on one life, opening another.
Friends of mine, after about 5 years of trying for a baby, just had their son in December. And we, I think, are closer to what we want than we have been in years, and it took a layoff for us to figure out what that truly was.
May 11, 2010
Maybe it's because I'm reading The Wishing Year by Noelle Oxenhandler in which she writes about the notion of "putting it out there." Or maybe it's because, before the age of 11, I'd never lived in one place longer than three years. Perhaps it's because last month I took over as DailyCandy Atlanta Editor, and while I love it, it's a stressful position, and when I'm feeling overworked I dream up places I'd like to visit. Whatever it is, I've got the travel bug bad.
We're heading to Krakow in August (Budapest and Prague hopefully will make the cut too) for a dear friend's wedding. In the beginning stages of planning, I realized it would likely have never been on my list of places to see in my lifetime. I mean, I'm thrilled to go, but don't know if I would've made it to Poland otherwise.
So, where would I like to go? Well, since I'm dreaming, here's my must-see travel list, and my proactive approach to "putting it out there."
Seychelles
Basically I've had a fascination with the Indian Ocean for most of my life. The Maldives and all those itty-bitty specks on a map that don't have names (and if they do they are called Cockatoo or Christmas Island) and take forever and a day to get to. But, the image of the Seychelles is always my go-to happy place.
Patagonia
This one is more for my man than me. But, I think it'd be the perfect combination for both of us … he could hike to his heart's content surrounded by untouched nature on the edge of the Earth and I could be surrounded in my third glass of Argentinean malbec.
Italia … anywhere
For our 5-year anniversary we started to plan a trip to Italy. And well our budget got the better of us, so we decided to be responsible adults and forgo the trip. But, I dream of riding bikes along roads in Italy, speaking choppy Italian and gorging myself on cheese, smoked meats, and flatbread (and prosecco).
Bali
Not to sound like I'm totally going through 2 out of 3 on Elizabeth Gilbert's quest in Eat, Pray, Love … Bali. It had me at an episode of E!'s Wild On I saw back when I was in college, it just seems so far off, spiritual, and yes, Gilbert wrote it—balanced—my idea of perfect.
Palm Springs, California
I've traveled a lot throughout the U.S., and even seen the bulk of California, but I've never stopped in Palm Springs. Maybe it's the pictures of Coachella loaded with skinny starlets all coked out in their cute jumpers, gigantic shades, and fedoras … at any rate, I've always wanted to go and always wanted to stay at the iconic Viceroy.
Morocco
Last, but not least, Morocco—specifically Marrakesh. The maze of markets alone would likely cause me panic, but that's the beauty in travel … getting outside your comfort zone. And every now and then we could all use that push into the scary.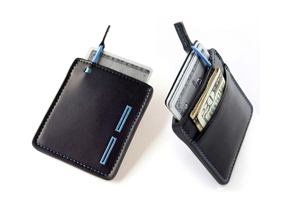 To make traveling a bit easier, the first danapop giveaway from my friends at Malcom Fontier. Comment on where you want to go and why and you could win a free Mojito travel wallet. Their travel wallets are fantastic for organizing all your cards (and money too) plus, it's flat enough to tuck into a pocket or toss into a purse.
May 4, 2010
Crack Brownies. That's what we call them at my house. But, when I first stumbled across the recipe in Real Simple a few years ago, they were just called 'Peanut Butter Cup Brownies.'
Who knew they'd be so addictive, so amazing, and quite possibly the best brownie I'd ever laid my greedy little hands on? Well, they are.
I've taken them to tennis matches and watched grown women who live for sportsmanship and love to rattle on about proper manners basically want to knock each other out for the last one. I've seen whole trays devoured in one Netflix movie showing. And I've witnessed things I cannot even write about (it involves someone with zero patience eating them semi-raw).
Those are stories for another time … right now though, I'm at my sister's in Toledo taking care of my niece and nephew. They are both giving me a hand in mixing up my next batch of crack.
Wrapped in parchment paper and tied with a pretty ribbon, Crack Brownies make the perfect Mother's Day gift. Well, at least that's what my sister is getting from her children since Aunt Dana is the queen of multitasking and combined a kiddo activity into gifts and something she could write about.
*dp note*
Do not make the mistake of looking up the calorie/fat content online. You don't even want to know the answer.
Peanut Butter Cup Brownies
A.K.A. Crack Brownies
Hands-On Time: 15m
Total Time: 50m
Ingredients
2 sticks unsalted butter, plus more for the pan
8 ounces bittersweet chocolate, chopped
4 large eggs
3 cups sugar
2 teaspoons vanilla extract
1 ½ cups all-purpose flour
kosher salt
8 large peanut butter cups, cut into pieces
Directions
1. Heat oven to 400° F.
2. Melt the butter and chocolate in a pan over low heat.
3. Using a mixer, beat the eggs and sugar until pale yellow and fluffy. Lower speed and pour in the melted chocolate and vanilla. Mix in the flour and ¼ teaspoon salt. Fold in the peanut butter cups.
4. Scrape into a buttered 9-by-13-inch baking dish. Bake until the tip of a knife comes out clean, about 35 minutes.