June 29, 2010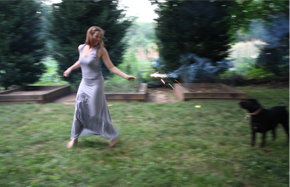 My dad's mom, Grandma Mary, used to drink one beer every July 4. And just that day. If memory serves, I think she said something about it being patriotic to drink a beer out of a can.
So, every year around this time I picture her and that beer. This year, I've spruced it up a bit with my version of how a beer should taste–The Shandy. It's a ginger beer-based cocktail that originated in Britain in the mid 19th century. Which is ironically very un-patriotic of me, but I'm not one to overanalyze my cocktails.
Thankfully this drink, adapted from an old Gourmet magazine recipe, uses mint because my garden is overfilled with it at the moment. It also strays from the ginger-beer, calling for a good pale ale. In any case, this the most refreshing way to watch those fireworks while you ooh and ah.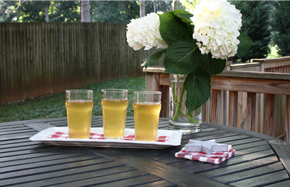 ingredients
1 cup sugar
3 cups water
four 3-inch strips lemon zest, removed with a vegetable peeler
1 cup fresh lemon juice
2 fresh mint sprigs
chilled beer, I'm partial to Sweetwater 420 extra pale ale
preparation
In a small saucepan bring sugar and 1 cup water to a boil, stirring until sugar is dissolved, and stir in zest. Cool sugar syrup to room temperature.
Transfer syrup to a small pitcher and stir in remaining 2 cups water, lemon juice, and mint. Chill lemonade until cold. (make about 4 ½ cups lemonade).
Pour ¼ cup lemonade, or to taste, into each of 4 chilled beer glasses and top off with beer.
June 22, 2010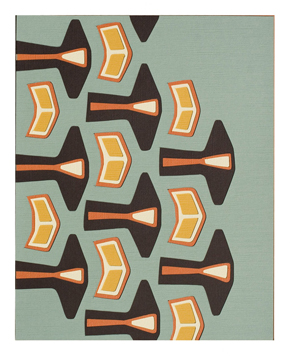 I love the dualism of Anna Bondoc's work. This L.A. based artist works in one of the most seemingly simple forms around–paper. But what she does with an X-acto knife creating and cutting these layers is like nothing else. Working and whittling down pieces ever so intricately, using shapes and designs that appear like a modern twist to an ancient medium dating back to origami.
I had the chance for a Skype interview with Anna and her business partner Vanessa Peter in which we chat about perfectionism, patterns, and parenthood.
June 15, 2010
This week, I check back in with Eric & Beth from El Mundo. Remember, they took a trip around the world that lasted many months and I wrote about several portions of their journey here and here. I was curious how they were acclimating to life back in Atlanta. Recently, we finally had a chance to catch up a bit where we talk Beijing barbecue, compromise, and communication barriers when traveling.
dp I'd imagine settling back into normal, everyday, non-traveling life would be quite difficult after such a long time on the road, how was the transition post trip?
Eric The transition was much smoother than expected. Beth and I were extremely fortunate to find jobs within a month or so of being back. This made paying off our small travel debt, quite easy. As far as the non-traveling aspect, that's the bummer. To go from having everyday like Christmas eve, where only excitement awaits you in the morning; to groundhog's day, where everyday is pretty much the same, is a harsh reality. Good news … anytime, anywhere, I can always think back and reminisce, and no one can take that away.
dp How was it traveling through the holidays and being away from family?
Eric Traveling through the holidays was a bit difficult at times because, Beth and I both have strong relationships with our families and the holidays are when we come together. On the flip side, it was great spending a holiday in another country and experiencing it in a different way.
Beth It was quite different experiencing Thanksgiving dinner at a Texas BBQ house in the middle of Beijing and spending Christmas eve and morning lounging by the pool in Bali. The Balinese man dressed as Santa handing out the best chocolates in the world made for a fantastic Christmas morning present. Plus, Eric and I gave each other the greatest gift ever–a four star resort complete with our own bathroom and warm water.
dp Is there anything you wish you packed?
Eric We both wished we had bought and brought a Netbook. We would have saved quite a bit of time and money with our own compact computer. The reward would have exceeded the risk on this item.
dp Overall, what did your journey teach you about yourself? Each other?
Eric Individually, I learned more about myself than anything else. I could go on for hours about this, but in a nutshell I learned that there is more to life then just flashy cars and fancy clothes. I learned how to function on little money and how to sleep in not so nice places. It seemed like my everyday Atlanta life, with a car, a nice apartment, and great food within arms reach was actually more stressful. Deciding what to wear to work, choosing a place to eat, and figuring out what new gadget I wanted to buy, were all foreign concepts while I was gone. I did not miss that at all. Living as a minimalist was quite blissful.
In regards to the both of us, just thinking about spending six months with someone 24/7 is a bit nerve wracking. We were a little apprehensive about this big journey, but it turned out being ten times easier then we thought. We learned to work as a team
Beth I learned a lot about compromising with Eric. We often shared meals and slept in places that I normally would have turned my nose up at. He taught me a lot about living on barely $20/a day and saving our money. I've definitely noticed this influencing my life in Atlanta. I think items through before purchasing them and Eric and I often share meals when we go out.
dp What country or region did you think was the most difficult to travel in and why?
Eric I think that India is probably the most difficult to travel in. We were lucky enough to have had a tour guide for most of our time in India, but without them would be a mess. India, for one, is a tough cookie to swallow. It's hard to stomach the levels of poverty you are exposed to in certain places. Anytime you ask someone a question, you get a head bobble in return. It's not a nod, nor a shake … it's both. Basic communication can be VERY misleading.
Beth Although I agree with Eric on India, I also found China to be very difficult. We constantly found ourselves in situations of the Chinese stealing our money and pointing us in wrong directions. I used the best sign language that I could and the people of Beijing would still look at me and turn away, pretending not to see me. Eric and I got in a bad habit of talking about everyone we passed on the street because no one understood us anyway. We spent lots of time lost with fake money in our pockets.
dp Which place would you like to return to?
Eric We would both like to return to India, and the Philippines. There was a lot that we saw, but much more that we missed due to our tight schedule.
Beth I felt that a lot of our trip was on fast forward. I'd love to re-visit most of Southeast Asia, including Cambodia, Vietnam, and Laos. I would like to surround myself with more of the culture and visit more of the sights that we had to skip over due to our tight schedule. I would agree with Eric as well, India and the Philippines are at the top of my list to revisit. The beauty of the people, country, and culture is something that I would like to experience more of.
dp Would you have changed anything about the experience?
Eric I would have probably been gone longer. We were held to a tight budget on a tight timeline. If we had the option to do it over again, we would probably have taken a year off and posted up somewhere to get some short term work and earn some scratch. We met many travelers that were doing just that. Traveling until they money ran out, working, then starting all over again.
Beth I would have stayed gone longer and given myself more time in some of the larger countries. I regret not seeing more of India and China. They are both so big with so many great things to offer. I feel that my negative perspective of China would have changed if I had visited other cities besides Beijing.
I also would have bought a few more souvenirs. I hated having a heavy pack so I often didn't buy some great things that I saw.
dp Do you have any current trip itineraries in the works?
Eric At this time (cough cough) we do not, however there have been talks about Morroco in the near future.
Beth As of now we just have some short weekend trips to visit friends in the United States planned. Fingers crossed we will either be spending Thanksgiving or Christmas on the road again. Sorry mom and dad.
June 8, 2010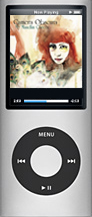 I've always been a fan of solid Brit pop. From the '90s Blur, James and Oasis to today's Travis and Coldplay. I'm a sucker for brooding scowls and accents duking it out with a catchy beat.
As I've mentioned before, we're traveling for a wedding in mid-August and we've just begun the planning stage. It's looking fairly certain that we'll have three legs to this trip–England, Hungary, and Poland, or more specifically, London, Budapest, and Krakow.
For now, I'm putting together the London version of my playlist that includes a heavy dose of UK invasion, plus a few I think will be perfect for gazing out train windows, daydreaming.
June 1, 2010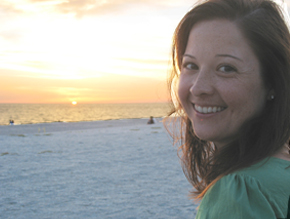 I've always been a reader (it sort of goes hand in hand with us writers). As a child, I was certainly the happiest when buried in a book and honestly that hasn't changed much with age. Since we're approaching summer months and perhaps I'll even admit to a little escapism on my part, here are my picks for what to read. Not all of these are newly released titles, but some of my favorites. And truthfully, when you're in a house rental with your entire family for seven days you won't care when it came out if you've gotten to the point of isolating yourself in a quiet room with a stiff drink reminding yourself serenity now! PS—things would be so much easier if I had a Kindle.