July 27, 2010
I've wanted to interview Jim Denevan, the creative genius behind Outstanding in the Field for ages now. His culinary troupe goes beyond just farm to table by literally bringing the table to the farm. With food events criss-crossing America, stops in Europe slated for 2011, and tickets selling out in hours, this is one dining experience that's a must when in a town near you.
I'm thrilled to finally be able to post my interview with Jim, in which we chat about charming venues, adventurous eaters, and geographical salts.
July 20, 2010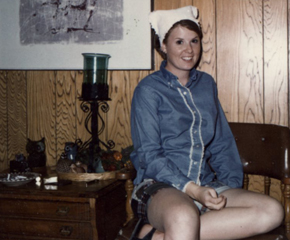 We know what this road looks like, you see. In 2004, we walked it. I was a month shy of my one-year wedding anniversary when I was back in Kansas for my ten-year high school reunion. My mom had a mass on her neck. Just in the vicinity of her collarbone.
She actually discovered it while we were on talking on the phone one night a few weeks prior. Those days, I used to get off work late since my show was on the air from 10-11 p.m., and my routine was to call her after my show. She'd generally already be in bed, and was lying with the phone nestled in the crook of her neck. It was then that she felt something.
And now, she felt it again–this time in her armpit.
Non Hodgkin's Lymphoma. That's what she was diagnosed with as all of us kids and spouses sat in the room at KU medical center listening to mom's oncologist tell us the stage (three), the prognosis (treatable, but could come back), and the treatment (chemo with one medicine, and a clinical trial) six years ago.
We've walked this road.
But, it's back, as we all knew it would be, as Non-Hodgkin's is a reoccurring cancer in most cases. This time, it's stage two, but much more aggressive in its growth. As is her treatment plan (chemo with a five medicine cocktail and a much longer duration). Right now, we're all sort of plowing through our schedules and getting reacquainted with words like scans, white-blood count, port, chemotherapy, treatment, mass, lymph nodes, insurance, and appetite.
My mom is incredibly strong. She got through this once, and we're all hopeful and encouraged that she'll do it again. But just because you've already walked it, ran it, crawled it, long-jumped it, it certainly doesn't make it less scary of a path to walk.
July 13, 2010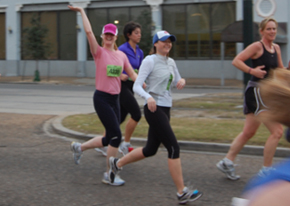 Growing up in a military household, I can't say I've ever had to the motivation to attend a boot camp fitness class. But last summer one of my writing clients was all gung-ho about doing them and asked me to join her long before the sun was up and newspapers delivered. Strangely enough (pretty sure wine was involved), I agreed. Of course I overslept badly and got in a explosive screaming match with my GPS who was giving me poor directions in his British accent to it's-anyone's-guess-where-the-eff-I-am-park a good twenty miles from my house.
I knew I was in the right spot when I pulled up to a lot packed with people decked out in running clothes and clearly pumped to be there. I managed to double-park as the crowd waited on me and my unbrushed teeth and raccoon makeup from the night before to join them. They may've even clapped in that, "so glad you could join us" way, which is what I also like to call "the sarcastic clap."
In the end, the workout proved to be really hard, but really fun. Two days later when I was itching from the fertilizer rash I had from all the rolling around in the grass for sit-ups and squat thrusts, I was second-guessing my initial excitement about the camp.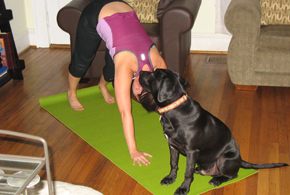 Fast-forward a year to when I'm burned out big time on my usual workouts–yoga, Pilates, and running. I've peaked. Beyond a plateau, my body just stayed the same and I was plain bored. And don't even get me going on lack of motivation when my husband was laid off and both of us were working freelance; let's just say there was lots o' sleeping in at my house and not enough working out.
I needed something to boost my workout enthusiasm and kick me back into shape. So, for four weeks I decided to do a boot camp series. That's twenty classes, five days a week for four weeks. Plus, nutritional support. I decided to go in with an open mind; forget about the actual military father, and my usual course of action when someone is screaming in my face of either hitting the road or completely shutting down. None of the above happened. No one yelled, no one cried, no one stormed off in a huff.
July 6, 2010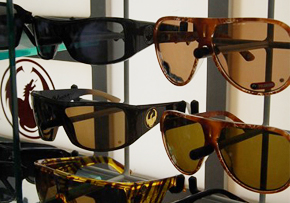 I'm a firm believer in investing in the summer staple of a good pair of sunglasses, or as stylist Rachel Zoe likes to call them, sunnies.
Everyone needs at least one go-to pair. I have two. My Spys are sporty and do the job of not adding to the onset of crows-feet, while my Ray Ban aviators are used more for style than substance. Beyond those pairs, I'm certainly not the person qualified to let you in on shade styling secrets and what the trends are for this summer.
But, Chris Anderson, a.k.a. my accessories guru, can. Now, here's the thing with a blog that is one of its greatest perks. You meet people and feel like you know them without ever having hugged or giggled in real life–just across FB status updates, twitter handles, and blog comments, that's all.
Well, Chris is a former co-worker of my twin sister and just happens to be the most stylish person either of us know (albeit he and I have never met). The two of them were meeting up in San Diego (obviously to stay out until all hours of the night at clubs playing Lady Gaga) and so they went along the boardwalk to work on this dos and don'ts tutorial on the art of picking the best summer accessory around. Chris' brother Matt also lent a hand in this piece, my favorite is his don't picture.
Also–be sure to check out Chris's fabulous work on his blog chrisryanart.tumlr.com.