November 23, 2010
Thanksgiving is my favorite holiday. My birthday falls around it and most years I'm surrounded by dear friends and family, which is pretty perfect. But, really, birthday or not, it's about the food, isn't it? At our house, we're traditional all the way, but sometimes I want sides that aren't so rich. Several years ago I started making an asparagus salad that I found in an old Food & Wine magazine that has become one of our staples. I like that the fennel dressing can be made in advance, same for toasting the walnuts, so day of, it's just blanching asparagus and assembling. It doesn't get simpler than this; save the fussy for the cornbread stuffing.
Asparagus Salad with Toasted Walnuts and Goat Cheese
6 servings
1 cup walnut halves (4 ounces)
½ teaspoon fennel seeds
2 pounds medium asparagus
¼ cup extra-virgin olive oil
1 ½ tablespoons sherry vinegar
1 large scallion, white and light green parts only, very finely chopped
1 tablespoon chopped tarragon
1 tablespoon chopped mint
salt and freshly ground pepper
4 ounces crumbled goat cheese
1. Preheat the oven to 350°. Spread the walnuts on a small baking sheet and bake them for 8 minutes, or until lightly toasted. Transfer to a plate to cool, then break in half.
2. Meanwhile, in a small skillet, toast the fennel seeds over moderately high heat until fragrant and golden, about 20 seconds. Transfer to a work surface and let cool, then finely chop.
3. Pour ½ inch of water into a large pot fitted with a large steamer basket and bring to a boil. Discard the tough ends from the asparagus and add the spears to the steamer; cover and steam over high heat until just tender, about 4 minutes. Transfer to paper towels and pat dry. Let cool to room temperature, then cut on the diagonal into 2-inch lengths.
4. Meanwhile, in a large bowl, whisk the olive oil with the vinegar, scallion, tarragon, mint and chopped fennel seeds. Season with salt and pepper.
5. Add the asparagus and walnuts to the bowl and toss. Add the goat cheese. Season with salt and pepper, transfer to plates and serve.
November 17, 2010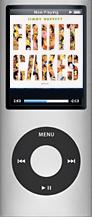 It's time for the annual Thanksgiving playlist that's often served with sides of tension and drama. This year, I'm bucking tradition and pairing it only with gratefulness–that's the point of Thanksgiving, yes? I'm grateful for the hardest year I've had in about a decade, yet the most rewarding, by far.
The biggies–my mom's through chemo and a stem cell transplant; my husband is happily employed. Last fall, I felt like I had a brick tied to my ankles and I was drowning in a gigantic ocean, scared of the unknown horizon ahead. I'm thankful for the support of dear friends and family who stood by us through the poorer and sickness parts. Some years aren't exactly bottles of bubbly-worthy, but here's a toast to the days that actually are. These tunes remind me of that and I'm publishing with ample time to get the iPod all loaded with turkey dinner party mood music.
November 10, 2010
My marriage survived a bathroom renovation.
Let me rephrase–my marriage survived showering at the gym for a week with a cold the size of Texas taking up my chest, allowing a grown man who likes to be called Plug into my home to install a toilet, putting my contact lenses in at my kitchen table (since that's where the contents of our medicine cabinet lived for the better part of a month), watching my father-in-law and husband install over-the-sink lighting and both live to talk about it, and blow-drying my hair in the dark while waiting for my husband to install those same vanity lights. Good times.
We live in a two bedroom, one bathroom 1940s bungalow that we bought just over four years ago. We love it, adore it even. Except for the one part … the bathroom.
I suppose the bathroom trouble really started at move in, so let's back up. There were parts of it we liked … the pedestal sink, the vintage tiled floor, but the shower, my word, that was a different situation entirely. It had always been an eyesore, just awful to look at, let alone shower in. Moldy cracked tile which I made worse in an incident I try to not bring up, but I will here–I was shaving my legs with one propped on the tiled soap tray and it ripped off the wall. I blame it on the shoddy wall and cracked tile, not the weight of my gam, but, what ensued was my husband doing a tile patch job so horrific and non-matching that I never brought up a renovation again for fear of what the end result would be if he starting thinking laying tiles himself was a good idea.
But, the conversation did come back up. We decided that since I work from home and would spend a good deal of the summer and fall traveling, wouldn't it be great to get that bathroom redone on one of my trips out of town? Fabulous. Now, my husband and I operate on very different speeds of the spectrum, which most the time meshes into a semi-sane person working at a semi-sane pace. During my first trip away, I believed I was leaving and coming home to a surprise new bathroom situation. Come to find out the phone call to suss out contractors hadn't even been made. I'm not saying I would've been slinging the sledgehammer (more like I would've swung it once and sat in the mess I made crying hysterically wondering how to fix it all); yet something would've been done.
Clearly men and women look at very different things when doing any sort of renovation project. Ours went something like this:
Me–Trying to rationalize a $128 shower curtain purchase because it's pretty and convincing him that the color scheme of blue, steel and yellow is the way to go. PS–the shower curtain for that price was a no-go.
Him–Wondering about plumbing pipes, caulking and sealing, toilet with eco-friendly flushing, and non-chemical paint.
So, here's the before and after bathroom renovation. It should be noted that I'm certainly grateful I'm married to a man who's strong enough to know when to call in reinforcement and not just scream frantically "shut off the water!" while I scurry for a stack of beach towels.
November 3, 2010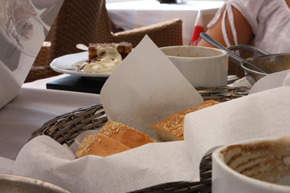 I've never been a huge coffee drinker, which is a bit odd since tribes of them surround me. I grew up in a household where my mother brewed a full pot daily and proceeded to down the last drop by herself. I sometimes wonder what sort of person my mother would be without her entire pot of coffee a day habit.
And now, I'm married to a man I've learned through the years to not even so much as look at before he's showered and poured at least one cup of really strong stuff and sipped it in silence (bar ESPN's Sportscenter). I don't set coffee meetings (I make cocktail, lunch, or dinner plans), and I've just never (even in my time spent on overnight rotations in news) felt like I couldn't live without coffee. And I've had good coffee–Hawaiian, Costa Rican, Jamaican–though never been a fan of Starbucks, or as it's referred to in my house, 'burnbucks' or 'bitterbucks' (they over-roast their beans, big time).
Now, don't get me wrong, I do drink coffee. I like the ritual of it at home, the smell, the coffeemaker waking me up in the morning with its handy timer set to go off and rouse us out of bed. I like the kind of beans we buy and that we grind them finely ourselves. I like the way we make it. I like to add a teeny bit of turbinado sugar to it and I like the brand of organic half and half I buy. I like the white Crate & Barrel mugs that are one of the only things from our wedding registry dishes that aren't missing from the set–-dinner plates and cereal bowls, that's a whole other story.
But, the truth of it is this—I've never had a coffee drink. You know, my drink. Honestly, I never know what to order and usually settle for basic black that I doctor to resemble my coffee at home. As a matter for fact, I don't even know what I like. I know my husband's order (Americano with room), my older sister's (skinny latte with a shot of peppermint), my twin sister's (varies between time of day and runs the gamut of simple drip to lattes and cappuccinos), and my mom's (no-nonsense black). In our world of coffee culture, wi-fi, and mobile offices, I'm supposed to know what I like to drink in the morning; society wants me to know these things. Every office I've ever worked in had the drill of sending the interns on a Starbucks run. I'd take so long trying to decide I'd just tell them to forget it and get back to doing whatever I was doing before the sweetly gestured interruption.
It all reminds me of that scene in Runaway Bride, the "how do you like your eggs?" moment where Julia Roberts's Maggie character makes every sort of egg imaginable and ends up with Benedict as the only one she likes, after years of poached, whites-only, and scrambled with dill to appease whomever she was engaged to. Taking that time to figure out what you like. Not what everyone else likes, what you like.
And then it happened. I got my drink. While in Europe over the summer, at any cafe I'd just simply order a coffee with milk without even thinking about it. Though, unlike in my home kitchen, I wouldn't add sugar because of the decadence of the whole milk, and also unlike at home, coffee there often means espresso and milk means steamed milk. These rich coffees were lovely and I wanted one every single morning. So, there you have it. I'm a cafe au lait. After all these years of skirting around the coffee culture, I finally have a drink worth ordering.