January 26, 2011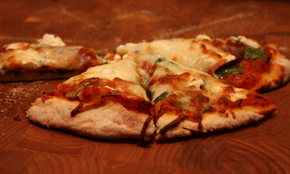 Pizza really is the great equalizer of food. It's a rare exception when one doesn't love it, especially when it's homemade. The problem at our house is I've always been weary of dough. I've written about my mother's incredible talent for breadmaking here, and it didn't stop with just white loaves of baked goodness. It branched into bagels, crusts, yeast rolls, and sweet breads.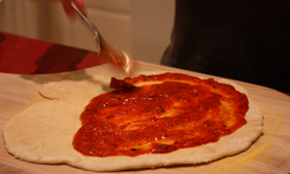 This Christmas I got a pizza stone. I'd been wanting one for ages, blaming the cookie sheet as the problem for me wrecking Trader Joe's already-made whole wheat dough that's a staple in our freezer. Taking on the challenge of making dough from scratch, I've been playing around lately with perfecting crusts and topping combinations. I've been using the crust recipe here, from Smitten Kitchen; it's basic, good, and is the perfect base for piled-on toppings.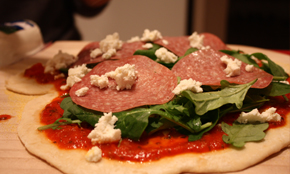 Pizza is the quickest, tastiest dinner I can whip together that everyone loves. From a last minute dinner party, to a weeknight meal, it can be as healthy and as satisfying as you want. Another thing I love—it's timeless. No matter the season, you can load up a pizza on the spot to match what's fresh. Summer—the classic Margherita's my favorite with all the basil from our herb garden. I might even sub out tomato sauce with homemade pesto, a trick I got from a dear friend. Winter requires something a bit more substantial; the pie pictured in this piece was loaded with salami, arugula, spinach, and three different cheeses (goat, ricotta, mozzarella).
Happy noshing.
January 19, 2011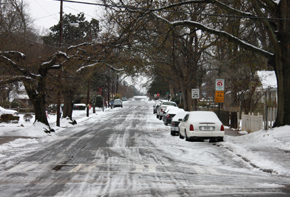 Last week, many parts of the country came to an abrupt halt because of ice, snow, and the harshness of winter. It's reported that 49 states had packed powder on the ground (including, phenomenally enough, Hawaii). I could write about the ridiculousness of how long it took to get streets plowed in neighborhoods and argue the points of city verses state roads and whom highways officially belong to, but I'm beyond over the political rhetoric and yelling, so the discussion seems unnecessary.
We were snowed in for days with rather ill preps (no wine on the rack and no beer in the fridge), milk and eggs dwindling. But, it allowed us to take a pause, which for me, was the point. To weed through the bare essentials, the work that truly needed to be done–the phone calls, the e-mails, the rainy day list of items on the metaphoric shelf to be done another time.
The snow days of last week allowed a wintry pause to just slow down. And for that, I'm not complaining.
January 12, 2011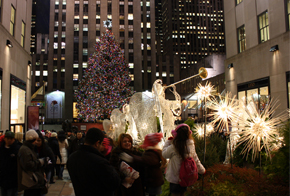 This wasn't always the case, me involved in a love affair with New York. No, my first few trips were like bad dates that you just keep accepting because you've got nothing better to do on a Friday night. Manhattan was overwhelming to me—the noise level, the grittiness and brashness, the crowds, the lights, and the neighborhoods—all of it made me just want to stay home in my stereotypical sweats and watch a Rom-Com while eating takeout. Because of this, I never got to know the real New York until very recently—the one without cab drivers trying to rip off naïve girls from Kansas the second they step off the plane with their sleek black town cars sounding like a good idea in lieu of a grody taxi, one without harsh winters or sweltering summers, and void of tourists that stop to gawk in the middle of heavily trafficked sidewalks like they've just hopped off the turnip truck that I couldn't look past.
I've been to New York a fair amount. My first trip, I wrote about here, in Holiday Bound, recounting the first Christmas after my father died. Every other trip after that initial one was for work (since when I worked in television my show was based there), so I made the jaunt often enough. Through it all, I've discovered in no other place does where you live exemplify who you are. Atlanta has neighborhoods, but our 'hoods don't necessarily define you as a person. In NYC saying you live in Battery Park, Alphabet City, Williamsburg, Hell's Kitchen, or Morningside Heights says more about you than what line of work you're in, whom you date, or the shoes you wear.
January 5, 2011
The concept of a vision board has become a bit trite, but I do think it works. I wholeheartedly believe that if you dream it and focus your energy on what you want, you can get it. Everything on my board for 2010 came true in some fashion whether it was better communication skills, laughing until my belly hurt with girlfriends and my sisters, beachy and European vacations, taking time to just stop for a moment, or growing my business and in turn making more Ben Franklins. For the past year, the collage of photos lived on my to-do list, making me face those goals daily, which I found as a helpful reminder of the path up ahead.
This year's board is more of the same, but slightly deeper, despite the superficial feel–ahem, Rolex. Truth be told, that was my late father's watch, and this year he and I have some healing work that I've needed to put a close on for some time now. Each item on my board represents a feeling or something I hope to accomplish. Whatever you believe for 2011, here's to a fresh focus–may everything you envision manifest.