March 30, 2011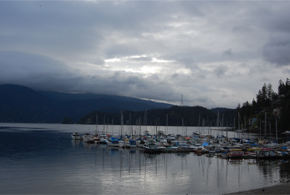 Several of my friends saw the Dalai Lama (if you were my husband, you'd insert the Bill Murray-Caddyshack line here) speak last year when he was in Atlanta and the take away (according to them) was that life is about finding the sweet spots along the way, not nirvana at the end.
The journey is the message, and I think there's something in that. So far, this year's been particularly busy. I'm trying to wrap up several major writing projects, and ease into a new position, as well as start a new chapter in our family. But, I've found it's always busy (in some fashion) and there's often a monkey wrench … not every year is a job layoff and cancer, but some are just difficult conversations or a conflict with a sibling. Here are a few things giving me respite lately…
March 23, 2011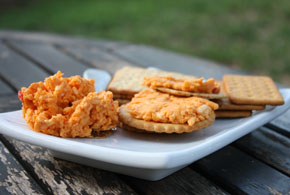 Years ago, while at my grandparents' lakehouse, my uncle made his famous pimento cheese. My husband had one taste and became obsessed with the spread ever since. If you're not familiar, pimento cheese is what happens if a simple mayonnaise-based dip and block of cheddar cheese were to have a baby. Said baby would then be showered in flecks of smoky pimentos and perhaps given the gift of garlic, pepper, and perhaps (like all good Southern cooks) even a secret ingredient or two.
Low calorie, it is not … this is a decadent snack I generally reserve for company so I can spread the cheese love and not be sneaking heaps of it on crackers at 4 a.m. straight out of the fridge. Or making it into toasted cheese sandwiches topped with bacon and arugula. Hurts so good. I've tried to make it lower in fat and calories and am met with a sub par taste and reaction. Greek yogurt is too tart and lower-fat cheeses don't hold up. The best mix I know is a hybrid of several recipes with the base being from Bella Cucina, a specialty food store I used to work at in Atlanta. The Bella version subs the traditional pimentos for roasted red pepper from its line of jarred goods, which is a great addition. Though, the staple at our house is the tried and true traditional pimento taking center stage; feel free to use this as a base and add other ingredients, like my uncle's secret weapon of green olives, or my husband's favorite of jalapenos.
Pimento Cheese
• 2 pounds of cheese (I shred 1 pound extra sharp cheddar, 1 pound white cheddar, but any mix of your favorite hard cheese is fine—shred with a medium size-blade)
• 2 tablespoons of Durkee Famous Sauce (this is a not-so-secret ingredient and something I'd never heard of until I moved to Georgia, it's essentially a mustard-meets-mayo blend and Chowhound has a whole post about it)
• 1 cup mayonnaise (Duke's light works well)
• 3 tablespoons of jarred pimentos (sometimes I use more, sometimes less depending on taste)
• 2 garlic cloves minced (you want this minced very small, even better to send through a microplane)
• 1 tablespoon of smoked paprika a.k.a. pimentón (another not-so-secret ingredient, do not use regular paprika … you need the smokiness of the real deal Spanish powder)
• ¼ teaspoon of salt (optional)
• ¼ teaspoon of cracked black pepper (optional)
Mix in bowl and put in refrigerator for a couple of hours. See if flavors melded and if more mayonnaise needs to be added for a creamier texture, adjust seasoning accordingly. Best served at room temperature.
March 16, 2011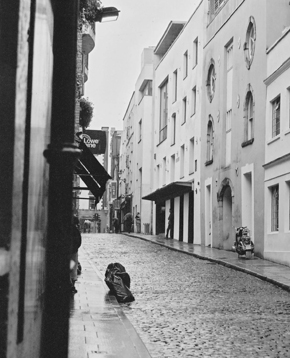 In 2003, the July prior to my wedding that October, I visited one of my best friends in her hometown of Dublin, Ireland. Every March, with shamrock overloaded visuals and overindulgent drinking stereotypes it makes me think of that amazing trip, and also of that part of the globe. It really is just a hop, skip, and a jump away from the States. The trek is easier than you think and for us in Atlanta it's only about an hour longer than flying to San Francisco or Seattle … worth it.
Here are a few of my photos (so old they had to be scanned) from that magical isle, though they don't do the trip justice. The Dublin photos are pretty gloomy, as they were shot in black and white, and it was pouring mostly. To balance them out, I've also included a few of Edinburgh, Scotland since that was the part of the trip with glorious sunny pictures to prove it.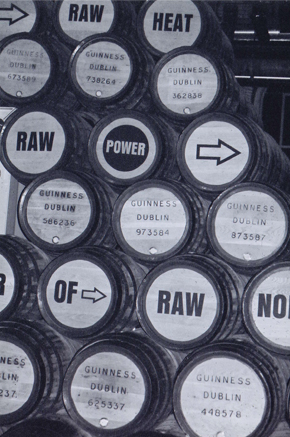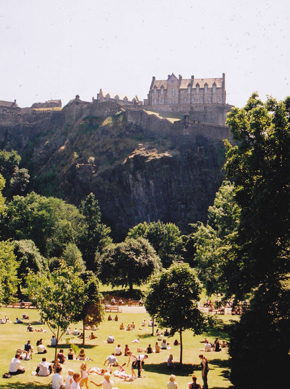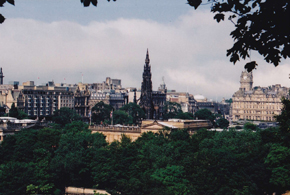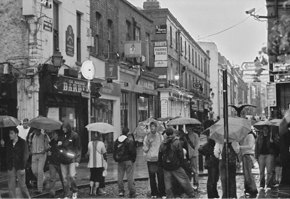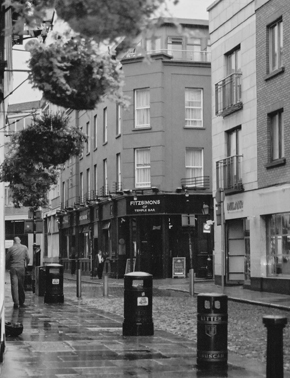 March 9, 2011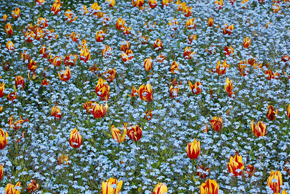 I carry a lot of energy. I'm certain I possess more than the average person, and most times that tends to work in my favor and can be put to good use. But during my husband's layoff last year I realized that without the proper tools for channeling that energy, it can turn into anxiety and worry in an instant.
Because of this, on recommendation from a dear friend, I joined an introductory meditation class. Leading up to the class there are several things that happened. One, the class got canceled. What does it mean when your four-week class to combat stress is canceled? Oh, and it was also scheduled during the holidays, helpful for those of us that might need meditation tools to not go ape shite on our family and have to send handwritten apology notes to everyone after a table gets flipped or something of that nature. Second, I happened to stumble across an article about a study released in a psychology journal about the grey matter of the brain physically changing with the practice of meditation. It's a fascinating read, you can find it here.
March 2, 2011
When we were just friends, I remember my husband missing a day of work because he had to have a couch delivered. I wondered what this couch that required a request-off-of work even looked like. I wondered what his apartment looked like … his bedroom. Shortly, I would find out that the apartment was minimal, at best. His bed had a black (or charcoal grey, I can't remember which) duvet, and his bathroom a clear plastic inner liner working as a curtain–you get the picture of a guy just out of college, working really long hours and badly needing a woman in his life to make something of this blank (or clear plastic) canvas.
Interestingly enough, the only color to speak of came in the form of his couch a neutrally-hued sage green fabric with a black weave pattern throughout, which he paired with (gasp) black throw pillows. The fact that he even had throw pillows should say something, but wow, not pretty. In the couch's defense, structurally, it's really comfy and cozy and something you want to sink into, which is certainly criteria for a living room and TV-watching sofa. The practical man he is thought to buy a sleeper sofa, which to me says just as much as the throw pillows. We spent a lot of time on that couch. It's since made two moves, from his old apartment to our first apartment together in Midtown, to our first house in Ormewood Park. It's slept countless visitors and sometimes even us when I beg to do a slumber party in the living room and watch movies and let the dog hop up, or one of us feels awful and turns it into a makeshift hospital bed.
But, this couch, it's not us. It's a dude living in a barren apartment sofa. And I'll just say it–it's ugly and has been since its purchase ten years ago. Enter my friend, my savior, design guru Heather Hogan Roberts, one half of H&H Home. I'm obsessed with everything the girls at H&H do. I've written about H&H here and here. Anywhoo, my friend Heather offered to get me a quote on a custom slipcover for this eyesore, then kindly went with me to pick out fabrics, and even sweeter, let me use her trade discount for what turned out to be a really reasonable fix. And then, had the generosity to gift me the Ikat throw pillow beauties to boot, natch.
The end result is this. I like the idea of still having that old, ratty, dependable thing under there, but surrounded in a sophisticated update. I've now fallen back in love with this couch and the boy who crashes on it. The before and after is pretty nice, yes?