December 21, 2011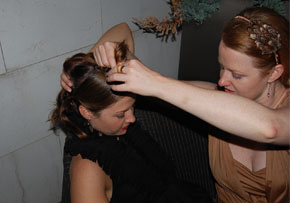 I had an article all planned to write this week. It was about holiday hairstyles featuring a funny story about how growing up, for special occasions, I always begged (err bribed) my twin sister into fixing my hair, and she'd always royally mess it up, not looking at all like I'd pictured: I'd walk off in a huff and we'd end up not speaking for several hours until I'd apologize for being such an a-hole and we'd be friends again.
There was going to be some great metaphor about family and friends and looking ones best, but instead, I'm buried in deadlines and just trying to peel myself out of yoga pants long enough to attend a restaurant opening on top of a holiday party I already RSVP'd to when all I really want to do is curl up on the couch, listen to the song below all day, and not worry about what I look like.
This year has been filled with plenty to keep me warm, and I'm so very grateful for it all. It's all beyond what any person could ever hope for. I'll be back with fresh content January 4; until then, here's a year-end video … the best my eyes have seen in 2011. Happy holidays, everyone.

December 14, 2011
Years ago, I remember reading the "Engagement Chicken" article in Glamour magazine. It circulated for a while among my single girlfriends. Do you recall? It was a simple recipe for a roasted chicken with lemon and herbs, and upon making it, many women were later proposed to by the respective consumers of that gorgeous meal. The recipe (and article) can be found here.
It got me thinking about those recipes we pull out when we're trying to impress. These are meals that set the bar a bit higher than others, but that doesn't mean they require 15 kitchen gadgets to make. Most often, I've found the dishes that appear gussied up really are just simple ways of cooking. In this season of holiday madness and loads of kitchen time that'll happen between now and New Years Day, here are some of my takes on special meals—most of which require very little effort, except good, high quality ingredients to make memorable bites.
One of my favorite desserts is when my sister-in-law bakes her individual little molten lava cakes. There's just something so beautifully decadent as the rich chocolate oozes out of individual cakes the second it's punctured with a spoon. You can find the recipe here.
I've been on a mussel kick lately. Which means that everywhere I go, if it's on the menu, it's my order. Steamed mussels really are a cinch to make, so I've heard. Before 2012, I'd like to attempt the ones here. I mean, it doesn't get any better than a broth composed of garlic, shallots, butter, herbs and wine all waiting for sweet mussels to take the stage.
According to my husband, his sweet grandmother (who I wish I could've met) made a very special beef braciole with egg this time of year. I'd like to make him this showstopping recipe here, no matter the season.
Mussels, chocolate, braciole, a few simple ingredients, plenty of friends and family to share it with, is there anything better?
I suppose a proposal.
December 7, 2011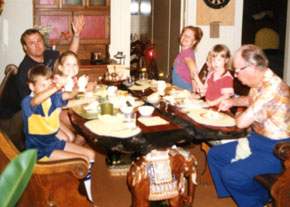 We just bought our plane tickets to head to my family's house for the holidays, which got me reflecting a bit on the spirit of the season. When I was younger my family had a phrase—one to grow on—that little extra push could set us apart, which could be applied to many things (but I remember it the most with sports, regarding a few more sit-ups or another lap around the track). I find myself thinking about all those things family and friends teach us along the way. Here are my top 10 (plus one to grown on) words of wisdom (or just plain actions I've admired) from the loved ones in my life; some, I wish, were still around to continue teaching me. These are my one to grow on moments pushing me to be better.