June 27, 2012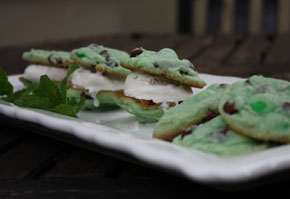 I'm still reeling from the incredibly kind words and comments about last week's piece. Thank you. Now, let's chat about dessert!
Sometime around St. Patrick's Day while poking around on Pinterest, I saw an abundance of foods dyed in green for the holiday. I came across a pastel green-hued cookie thinking it was some from-scratch masterpiece. Allrecipes.com told a different story. The recipe calls for a box of Betty Crocker sugar cookie mix with crème de menthe baking chips, food coloring, mint extract and chocolate chunks. My kind of concoction (though I'm not normally particularly fond of a bunch of dye in my food).
You can find the full recipe for the cookies here. However, I tweaked the recipe after walking out of two grocery stores empty handed with those pesky crème de menthe baking chips nowhere to be found. Instead I used dark chocolate mint M&M's for a semi-monster cookie effect.
Well, then I added a healthy slather of vanilla Graeters between two of these bad boys and created mint chocolate chip cookie ice cream sandwiches. The sandwiches are a somewhat deconstructed version of mint chocolate chip ice cream and are cool, creamy, and sweet–just the thing for summer. If you're feeling particularly ambitious, by all means, churn out your own pint of ice cream and whip up a batch of your favorite homemade sugar cookies. I, on the other hand, felt just fine taking the shortcut.
June 20, 2012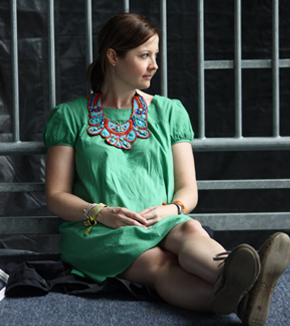 Again, that's Seith,* party of three. That's right. We're having a baby! Now you can see from the Bonnaroo piece two weeks ago where I wrote about covering a music festival in the middle of Tennessee for four days just might put me in the crazy category. Well, what I didn't say then is that interviewing rock stars and filing 20 stories in 96 hours where the only toilet option on site was a Porta-Potty was just about the last thing I thought I'd do while four-and-a-half months pregnant. Talk about exhausted, as you can see from this photo where I'm taking a breather backstage.
I wasn't entirely sure how I'd handle this portion of the baby, the telling the world part, especially for those of you that live so far away. It seems a bit impersonal and showy at the same time. But, here goes. This little bundle in my belly has been a tough secret to keep. Those in Atlanta know (me being 5'2" in a wedge sandal and all) that I'm past the stage of, "Wow you look different and like you've really been enjoying having your face buried in a tray of donuts, but I'm not sure if you're pregnant." It's pretty obvious at this point what's going on underneath my shirt, but I forget there's a whole world out there that doesn't get to see this growing Buddha belly in action. So, now seems as good of a time as any to spill the beans, especially since I'm just over 20 weeks into creating a home for this little kangaroo.
June 13, 2012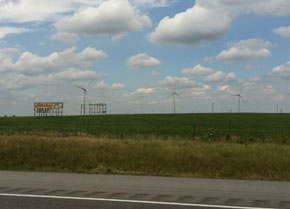 This week I'm staying in a house on Lake Michigan with my entire family on our bi-annual vacation. Here's a bit of what I've been soaking up the past few days.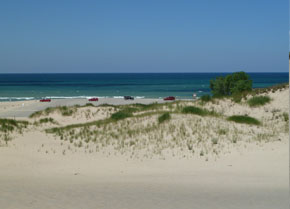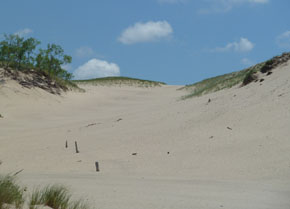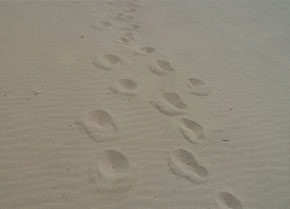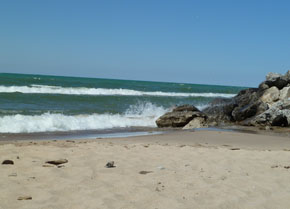 June 6, 2012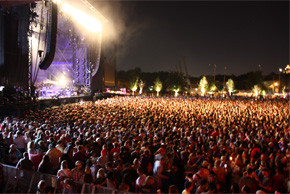 If you would've told me this time last year that I'd be about to cover a four-day music festival on a 700-acre farm in the middle of Tennessee for work, I'd think you were crazy. And after you read the danapop piece slated in a couple of weeks in which I drop a bit of news, you'll realize I am in fact the one that's nuts.
Yes, I'm headed to Bonnaroo. While covering an event like this is incredibly rewarding and certainly one of the perks of the job, it's very hard work. It'll be filled with loads of running around to secure interviews, capture specific images, and well, just being in the right place at the right time. I cannot wait to see Radiohead, Bon Iver, the Avett Brothers, Rodrigo y Gabriela with C.U.B.A., the Temper Trap, the Shins–and oh my goodness–Kenny Rogers and Alice Cooper. It's going to be amazing.
For all the running around, I know I'll need a few great pieces to wear throughout the long days and nights in the sweltering Southern heat. The clothing needs to be lightweight and practical, while also still being cute and professional all at once. That means my beloved wedges are obviously out, as are stifling synthetic fabrics. As much as I want to pack this donut (I'm obsessed with this girl's tutorial. Not sure if it's the accent or the braces or her use of the phrase "bobby clips," but I think it's hilarious.) though, I'm afraid it should be saved for a fancier occasion where tank tops and Toms aren't involved. Well, that and the fact that I chopped off some significant inches last week, inspired from this chic style, here.
Hairstyles aside, are you headed to a big music fest this year? Here's the roundup of festival clothes and accessories ready for the packing.

1. Seagrass Trilby, Topshop 2. Tribal  Zig Zag Strap Dress, Shop Sosie 3. Dr. T's Supergoop! Sunscreen Swipes, Beso 4. The Canvas Snapshot Bag, Madewell 5. Ahoy Stripe Tank Top, Quicksilver 6. Gypsy Tour Thresher Nap Shorts, Quicksilver 7. Elastic Strap Gladiator Sandal, American Eagle Outfitters 8. Wayfarer #31, Deck Specks 9. Lemlem Losha Gauze Scarf, J. Crew 10. Double Layer T-Shirt, Oasis