August 29, 2012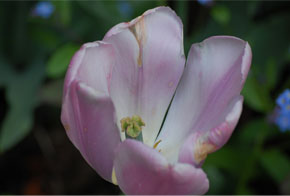 I've spent the past couple of weeks packing up my office. It's a mix of happy and sad at the same time. All of it. My office now moves to our shared dining room and kitchen area, and what has up until now been a combination guest bedroom and home office now becomes our daughter's nursery.
I'm sifting through expired writing contracts and styleguides for companies I no longer write for, including an old "admin cheat sheet" from DailyCandy and MSN Postbox's explanation of hybrid media. In place of that pile is now printed copies of birthing plans, parents morning out applications in lieu of daycare, scraps of paper jotted with custom cabinet measurements, and a stack of pendant lighting images.
It is important to me for our daughter to have her own space. A calm, quiet area of the house that is all hers. It is equally important for me to have the same for myself. I still want to feel like my career matters in-between the feedings and diaper changes and the monotony that motherhood brings (coupled with the giggles and wonderment). That said, I also want to be realistic with my clients and myself that my life as I've come to recognize it is all about to change. For the better, I'm sure of it, but in the process that means saying goodbye to a lot in order to create space for this new life.
Come next week, you'll see the first tangible change I've created. Danapop is getting a shift in both design aesthetic and editorial focus. I'll be posting more often in a simplified space and in a way, I hope, that is still as enjoyable for you to read as it is for me to write.
I'm thrilled for the possibility of what is yet to come.
August 22, 2012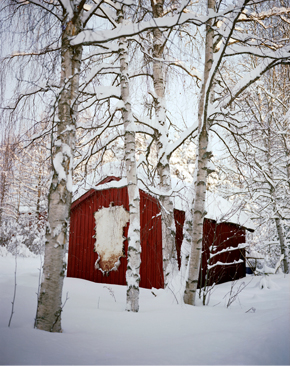 For four years photographer Erika Larsen immersed herself in a project about the Sámi, the semi-nomadic reindeer hunters living on ancestral ground between Sweden and Norway.
Her beautifully quiet and poignant collection of images capturing the indigenous daily life of the Sámi is about to be released in book form. I was fortunate enough to interview this talented shutterbug about the Sámi way of life, her book, and the duality of beauty in the wild.
August 15, 2012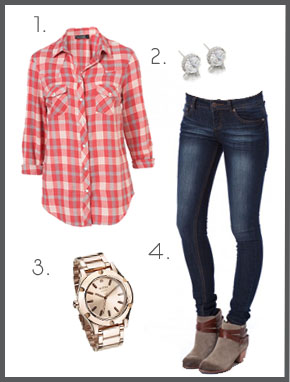 No, not change your personality, but your outfit. According to comedian and writer Mindy Kaling's fun read, Is Everyone Hanging Out Without Me? every male writer she's worked with puts their female characters in dark wash jeans and a button down. It's the girl-next-door fantasy outfit. The ensemble is approachable, but apparently still has a hint of sex appeal (just make sure the shirt is tapered for a fitted look).
After I read the book I started noticing the trend on television shows. Practically every sitcom character from Modern Family (Claire, not Gloria), to syndicated Friends episodes with Monica rocking some version of this, to Liz Lemon's dowdy version on 30 Rock, wears the common thread of jeans, a plaid button down, and classic jewelry. Who knew it was the guys dream attire for their future girlfriend?
Though, as simple as this outfit is, it's sometimes just as fun (maybe even more so) to hear what clothing guys hate courtesy of manrepeller.com.
1. Longsleeve Check Shirt, Topshop 2. Classic Caroline Studs, Swell Caroline 3. Camden Watch, Nixon 4. Denim Skinny in Heritage, Shop Sosie
August 8, 2012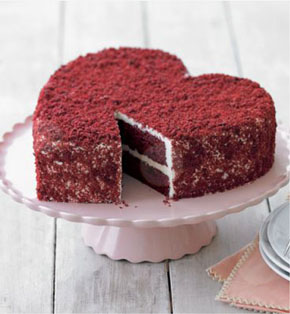 I have very fond memories of my father, but none more sweet than the way he'd hold my hand. Whenever we'd hold hands to cross the street as a child, he'd give three short squeezes. I. Love. You. That gesture has stuck with me through adulthood.
My sister-in-law has a similar gesture she does with my niece. She'll point to her eye, then her heart, followed by a quick point to her daughter. I. Love. You.
My husband and I have sort of our own communication when it comes to saying, "I love you" without saying one word. We spent years as a couple on very different work schedules. He'd be getting up to head to the office at a normal hour of 8 or 9 a.m. and I'd still be dead to the world, since I wouldn't come home until about 11:30 or almost midnight the night prior. In the morning, he'd rouse me with a brief kiss on my forehead. Instead of even responding, I'd put my hand across my heart and open it up to him after, as if to say, "You have my heart, today (and always)." If we travel separately, we always do this before getting on a flight. And I've done it several times while doped up heading into surgery. It's our own language, in which you don't say one word, but say so much.
And right now, with this baby in my belly, we already have an unspoken love language. Lately, our favorite activity is for me to laugh and then for her to kick, which ultimately makes me laugh more and her kick more. We could do this game all day long. I'd like to think it's our own endearing language of letting the other know we're around.
Do you have an unspoken way to tell someone "I love you?"
Image: Courtesy of the most gorgeous website that I cannot read a single word, coolandbello.co.il
August 1, 2012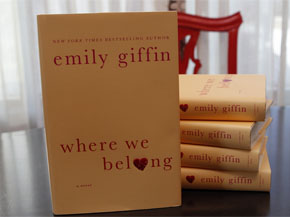 In an endless sea of chick-lit authors, Emily Giffin manages to float to the top. Her incredibly well crafted characters are laced with very human elements like being flawed or making less-than-favorable decisions, paired with Giffin's solid storytelling. All of this ultimately puts her as one of the most likeable and talented literary voices around.
I got a chance to interview Ms. Giffin just before an event in Atlanta where we chatted about her latest novel, role models, the publishing industry, and date nights.