September 27, 2012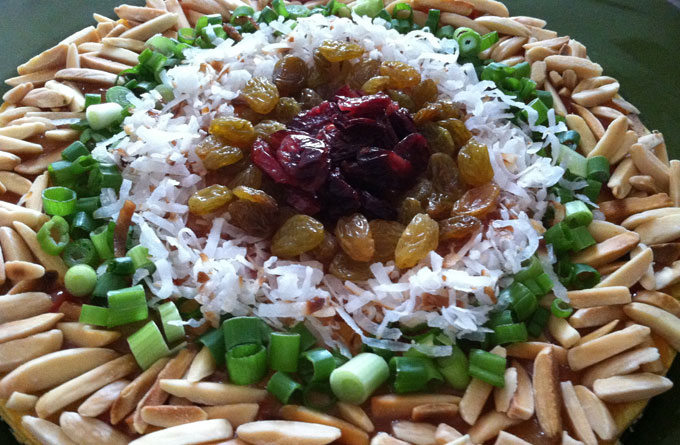 Not only is my twin sister a fantastic cook, but her methods in the kitchen are also admirable. She wings it. She'll glance at a recipe, but then tweak it her own way, making meals when she's manning the kitchen filled with a spread that is as impromptu as it is tasty.
The one recipe she sticks pretty much to a tee for is curried mango cheesecake. She serves the savory appetizer often for work at exhibit openings and has whipped it up pre-holiday meal several times. I love it. It's different and good, and perfect for all the upcoming entertaining that goes with this season. Plus, it looks like art on a plate. How gorgeous is that?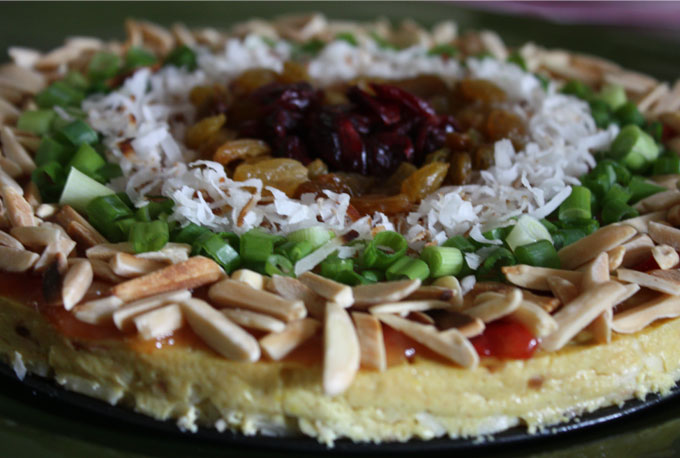 Curried Mango Cheesecake
Serves 12
Cheesecake Ingredients:
1 cup lightly toasted coconut, divided
16 ounces cream cheese, softened
½ cup mango chutney (Trader Joe's has nice mango ginger jarred version)
2 eggs
1 green onion, white bulb and ½ inch of green top, sliced
1 clove garlic, minced
2 teaspoons curry powder
1 teaspoon salt
Garnish Ingredients:
½ cup mango chutney
1 cup slivered almonds, toasted
1 cup sliced green onions
½ cup toasted flaked coconut (I use sweetened)
½ cup dried cranberries
½ cup golden raisins
Cheesecake Preparation:
Spread ½ cup coconut over bottom of a buttered 7-inch springform pan; set aside. Beat the cream cheese in a mixer bowl or food processor until fluffy. Add the chutney, eggs, green onion, garlic, curry powder and salt; blend well. Spoon the cheese mixture into the prepared pan, spreading evenly. Bake at 300° for 45 to 55 minutes or until firm. Refrigerate the cheesecake uncovered for two hours. Run a sharp knife along the edges of the springform pan. Remove the cheesecake from the pan. Pat the remaining ½ cup of coconut on the outside edge of the cheesecake.
Garnish:
Spread the top of the cheesecake with the chutney. Then choose one of the following decorating suggestions. Sprinkle the almonds around the edge. Sprinkle the green onions in a circular fashion around the edge of the almonds. Sprinkle the coconut around the edges of the onions, forming three concentric circles. Lightly score the cheesecake into 10 equal wedges. Fill in each wedge with rows of dried cranberries, green onions, slivered almonds, golden raisins and coconut, repeating rows in the same order until the wedge is filled in.
Light Variation: Substitute light cream cheese and ½ cup egg substitute for the full-fat cream cheese and eggs.
Serving Suggestion: Pair with an assortment of flatbread, Melba toast, and crackers arranged on a pretty platter.