February 23, 2010
A couple of weeks back Facebook decided to make it Doppelgänger week. Grr. I didn't participate.
Reason? I always get frustrated with these sorts of things because my girlfriends and sisters get compared to really gorgeous celebrities.
Like these: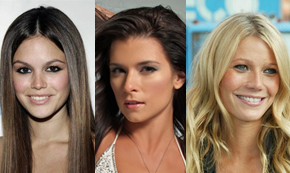 And, me? Well, here's who I've been told I look like: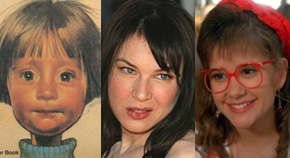 So, lemme get this straight … an 8-year old precocious tomboy with the old-lady name of Ramona, a celebrity who often looks as if she just finished sucking on a lemon, and the mousy daughter on Life Goes On.
Awesome.
But, celebrity analysis always wants to put me in a different category (err nationality) all together with these as my top matches.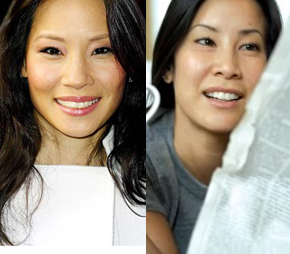 I give you Lucy Lui and Lisa Ling … um gorge, but I'm not Chinese-American. Although, admittedly I get mistaken for other nationalities often–Chinese being the most common, as well as, anywhere in the Pacific Island region. Post beach vacation I apparently look like a native from Guam.
My twin sister did a fellowship in China several years back and when she showed her flatmates a picture of our family the first response was her friend pointing at me saying, "She one of us." Screw you Scottish ancestry. You ask, "Am I Chinese?"  "Why yes, yes, I am." But apparently one with a penchant for tart citrus and 10-speed bicycles.
February 16, 2010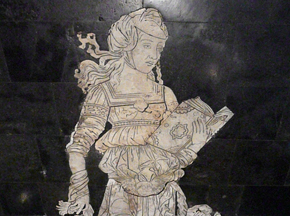 This week's travel piece is another postcard. It's from a guest blogger who's posted on these pages before–Emily Gold from Paper Cake Scissors. Here's her postcard from Tuscany loaded with winding roads, rolling hills, rich history, and of course plenty of pasta and vino!
Gustare!

Italy was never at the top of my travel wish list until my mom told me that she and my dad were considering a visit over the holidays. The conversation with my husband over whether or not to go was brief, leading to a quick call back to my parents to say YES. I didn't regret our decision for a minute, especially when, two hours after landing in Rome, we were already exploring the Pantheon. We focused on Tuscany except for one hop across the border into the Umbrian city of Perugia and a brief cruise through Rome during a five-hour layover on the way to Florence. And yes, my parents and husband and I all got along, and we had a very memorable holiday captured in hundreds and hundreds of pictures.
February 9, 2010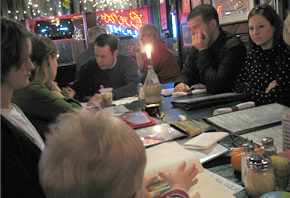 My husband says that when we go out to eat, more often than not, I'm a better orderer than he is. I'm pretty proud of that. We're both fairly adventurous eaters (bar a horrific sea scallop sushi experience that had me gagging and spitting a half-chewed wad of nastiness into a linen napkin only to beg my sister to dispose of it in the restaurant bathroom because I couldn't bear to look at it again). So, aside from raw scallops, we're good on the "try anything" food front.
Restaurant ordering can be tricky; the only exception for me is in places touting specialties. In my experience, if a place has the gumption to brag about something they do really well, chances are they do. These are the sorts of restaurants where the meals that boast a sign outside like "our chicken is the shit" (true story in Costa Rica-we did eat at a restaurant with that very sign out front and it was the aforementioned, shit).
Recently though I've gotten off my menu game and tried things I normally wouldn't have ordered, but they've become the most memorable things about the meal. Making me almost ashamed to keep touting myself as the official best orderer in my house (even though it's still ringing true).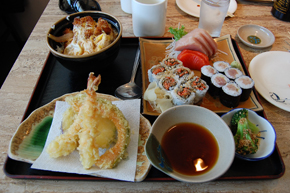 These could be the family style night out with friends where you're forced out of your food rut and experience all sorts of goodness at the table that you never would've allowed on your plate (I'm talking to you Parish BBQ Shrimp).
My favorite almost-order was an accident (they almost always are) when our waiter screwed my meal up more than once and heard me under my breath trying to convince my husband to order the coconut cake for dessert. My husband's chocolate obsession won out, but the waiter made good by bringing us both. That cake I write all about here, and let me tell you my memory of its deliciousness has not wavered.
Because those almost-orders, much like life, really are the seven layers of frosting on the heavenly coconut cake.
February 2, 2010
I'm fairly certain I'm not alone in my relationship metaphor in which one person is generally driving the train while the other person is passenger. In my marriage this is an accurate assessment, but who's at the helm is constantly changing. But, in my parent's relationship, for instance, my father was the sole driver, my mother, sitting passenger … for 33 years. And it worked for them.
The point of who's driving is that I've noticed something with my girlfriends. Who they are in their relationship may not be who they are when they are with friends (myself included).
Need a valid example? My best friend and I cannot figure out what to order when we're together and inevitably will end up with a bottle of wine (err who are we kidding?), a cheese plate, a bowl Marcona almonds, and a hangover from hell. But, I assure you–neither of us is this indecisive in our everyday life and relationships.