March 5, 2013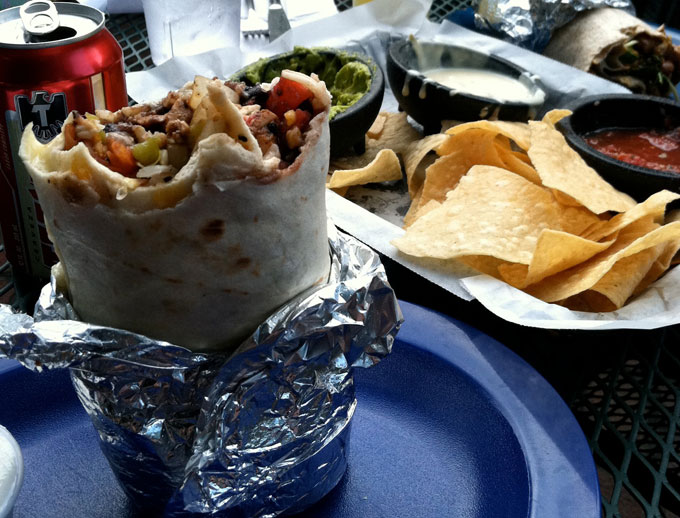 Mexican food is my go-to for quick and easy weeknight suppers. Fish tacos (grilled tilapia topped with slaw and jalapenos), burrito bowls (rice and beans loaded with anything the veggie bin is holding), and simple quesadillas (a melted mountain of cheese and beans) are in constant rotation. Those are meals that don't really require a recipe.
So, it's no surprise I'm not someone that goes rogue when it comes to cooking. Most of the time I happen to be a strict recipe follower. A couple of weeks back we went to our first restaurant with Margaret. Up to that point, we'd ordered takeout, but hadn't actually sat down at a restaurant table at night. I was craving my favorite burrito from here, called the Bangkok Burrito, but the place was packed and parking was nuts (yes, I'm officially old), so we ended up somewhere else.
In an attempt to create my own recipe, I've used parts of other dishes, so we can try it at home. I used the peanut sauce from here, and riffed the ingredient list from Raging's amazing concoction as the burrito's base. I did, however, make some tweaks like using broccoli slaw instead of plain carrots, and eliminating the red onion since the wee one cannot handle me eating those right now.
As if we need another reason to never leave our house these days, this burrito gives the restaurant version a run for its money.
Peanut Chicken Burritos
makes two really good-sized burritos
1 large grilled chicken breast (or 2 small) seasoned liberally with garlic powder, salt, pepper
¼ cup red pepper (sliced julienne)
¼ cup cucumber (sliced julienne)
Handful premixed broccoli slaw with carrots and cabbage
1 T cilantro (rough chop)
2 T sliced green onion
½ cup Basmati rice
½ cup black beans (works well with pinto, too, or a mix of both)
2 T peanut sauce (recipe here) plus, more for dipping
2 large flour tortillas
Method:
Warm tortillas for about 25 seconds in the microwave so they are pliable. Working on one side of the tortilla, fill with rice, black beans, red pepper, cucumber, slaw, cilantro, and chicken. Top with peanut sauce. Roll length-wise, tucking sides in as you go to form a tight burrito. I'm going go with the David Spade flight attendant scene in Tommy Boy here because the same holds true—if you don't know how to fasten your seat belt on an airplane or need a tutorial on how to roll a burrito, you might have bigger problems than just those two learning curves. Add more peanut sauce on the side for dipping.
you might also like...
February 14, 2013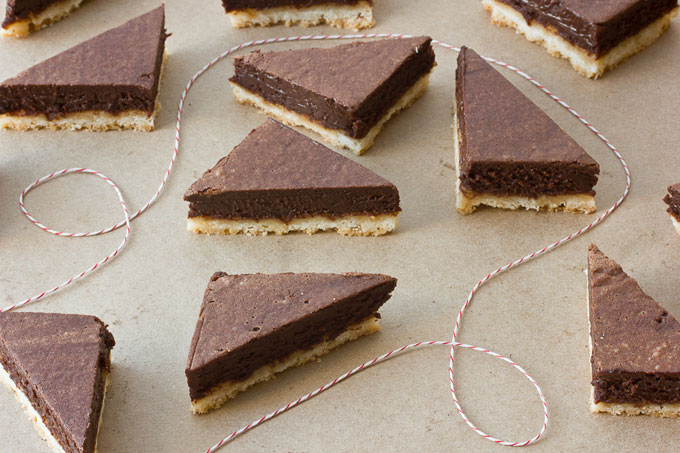 We all know the way to most hearts is through the stomach. With that in mind, one of the best food bloggers around, Dixie Caviar, was so kind to share her recipe for Kahlúa truffle triangles that will surely have your love swoon this Valentine's Day.
From Dixie Caviar
Contrary to popular belief, and despite my blog's name, I cannot claim a "signature" dish. I do not have a restaurant-worthy dinner rotation (just ask my fiancé) and oftentimes I forage my pantry for Nutella and call it lunch. As a full-time food writer, recipe developer, and cooking instructor, I really ought to be ashamed of myself.
I am a complete culinary commitment-phobe, you see, and the thought of making the same thing twice literally makes me cringe. Despite trying hundreds of recipes over the years, most of them actually quite good, I can never seem to settle on just one. In fact, I can't seem to settle on any.
My fiancé—a creature of habit—has begun to complain. He begs for the chicken & mushroom lasagna I made that one time, and pleads for the black bean enchiladas I whipped up just last year. My answer, poor guy, is typically no. I'm either in search of my next delicious discovery, or worse, pawning off cupcakes and cookies as dinner. (It gets old, I swear.)
Then again, there are those Kahlúa truffle triangles I discovered only a few short years ago. It was Valentine's Day and I was hoping to impress a very new beau. I'm not sure if it was the buttery shortbread crust, the silky smooth chocolate filling, or perhaps even me, but he took a liking to something that day. The very next year I made those same decadent triangles, in hopes of keeping cupid's sweet spark alive. And the year after that? He asked when I was making the truffles?
Here we are five years later, and he's still my one and only Valentine. We don't really celebrate the holiday, but even so, I am looking forward to spending the night lounging on the couch, wedged in between our farting, drooling children bulldogs. We'll watch old movies and eat cold delivery pizza (Domino's Black Box, my favorite!), and it'll be perfect. To finish, we'll nibble on a batch of those same Kahlúa truffle triangles. Or wait. Since I've made them five times, perhaps I should call them my "signature" dish?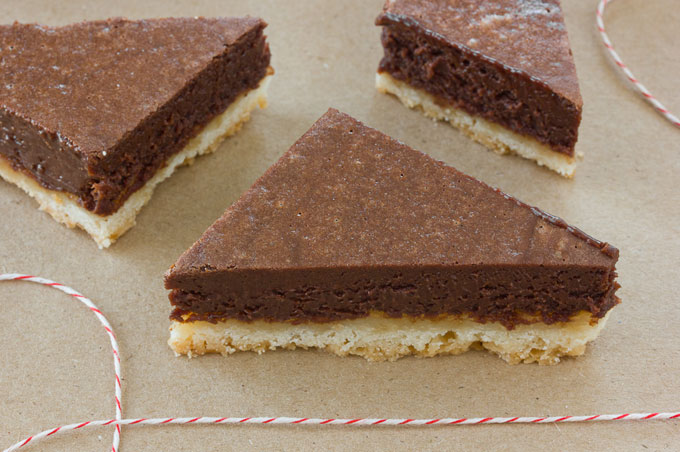 Kahlúa Truffle Triangles
Adapted from Fine Cooking
Yields: approximately 36 triangles
For the crust:
6-3/4 ounces (1-1/2 cups) all-purpose flour
3 ounces (3/4 cup) confectioners' sugar
1/4 teaspoon table salt
6 ounces (12 tablespoons) cold, unsalted butter, cubed
1/2 teaspoon vanilla bean paste or pure vanilla extract
For the filling:
1 pound good-quality semisweet chocolate chips (Ghirardelli or Guittard)
3/4 cup whole or 2% milk
4 ounces (8 tablespoons) unsalted butter, cubed
4 large eggs
2/3 cup granulated sugar
3 tablespoons Kahlúa
For the crust: Preheat the oven to 350°F. Line the bottom and sides of a 9×13-inch baking pan with foil, allowing foil to hang over the long sides of the pan to act as handles for removing the cookie later. Lightly butter the foil.
Combine the flour, confectioners' sugar, and salt in the bowl a food processor. Process the dry ingredients to combine, about 15 seconds. Scatter the cold butter pieces and the vanilla over the flour mixture and pulse on and off until the dough becomes crumbly, about 45 seconds – 1 minute, being careful not to overmix.
Pour the mixture into the prepared pan. Press the dough firmly but quickly into a smooth, even layer. Bake for 20 -24 minutes, until the crust is very pale golden on the inside and golden-brown around the edges. Be careful not to overbake or the crust will be hard and crispy. (I have tendency to err towards caution and remove it on the early side, since it cooks a bit more in the pan.) Transfer the pan to a cooling rack and begin the filling.
For the filling: Lower the oven temperature to 325°F.
Combine the chocolate, milk, and butter in the bowl of a double boiler (or a medium glass bowl set over simmering water) and heat until just chocolate is just melted, whisking occasionally until the mixture is smooth. Set aside to cool slightly.
In the bowl of a stand mixer fitted with the paddle attachment (or with a hand-held electric mixer) beat the eggs, sugar, and Kahlúa on medium speed for 2 minutes, until foamy and light. Add the cooled chocolate mixture, then beat on medium speed until well blended, about 30 seconds, stopping occasionally to scrape down the bottom and sides of the bowl.
Pour the chocolate batter over the baked crust and spread to distribute evenly. Bake until the sides are slightly puffed and a toothpick inserted near the center comes out wet and gooey, but not liquid, 30 to 35 minutes. (I usually pull it at exactly 30 minutes. It may seem a tad wet in the center, but it cooks a bit more while it cools.) Transfer the pan to a wire rack to cool. (The center may sink a little bit; the recipe says to use your fingertips to gently press the edges down to the level of the center, but I just leave it be, and later cut the edges off for snacking.)
When completely cool, cover with plastic and refrigerate until very cold, at least 12 hours or up to 2 days. Remove from the refrigerator for 5 -10 minutes. Remove the rectangle from the pan by gently lifting the foil out, using a large spatula if necessary. Place on a cutting board and carefully peel away the foil from the bottom and the sides.
Prepare a large glass of hot water and dampen a dish towel with warm water. Heat the knife in the water for a few seconds. First cut away the edges of the rectangle (for snacking!), dipping the knife blade in the hot water and wiping clean after each cut.
Cut the rectangle crosswise into 1-1/2 inch long strips. (If the chocolate seems to be getting a little soft, refrigerate the strips for a few minutes before continuing on.) Cut the strips into 2-inch bars, continuing to warm and wipe the blade after each cut.
Cut each bar in half diagonally to make triangles. Place triangles on a large sheet pan, cover in plastic wrap and refrigerate until ready to serve (up to two days). Let sit at room temperature for 5 minutes before serving.
you might also like...
January 24, 2013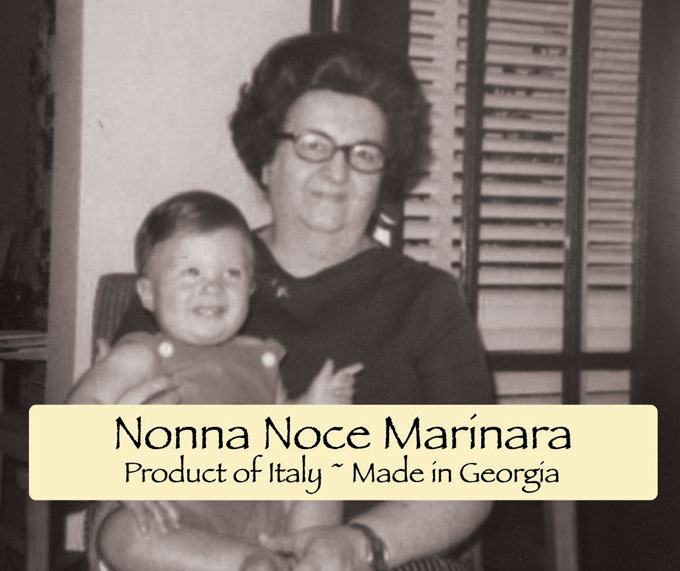 Several years ago, Dan and I started making homemade stocking stuffers. We usually make a batch of something big enough to give to friends as gifts as well. In past years we've made everything from limoncello to salted butter caramel sauce, to rosemary and lavender walnuts, to peppermint bark. Above all, the one we get asked the most often to do again is Dan's maternal grandmother's recipe for sauce. Or should I say gravy?
I always crave it this time of year when it's cold outside and you want nothing more than to carb-load by tucking into a great big helping of lasagna or piles of pasta smothered in marinara.
In typical Italian fashion, there is no recipe. Just like his grandmother's, Dan's version varies slightly each time he makes it. Here's the closest thing I could get to documenting it for readers to recreate.
Everyday Marinara
2 large cans of tomato sauce
1 large can of either crushed or chopped tomatoes (San Marzano tomatoes work really well)
1 small can tomato paste
3-4 cloves of garlic, very finely chopped
Several handfuls of fresh herbs (any combination of basil, oregano, parsley)
Method:
Simmer in a slow cooker for 6-8 hours. Makes enough to keep one large container in the refrigerator and one in the freezer for later.
Optional additions:
A splash of dry red wine (Chianti), a few pinches of crushed red pepper. Also, if the sauce seems too acidic, add a pinch or two of granulated white sugar.
Uses:
Fantastic over any pasta, as a pizza sauce, and for dipping.
you might also like...
October 30, 2012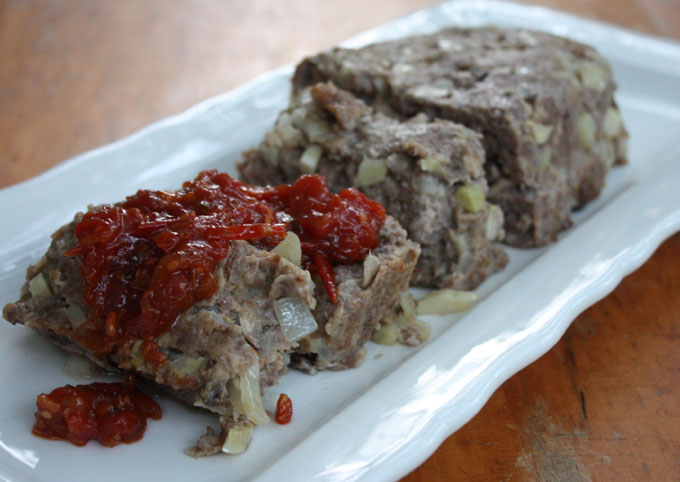 Growing up, we didn't eat a lot of meatloaf. In fact, we didn't even know of its existence. It was not a favorite dish of my father's as his mother's version came out (surprise, surprise) a really funky texture and supremely bland. It was a dish, according to him, that even heaps of ketchup couldn't save.
But, my husband loves the stuff. It really is the ultimate in man food. I've always liked meatloaf just fine, but it's taken me a while to find a recipe I truly loved. My version is tweaked from the tried and true Better Homes and Garden Cookbook (the one with the iconic red and white gingham cover) using traditional beef, but adding finely chopped fennel and mushrooms into the mix. It's filling and good, but pretty rustic, as I like to keep it with very little binder so it still resembles something edible.
Mushroom Fennel Meatloaf
1 beaten egg
¾ cup dry breadcrumbs (I sometimes do a breadcrumb/panko combo)
¼ cup apple juice (or hard cider)
¼ cup finely chopped onion
¼ cup finely chopped fennel
¼ cup finely chopped mushroom
2 tablespoons parsley
1 pound ground beef
2 tablespoons ketchup (or tomato jam, which I highly recommend)
In a mixing bowl combine egg; breadcrumbs, apple juice, onion, fennel, mushrooms, parsley with ½ teaspoon of salt and ¼ teaspoon of pepper. Add ground meat and mix well.
In a shallow baking dish pat mixture into a 7x3x2 inch loaf.
Bake in a 350° oven until no pink remains. Bake loaf for 45 to 50 minutes. Transfer to a platter. Drizzle with ketchup (or tomato jam, which is what I top mine with and it really puts it over the edge!).
This makes one loaf. For variation, you can make smaller versions in muffin tins or ramekins, which freeze especially well. Just thaw out and reheat a few and you have a hot meal in an instant. This recipe also works fantastically with ground turkey instead of beef.
you might also like...
October 25, 2012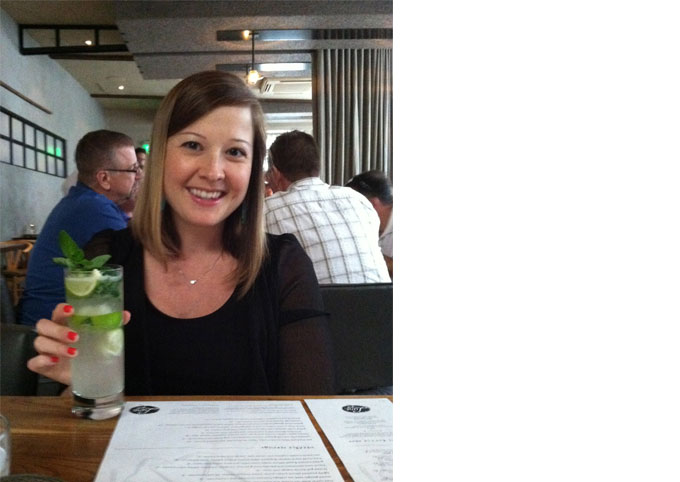 I so miss alcohol. I know I'm probably not supposed to say that. I'm supposed to be one of those pregnant women who claim they didn't even want it and the thought of a glass of wine made them nauseous. Believe me, the experience of carrying this baby for the past nine plus months has been worth every sacrifice, but I so miss alcohol. I can't even remember what I like to drink anymore.
But, not partaking has made me think of it a bit different and my habits surrounding it before I got pregnant. Covering Bonnaroo for four days surrounded by overindulgent festivalgoers was quite an experience. So was being the sober fly on the wall at countless media dinners where the wine was flowing as irresponsibly as Amanda Bynes' bad driving.
In lieu of it though, I've become a master at the mocktail. My favorite is a virgin mojito. It's just a bunch of muddled mint, the juice of about one lime, and soda water. It makes me feel like I'm drinking something much more special than bubbly water with herbs and an acid. My friend Asha told me about this all-natural pre-made mix from Mo' Mint & Thyme. I'm now obsessed with it. It's so refreshing and available at local farmers markets if you live in the Atlanta area.
I actually feel like I'll continue sipping this one post-pregnancy when I want something fancy in a glass, but don't want the alcohol.
you might also like...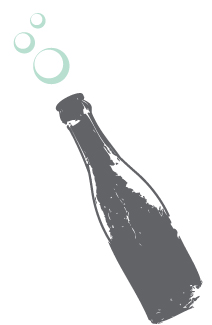 archives