June 29, 2011
We're heading to the beach next week to spend the 4th of July holiday in Siesta Key, Florida. And it's reminding me of where I watched fireworks (in spirit) for several years growing up. While we didn't take many vacations as a family, we did annually stay in my dad's hometown of Baxter Springs, Kansas for a pow-wow to celebrate Independence Day with lifelong family friends and tribal leaders. In lieu of bottle rockets, oohs and ahs, there, we were surrounded by drumbeats and feathered regalia in ceremonial dance.
My family has strong ties to that three corners region where Missouri, Oklahoma, and Kansas intersect—my great-grandparents Raymond and Fey, met and married in Baxter Springs. It's just 13 miles from where my father was born in Joplin, Missouri's St. John's Hospital, which was hit by the tornado that devastated the area on May 22.
All of this reminds me of how much has changed in my life since the last time I've been and how much folks in that part of the country are still sifting through. But, I know energy and ancestry runs deep in the land, so I'm hoping for a little tribal dance, a flutter of hope in their honor.
June 22, 2011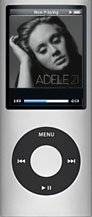 It's hot in Atlanta. Feels-like-August-although-it's only-June hot (and humid). But, this is always the time of year I want to listen to some good music, drink in hand, playing with the dog, outside. Or it's the time we load up the car and head to the beach. Either way, you need a good playlist—here's mine.
The Sound of Sunshine by Michael Franti & Spearhead (My yoga instructor plays this in class and there's something fantastic and powerful about doing a bird of paradise pose against a reggae beat).
June 15, 2011
I've been in Atlanta for 11 years now (almost to the day as I moved here Memorial Day weekend in 2000). And mostly, this feels like home. That's the interesting thing that happens when we're adults and no longer dependent on our parents; when the home you grew up in isn't home anymore. Last year we toyed with the idea of many other places becoming our home—our hometowns made the cut (Cincinnati, Kansas City), as did NYC, LA, and Chicago. Even Richmond and Boulder were in the mix because of potential job opportunities.
But, that wasn't where we were supposed to be. We're clearly, for now, meant to be here, in Atlanta. Though that doesn't make the missing any less rough. Lately I've been incredibly homesick, and I'm not certain what it is that I'm missing. My mom? My sisters and brother? My nieces, nephews, and grandmother? The unrealistic notion that my family isn't scattered throughout the country?
My first Thanksgiving in Atlanta my twin sister visited and brought along her college roommate with her son who was about four at the time. My twin also invited her on-again-off-again high-school boyfriend and we cooked the turkey with the bagged innards still inside the bird (whoops), watched half of "Fight Club" just before bed and I had an epiphany in the middle of the night, woke my twin up and asked her to tell me the truth, "Is Tyler Durden real?" But that's a whole other article. Anyway, apparently when they left, my twin's college roommate's son (ahem–this story is really a friend of a friend, plus a cousin, isn't it?) said, "I miss everyone." Meaning the chaos and all the fools (myself included) at that Thanksgiving in my teeny apartment.
And that's where I am, as profound as a child, "I miss everyone."
June 8, 2011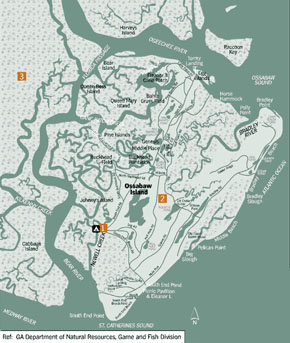 The 1975 documentary on Grey Gardens and the HBO film in 2009 exploring this property in East Hampton, New York (once owned by mother and daughter, both named Edith Beale) are excellent. If you have a moment, the New York Times photos here are stunning and haunting at the same time, as is the Washington Post piece here. Earlier this year, Atlanta Magazine featured an incredible article on Ossabaw Island, the second largest island off the coast of Georgia in the barrier chain, the Golden Isles, and from the first word on the page about its sole property owner, ninety-eight-year-old Sandy West, it reminded me of Grey Gardens. You can read the full article here about West's family selling the island to the state in 1978.
The string of land surrounded by water along the Atlantic shoreline is part of the reason I was intrigued to move to Atlanta in the first place. The notion that I, a landlocked girl from Kansas could live within a four to five hour proximity of the ocean is baffling. But, it's true, and there are a dozen islands off the Southeastern part of the state, several with which you are probably familiar—Jekyll (frequented in the early 1920s by the Carnegie and Pulitzers as a winter retreat from Manhattan), Cumberland (John F. Kennedy Jr. and Carolyn Bessette wedding), Tybee (numerous movies shot here), St. Simons (its famed first lighthouse has served as a beacon since 1807) and Sea Island (30th G8 Summit in 2004).
I've gotten to about a third of them and they all are special in their own way, but the one I want to visit next for certain is Ossabaw. Back in the 60s, West ran the island as the Ossabaw Island Project, an artists' residency to rival the prestigious Yaddo in New York. There is something drawing me to want to work and write there, even if just for a week. It's uninhabited mostly, barring West and those on her estate, and you can only get there by private boat and they'd like it to remain that way, preserved and rustic. My twin sister and I have been chatting for a while now about a joint artists' residency with her sculpture and my writing to see what we can create, so perhaps this is the spot where we're supposed to be? I do know there's something drawing me there and I'm listening to that and hoping the untarnished image in my mind matches what I'll discover.
June 1, 2011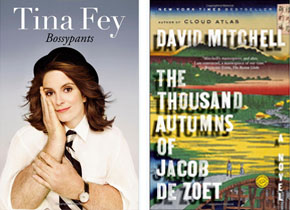 We aren't headed to the beach until July, but already I've got my warm weather literary list. I'd like to alternate between classic (Gatsby … so excited for this movie remake in 2012!) something that requires a bit more work (Jacob de Zoet), then countered with light (Fey, Handler, and Childress, respectively), a dose of travel envy (The Paris Wife), followed by a page-turner that brings out the feeling of the season (Midnight's descriptions of a hot, sticky summer in Savannah do the trick), and finally end with a book I should've read in college, but skimmed (Papa Hemingway).