June 22, 2011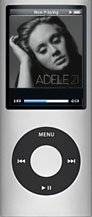 It's hot in Atlanta. Feels-like-August-although-it's only-June hot (and humid). But, this is always the time of year I want to listen to some good music, drink in hand, playing with the dog, outside. Or it's the time we load up the car and head to the beach. Either way, you need a good playlist—here's mine.
The Sound of Sunshine by Michael Franti & Spearhead (My yoga instructor plays this in class and there's something fantastic and powerful about doing a bird of paradise pose against a reggae beat).
Options by Gomez (Remember summer as a child when all that existed was endless possibility? The world was your oyster with all the options … sigh).
Ohio by The Black Keys (We've taken many a roadtrip to my husband's hometown of Cincinnati).
Lovesong by Adele (Her Cure cover gives me chills).
I Believe by REM (XFM "25" just featured Life's Rich Pageant as one of twelve influential albums released in 1986, and I officially feel ancient).
Hey Mama by Mat Kearney (Kearney's new album Young Love comes out in August, but this track is already available on iTunes and it's really good).
Time Has Told Me by Nick Drake (Nothing says summer quite like Drake's complex voice).
Roll Away Your Stone by Mumford & Sons (This is my favorite song off Sigh no More).
Traffic by Stereophonics (Nothing worse than a roadtrip loaded with bumper to bumper false starts).
Game Time by Yo La Tengo (YLT does it again with an all-instrumental collection; this tune sounds like a wonderful buildup of anticipation).
Oh my Heart by REM (I realize REM made it on here twice, but they deserve it, yes? These Georgia boys had quite a year and this song off their latest album is gorgeous).
Ride Wit Me by Nelly featuring City Spud (An oldie but a goodie and begs for rolled down windows–thanks to hesseltime.com for a reminder of how good of a song this is).
Keep the Car Running by Arcade Fire (Just drive).
The High Road by Broken Bells (The road less traveled).
Across the Universe by The Beatles (Images of broken light—swoon).
Travelin' Thru by Dolly Parton (Honky-tonk heartbreak, she's releasing Better Day next Tuesday, such an impressive career).
Tin Man by The Avett Brothers (You know when you get signed to Rick Rubin's label things will turn out alright—Garden & Gun's feature on these guys back in February is a great read).
South Side by Moby featuring Gwen Stefani (One of the best lines in "Vacation," is when they take the wrong turn in St. Louis and the guy says, (I'm paraphrasing) shoot, you don't want to listen to me, I'm from the Southside of Chicago. This is just after Clark tells the kids to "roll 'em up").
From the Clouds by Jack Johnson (Grab your longboard—Jack Johnson has the Hawaiian life I crave … even if just for one week).
For the First Time by The Script (I'm a sucker for a Dublin accent).
Australia by The Shins (The ultimate spot on the map for 300 plus days a year of postcard-worthy weather).
Set Fire to the Rain by Adele (It doesn't get much better than this for belting it out).
Ghosts by Florence + The Machine (I always get a bit nostalgic this time of year … longing for the ghosts of college breaks' past).
Good Life by One Republic (This is my favorite time of year with long days loaded with sunshine … 'tis a good life).