June 27, 2012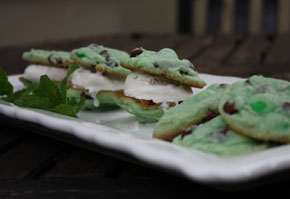 I'm still reeling from the incredibly kind words and comments about last week's piece. Thank you. Now, let's chat about dessert!
Sometime around St. Patrick's Day while poking around on Pinterest, I saw an abundance of foods dyed in green for the holiday. I came across a pastel green-hued cookie thinking it was some from-scratch masterpiece. Allrecipes.com told a different story. The recipe calls for a box of Betty Crocker sugar cookie mix with crème de menthe baking chips, food coloring, mint extract and chocolate chunks. My kind of concoction (though I'm not normally particularly fond of a bunch of dye in my food).
You can find the full recipe for the cookies here. However, I tweaked the recipe after walking out of two grocery stores empty handed with those pesky crème de menthe baking chips nowhere to be found. Instead I used dark chocolate mint M&M's for a semi-monster cookie effect.
Well, then I added a healthy slather of vanilla Graeters between two of these bad boys and created mint chocolate chip cookie ice cream sandwiches. The sandwiches are a somewhat deconstructed version of mint chocolate chip ice cream and are cool, creamy, and sweet–just the thing for summer. If you're feeling particularly ambitious, by all means, churn out your own pint of ice cream and whip up a batch of your favorite homemade sugar cookies. I, on the other hand, felt just fine taking the shortcut.