May 16, 2012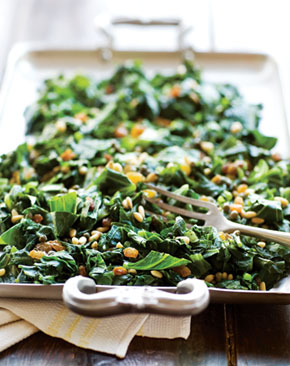 Growing up we ate all sorts of exotic foods. Living in Hawaii while I was young provided me with a pretty diverse palate that made everyone in my family adventurous eaters (except for my mom who unfortunately has a pretty severe shellfish allergy which was discovered while living on Oahu). That, coupled with all the Allied Officers my parents sponsored, meant we were exposed to plates of Vietnamese, Moroccan, Egyptian, African–you name it–foods, most of which would cause me to clean my plate.
But, even when I was young in addition to the daring, I liked very simple foods. For several years in a row my birthday meal request was a bowl of pinto beans and cornbread. My twin sister was not a happy camper, and if memory serves, finally vetoed the meal for shared occasions. It's really no wonder why I like Southern food so much because at its heart, it's as simple as it gets.
Years ago I got sent a press kit for Gena Knox's cookbook, "Southern My Way." I adore her take on Southern food, primarily because most of it has a modern twist and is not as heavy as traditional food from this region. I make her rosemary biscuits with honey ham for a quick supper, but my favorite so far is her healthful recipe for collards with capers, raisins, and pine nuts. I love how it's not laden with the extra fat so often found with greens recipes, nor does it take hours to prepare. I've tweaked it with kale (which she suggests) that I cannot get enough of recently. It's the perfect side this summer for anything you're throwing on the grill.
Gena was kind enough to let me reprint the recipe and use her gorgeous photograph from the cookbook.
Kale (or Collards) with Capers, Raisins, and Pine Nuts
PREP TIME 15 minutes
COOK TIME 10 minutes
YIELDS 4-6 servings
2 teaspoons olive oil
1 ¼ pounds kale, ribs and stalks removed and leaves sliced crosswise into ribbons (about 15 cups of greens)
¼ cup finely chopped shallots
½ cup chicken or vegetable stock
½ teaspoon salt
2 tablespoons golden raisins
1 ½ tablespoons balsamic vinegar
1 ½ tablespoons toasted pine nuts
1 tablespoon capers
FIRST Heat oil in a large stockpot over medium heat. Add shallots and sauté until tender, about 3 minutes. Add half of greens, stock, and salt and cook until greens wilt slightly, about 3 minutes. Using tongs, fold in remaining greens so that wilted greens are mostly on top.
NEXT Add raisins, cover pot with lid, and reduce heat to low. Cook for 8 to 10 minutes until greens are tender, tossing occasionally.
LAST Toss greens with vinegar and season with pepper. Arrange on platter and top with pine nuts and capers; drizzle with extra olive oil, if desired.
Image: © Erica George Dines