January 11, 2012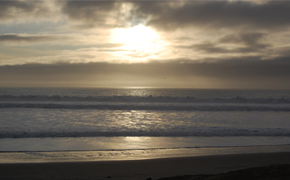 While I do like my Atlanta life, I terribly miss living by water. You'd think I lived in Hawaii longer than three years, because that stint and the less than one year in Norfolk, Virginia were the only times I've lived near an ocean.
After our Christmas holiday at my mom's house in Kansas, we headed west to ring in the New Year with my twin sister in California, loaded with sunshine and the Pacific, in all her glory.
While there, I went on a hike called the Skyline to the Sea. It's a strenuous almost 12-miler that around mile nine gave me the most glorious sight I've ever laid eyes on—a break in the mountains, to see the roaring ocean waves lapping up the coast just off Hwy. 1. You hear it first and feel it second, so before you even see her, you know she's there.
She is powerful and moving and was a very symbolic way to close 2011. I already miss her.