August 4, 2009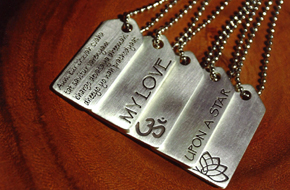 I've practiced yoga just shy of a decade now. One of the things I love most about it is that my practice is always evolving and changing. Since it's become pretty engrained into my being, words like om have unfortunately lost their significance on me. So, I'm always appreciative when something comes along to remind me.
Enter Asha Patel Designs, which just launched a new collection called Threads. I am not a huge fan of buying things just to have them, so when items fall more into the want category than the need, I want to have a deeper reason for getting them. Asha combines my need for yoga with my want for a well-designed piece of jewelry. This creative guru juggles her design work with a full time job, a husband and role as a mother, and yet somehow manages to find balance in it all.
Our Q&A covers everything from creative inspiration as a soccer mom  (err mum) to cross-culture living and the new direction in her work. Namaste.

danapop (dp) What inspired you to create this line of jewelry?
Asha The inspiration initially began as creating pieces which were fresh and modern but yet symbolic.
dp How do your culture and travels influence your work?
Asha They both influence my work in some form or fashion.  Many of the pieces lend themselves to eastern beliefs and culture such as the om, gayatri mantra and the lotus.  Having grown up in the western part of the world certainly influences the lines and simplicity in many of the pieces.  Travel is my way of melding cultures and coming up with new ideas.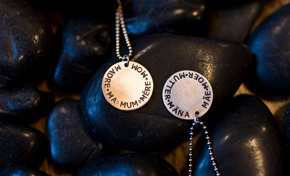 dp I love the word to your mother piece–what do you think that piece says about the woman who wears it and the meaning behind it?
Asha This piece was surrounded by soccer.  I spend a great deal of time at the soccer fields because both my sons play and we also watch a fair amount of European football.  While sitting at the soccer fields one day, I took in the various languages and cultures.  My finding-at the end of the day, it doesn't matter where you are from or what language you speak: a mum is a mum!
dp What sets the look and design of Indian-inspired jewelry apart from other jewelry?

Asha Indian inspired jewelry is typically large and ornate.  My pieces have either some Indian design or symbolic component but with more of a transitional to modern feel.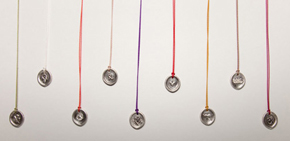 dp I've seen bits from your Threads collection and it appears like it's a shift in another direction … can you describe that process for you and your new work?
Asha 'Threads' came about as an adjunct to the 'Get your Om On' collection.  In these trying times, it is good to take a step back and just breathe … to focus on what is good-love, peace and to not lose hope for tomorrow.  With the new collections, my goal was to create something beautiful and meaningful but yet still affordable and accessible.
As an FYI, 15 % of each online sale for the ribbon, peace, and lotus symbols will be donated to Breast Cancer Research Foundation, Doctors Without Borders, and Asha for Education respectively.
dp I think most American's are aware of Hindu and Sanskrit names and such through the practice of yoga, but your pieces go beyond that really. Is there a deeper spiritual significance to the sound of om beyond what is practiced in Western yoga? What about other Hindu words? How does that translate into your work?
Asha In the West, om is often associated with yoga.  It certainly plays a role in yoga, meditation and breathing but also extends beyond.  Om or aum is a mantra, or vibration, which has been used since ancient times as an all connecting sound of the universe.  This one word is interpreted as representing creation, preservation and destruction.  So in a nutshell, it is believed everything that exists pulsates creating a rhythmic vibration that the ancient yogis recognized with this sound, the om.  Om is also still widely today as it was historically in the context of rituals and ceremonies and continues to be regarded as an auspicious symbol.
dp I know you're involved with several charities–can you describe Asha for Education and your fundamental belief system of change starting with educating children in India?
Asha Regarding Asha for Education-education empowers.  "Give a man a fish; you have fed him for a day.  Teach a man to fish, and you will have fed him for a lifetime."  In many parts of the world, India being one, there are not as many resources in place to help those in need.  With that in mind, India is where I decided to start to help potentially change the outcome for children who may not have had a chance for an education.
dp How often do you get to go back to India? And how do you feel when you go back?
Asha I have been to India twice and plan on going back every few years.  Even though I did not grow up in India, perhaps due to heritage, and ethnicity, I do feel the same sense of 'I am home' as I do in England and the US.