September 20, 2012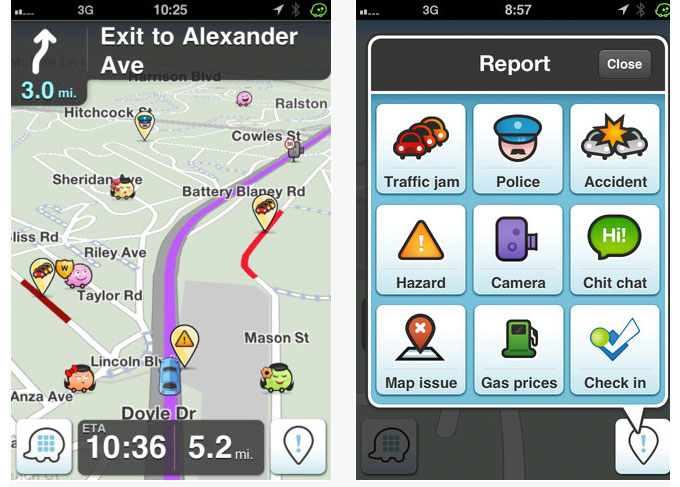 This summer, while in the midst of the worst traffic situation I've ever experienced, we stumbled across an app called Waze. It was a highway shut down scenario due to a tractor-trailer tipped over with the contents of its load (crates of strawberries) spilled all across the road, and it was awful. I was 4.5 months pregnant at the time with a kangaroo on my bladder, and we were leaving Bonnaroo, so we were stuck in traffic with about 50K folks leaving the fest at the same time.
After four hours, when traffic finally merged us onto a two-lane road in the middle of bum-eff Tennessee, we finally came across a gas station, which was seriously like going to the restroom on the Sultan of Brunei's gold-plated toilet (or so I imagined) compared the port-a-potty situation I'd been accustomed to for the past 96 hours.
While at the stop, a fellow traveler told us about Waze. This made even the traffic jam (somewhat) worthwhile. Actually it didn't, but it was cool to discover. This fabulous free app does so much!
Basically this sucker acts as both a GPS and traffic app to tell you situations along your route that could slow you down. Whether it's the speed trap in three miles or a massive wreck just up the road at exit 18, Waze users report it all. It's community based, so you can even chat with other users (if you're the passenger).
In addition to discovering the app, we also named our daughter in this traffic jam. Talk about multi-tasking.