April 3, 2009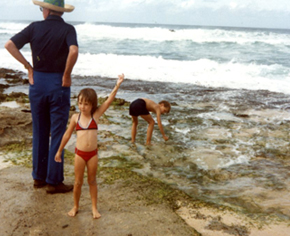 Oh snap, it broke – my awesome black and white striped two-piece Target swimsuit. Just after I'd strutted out in that little number and bent down to set my towel out – did the 'fraidy cat arch and kerpow – it exploded. There I was – stranded like a beached whale, flip flopping – not knowing which way to turn. All because I was seduced by a cute, inexpensive little number on those siren-song racks at Target.
Talk about mortified. Talk about oh shizz. I just busted out of my bikini top! Do I even tell my husband? Will he look at me different? But I have to, because I need his shirt to cover up while I scurry back to the condo to inventory the damage.

The culprit turned out to be a combination of a poorly made plastic clasp sewn onto cheap non-elasticized Spandex. As I scrambled for another beach ensemble I had time to contemplate my sins…and I decided – never buy an inexpensive swimsuit from Target. Just. Don't. Do. It. I did, and I paid (in more ways than one) and now you don't have to.
So, about the seduction. In that poorly lit dressing room with my undies hanging past the suit bottom, the suit actually seemed to be a great fit.  The bottoms hit my hips in just a place to mask flaws (key to the purchase). The top pushed my boobs up just enough to make me feel like I had something to flaunt. So in love was I that I didn't even bother with a cover-up for the inaugural walk from condo to beach.
Shopping for a swimsuit is hard enough – well, let's be honest, it borders on humiliation – no matter what size you are.  I thought that by now I knew my body well enough to discern what cuts work the best for my figure. That isn't such an easy translation in the swimsuit department.  The cuts, the patterns, the fabrics, it's all just too much to handle.
That said, I have a weakness for swimsuits and must buy one whenever I come across one that has any semblance of fitting properly. So, basically I have a drawer full of bad bikinis that at one time I truly thought fit me well. The one purchased in Costa Rica made from a local designer, that now, in retrospect it makes me look like less like a hot South American beach babe and more like a plumber with its ultra low-riding profile. Pretty sure I bought it after mucho margaritas when shopping with my sister and she swore it looked great – biyatch (or maybe it did look good to her as she'd shared in the margaritas)? The surfer one with the hibiscus flower print that I thought made me look younger and hipper, but really just says to the world that I buy things off teen (or dare I say, tween?) websites. The stretched out Rainbow Brite striped one that gives new meaning to the phrase 'junk in the trunk'. The madras plaid number that quite possibly is from when I was a lifeguard, oh I dunno, say twelve years ago (give or take). In my defense that is a fabric pattern that does seem to come back in fashion every few summers or so.
Back to the beach…I spent the rest of vacation in and out of various fabric shops and craft stores looking for something (anything) to fix my broken dream. I ended up with some black Lycra fabric that sorta looked like it went with the suit and sewed it on, but I still had to have my husband hand-tie the suit the entire rest of the vacation. Why I didn't just buy a new swimsuit instead of trying to fix the damaged goods is beyond me. I'm sure it was the principle of the matter – that suit fit. And it looked sorta decent. Dammit – with God as my witness – this clasp will work again.
Save yourself the trouble  – never buy a Target swimsuit. Well, unless of course your plans have you headed to a topless beach.