September 13, 2012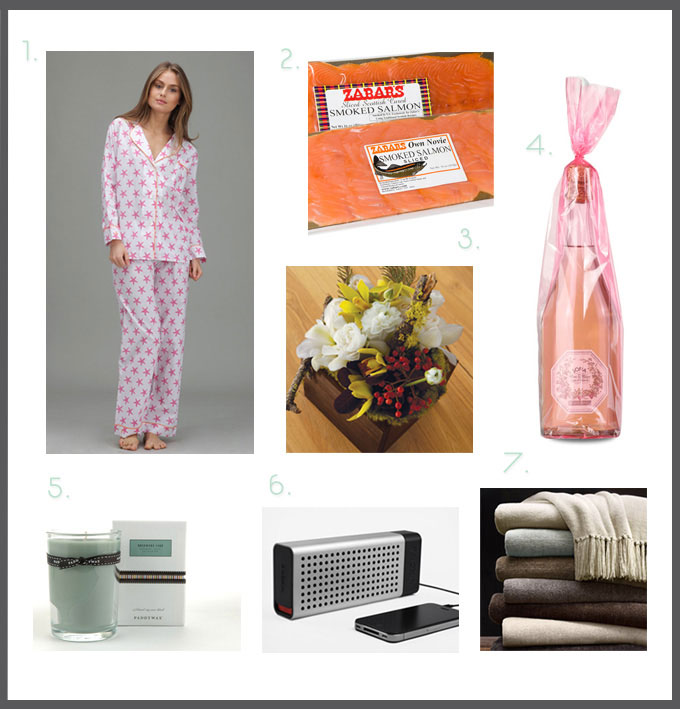 Several years ago, when our good friends had their daughter, they had the genius idea to put together a hospital rider. Unlike the official birth plan, which spells out everything from a medical perspective, this is more like the celebrity dossier where you request everything from a specific cocktail post-watermelon pushing, to the best sashimi within a 10-mile radius of the hospital.
The above is a photo collage of mine, which I think is really basic. Candles, flowers (aromatherapy and something to focus on during the laboring part), comfortable pajamas, a soft blanket, salmon for lox that I've been craving, a bit of bubbly, and a great playlist (mood music for bringing this wee one into the world).
I'm sure at some point I'll be screaming in a Chris Farley voice to, "Lay off me I'm starving!" but I've avoided putting a wheel of really stinky soft cheese that I can't pronounce on here. Even though the chances of that request popping up while still donning a hospital gown are quite high.
On a similar note, this piece from McSweeney's is a hilarious must-read and hits very close to home.
 1. lorient long pajama set in azalea starfish, Marigot Collection 2. Nova salmon, Zabar's 3. winter bianco floral arrangement, Olive & Cocoa 4. Blanc de Blancs wine, Sofia 5. soy candle in rosemary sage, Paddywax 6. TPS portable stereo speaker system, Nixon 7. chenille throw, Restoration Hardware