October 17, 2008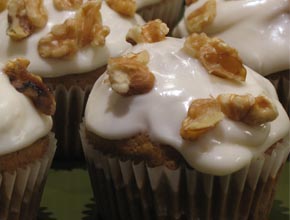 There's a really great Stereophonics song called Carrot Cake & Wine. My interpretation of that song is that a big chunk of life is about finding that sliver of something you're passionate about, and a quiet place to savor it.
I've always liked the sentiment behind the song and I see the analogy reflected in so much of life. And so it seemed the perfect combination for the season – the deep red of the wine, the muted ivory of the icing, and cheery freckles of spices and lovely orange carrots for the cupcakes. So, here's to all the bites of carrot (cup)cake(s) and sips of wine you can handle.
Cupcake and icing recipe adapted from the amazing Nigella Lawson, published in How to be a Domestic Goddess: Baking and the Art of Comfort Cooking
For the Wine:
My absolute favorite Italian red wine – Enzo di Sette Rue Primitivo – it's a little spicy, just like the cupcakes.Might be best to open while cooking – reserve at least one glass for cupcake chaser.
For the Cupcakes:
½ cup light brown sugar

¾ cup canola oil

2 large eggs

1½cups all-purpose flour

¾ teaspoon baking soda

1 teaspoon cinnamon

pinch of salt

zest of ½ lemon

zest of ½ orange

2 medium carrots, grated

¾ cup walnuts, chopped (1/2 cup for the batter ¼ cup for icing)

12 – cup muffin pan lined with 12 paper baking cups
For the Icing:
4 oz cream cheese

1 2/3 cups confectioners' sugar, sifted

1 teaspoon vanilla extract

¼ cup walnuts for top of cupcake
Preheat the oven to 400 ° F.
Beat the sugar and the oil together, then add the eggs one at a time. Add the flour, baking soda, cinnamon, salt, and zests, then fold in the grated carrots. Spoon the mixture evenly in the muffin cups, and bake for 20 minutes. Cool on a rack while you make the icing.
Beat the cream cheese in a bowl with handheld electric mixer until light and fluffy. Add confectioners' sugar and vanilla. Beat on low speed until combined.
When the cupcakes are cool, smear icing on the top. This can be as elaborate (piping or plastic bag needed) or simple (just slather it on there with a knife) as you wish. I usually go the rustic, simple route. Sprinkle top of each cupcake with remaining chopped walnuts.