March 10, 2009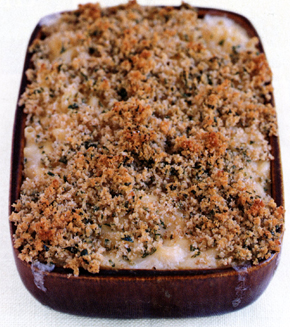 Spring is a funny season. It's hopeful, fresh and new, yet, sometimes I find myself clinging onto the wintry comforts of day's past. This week's food & drink combines those two ideas. The cleanness of the season, paired with something homey and warm of month's past. But, both bubbly and good.
Macaroni & cheese is the little black dress of food. It can be dressed up or dressed down according to the occasion. I've lived in Atlanta for almost a decade now. And one thing I learned early on, here in the South, they take their macaroni & cheese VERY seriously and you certainly should have a recipe for one in your repertoire regardless of geography. Mine is an adaptation of a recipe I found years ago in Real Simple magazine. I've tweaked and altered it enough times now, for it to be called my own. It's always a hit – a cinch to make and one of those dishes that makes me happy when I serve it because it usually means any of the following – someone just had a baby, I'm cooking for a crowd (which I love), or I'm going out of town and need to leave something in the fridge so my husband doesn't eat burritos for 72 hours straight.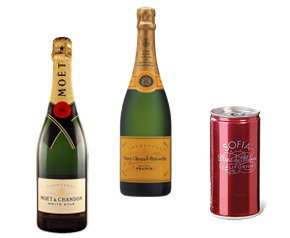 The Champagne
Some might find champagne an odd paring with the macaroni – but the crisp and clean taste of champagne is fresh, light and totally satisfying against the rich, heavy pasta. My favorite champagnes are - Veuve Clicquot (you just cannot go wrong with the faithful yellow label), Sofia Coppola's Mini Blanc de Blancs (it's super girly and yummy – comes with a straw sort of like an adult juice box – and yes, this is technically not champagne, but sparkling white). Another favorite – Moet & Chandon White Star because it was the first "good" champagne I ever tasted.
The Macaroni & Cheese
Ingredients
•    1 pound elbow macaroni
•    1 cup dry bread crumbs
•    ¼ cup fresh flat-leaf parsley, finely chopped
•    ¼ cup olive oil
•    3 teaspoons kosher salt
•    ¼ teaspoon black pepper
•    5 tablespoons unsalted butter
•    ½ cup all-purpose flour
•    2 cups skim milk
•    4 cups whole milk
•    4 cups grated sharp Cheddar
Preparation
Heat over to 400° F. Coat a casserole or 9-by-13-inch baking dish with cooking spray. Cook the macaroni until almost tender but still firm (about 2 minutes less than the package directions). Drain and rinse under cold water. Meanwhile, in a small bowl, combine the bread crumbs, parsley, olive oil, 1 teaspoon of the salt, and the pepper; set aside.
In a saucepan, over medium heat, melt the butter. Stirring constantly, add the flour and cook for 3 minutes; the mixture will clump together. Still stirring constantly, add the milk slowly. Cook for 7 minutes. Add the Cheddar and the remaining salt and cook, stirring, until thick and creamy, about 5 minutes. Add the macaroni and mix to combine.
Transfer to the baking dish and top with the bread crumb mixture. Bake until golden and bubbling slightly around the edges, about 25 minutes.
Variations
Add Chipolte peppers to the rue. Experiment with cheese varieties. I like the simplicity and classic taste of a really nice sharp Cheddar, but it's nice to play with combinations of Gruyere, Gorgonzola, Pepperjack, whatever your favorite is. Also, a nice grown-up version – make in individual ramekins for a dinner party.