April 10, 2009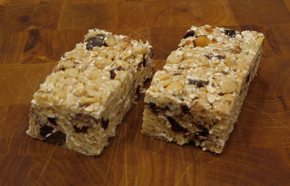 My older sister is a fantastic baker. It's likely the scientist in her – all that precise measuring and exactness that really suits her. She doesn't bake as much as she used to (what with the full-time career, two children under the age of 4, and a husband who often travels for work) but I remember her pre-children weekend routine. She used to whip up a few goodies to sell at the local outdoor farmer's market. The top sellers were her homemade granola, dog treats, and these granola bars.
They are chewy, gooey and good without all the extra additives and gunk in those packaged kinds. Perfect for day hikes, long car rides, or simply a healthy snack, sure to tide you over without all the guilt. My sister's version uses raisins, but I subbed in dried cherries because I love the combo of dark chocolate and cherries. But you can use whatever you wish.
Chewy Goodness Bars
Prep time – 30 minutes
Number of servings – 1 ½ dozen
Ingredients
•    4 3/4 cups rice crispy cereal
•    2 ½ cups quick oats
•    1 cup semisweet chocolate chips
•    ¾ cup dried cherries
•    ½ cup chopped peanuts
•    ¾ pound marshmallows
•    2 T butter
•    ¼ cup honey
•    2 T canola oil
•    2 T peanut butter

Preparation
In a large bowl, combine the first five ingredients (cereal through peanuts); set aside.
In a large microwave proof bowl, combine marshmallows and butter.  Microwave on low for 2 minutes. Stir. Cook longer if needed, until marshmallows are completely melted.
Add honey, oil and peanut butter to marshmallow mixture. Stir well. Pour over cereal mixture and toss to completely coat. Pour into 13 x 9 x 2 baking pan sprayed with cooking spray. Press firmly and evenly. Allow to cool. Cut into individual squares.