September 21, 2011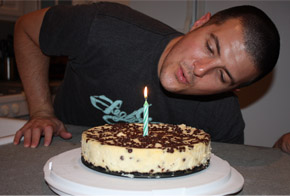 My husband's birthday was on Sunday and I surprised him with an iPad 2. It's a splurge, but considering he's the last of anyone he knows that works in television to have one (so I heard), I'd say he earned it. We spent the idea of his perfect day pouring over "The New York Times" while drinking coffee and watching Manchester United play.
He really doesn't ask for much, even when it comes to his birthday dinner, it's all quite simple. For my birthday I want a restaurant that's symbolic, which translates as a meal that's likely expensive, requires a reservation, and is stretched out over several courses. For three years running, we went here for his birthday. I think there were a couple of celebrations here, and there was a memorable meal here, after which neither of us could move for hours from eating so much. This year we went here—I think you can see the trend he's got going on.
Preparing a birthday cake for this man is a response to the same request year after year. It varies between two cakes (well, one's a cake, the other not so much). The first, his most requested—red velvet. I use the recipe here, from Smitten Kitchen and it's labor intensive, but totally worth it since it's the one time of year I make it; it always seems special and like fall. The other is my mother-in-law's recipe for chocolate chip cheesecake. I hadn't made this one in years after a storm that jinxed this recipe about six years ago.
When we lived in our first apartment, the power would go out at the slightest hint of a raindrop. All the time. For days on end. But, oddly, it was only our street, our exact two-block radius in Midtown. I made the cheesecake on a Thursday afternoon for his birthday that Saturday, and wouldn't you know it, a hard storm hit Atlanta and we lost power until Monday morning. I'll be darned if he didn't keep that fridge shut for those four days with threats of breaking sculls at Georgia Power if that cheesecake was ruined.
So we sat with forks, like that episode of "Friends" when Chandler and Rachel are fighting over the last slice, and man was that cheesecake good. I've decided to share it with you. Birthday candles and plates optional.
Chocolate Chip Cheesecake
Ingredients
1 ½ cups finely crushed creme filled chocolate sandwich cookies (about 18 Oreos)
¼ cup melted butter
3 (8 oz.) packages of cream cheese, softened
1 (14 oz) can of sweetened condensed milk
3 eggs
2 teaspoons vanilla extract
1 cup mini chocolate chips
1 teaspoon flour
Instructions
Preheat oven to 300°F. Combine cookie crumbs and butter; pat firmly on bottom of a 9" spring form pan. In large mixing bowl, beat cheese until fluffy. Add evaporated milk, beat until smooth. Add eggs and vanilla, mix well.
In a small bowl toss together ½ cup of chocolate chips with the flour to coat; stir into cheese mixture. Pour into prepared pan. Sprinkle remaining chips evenly over top.
Bake one hour or until cake springs back when lightly touched. Cool to room temperature. Chill. Remove side of pan. Garnish as desired. Refrigerate leftovers.