February 24, 2009
Listen close (whisper) this town is filled with secrets. And stories. Bursting with writers, artists, musicians, chefs, and a culture of fusion so rich that it cannot be replicated anywhere else. Creole, Cajun, Southern, French, traditional and modern American influences are all here, along with a healthy dose of grit.
But don't let the whisper be drowned out by feather boas, beads, boob flashing, cigarette-littered streets, and revelers reenacting college spring break behavior all most certainly chalked up to heavy handed drinking.
This city's party was forever tarnished on August 29, 2005. The day the levees broke. The world watched in horror as the "city beneath the sea" became part of it for a time (how eerie that NOLA native Harry Connick Jr. should pen a song of the same name almost ten years earlier?).
And while you can't mention the Big Easy any more without acknowledging the devastation of Hurricane Katrina, let's now, just for a moment, soak up the wonderfulness of what was and is. I'm in the Crescent City, with the pop on New Orleans, just in time for Mardi Gras.
Stay
As you've probably figured out by now, I'm a sucker for a charming boutique hotel and New Orleans is rich with fabulous one-of-a-kind hotels. Two that stand out even more are the Bienville House Hotel and Hotel Monteleone.
As a writer, I am drawn to hotels with quite a bit of history and the Hotel Monteleone overflows with stories. An intermittent home to many famous writers, the oldest family-managed hotel in New Orleans is one of three Literary Landmark hotels in America. William Faulkner, Truman Capote, Tennessee Williams and Sherwood Anderson all stayed here and although not guests, Ernest Hemmingway, Richard Ford, and Eudora Welty all immortalized the hotel in their works. While there, be sure to have a drink in the Carousel Bar, the rotating bar where saying "pony up to the bar" or asking questions like "Have you been sitting here the whole time?" will never get old.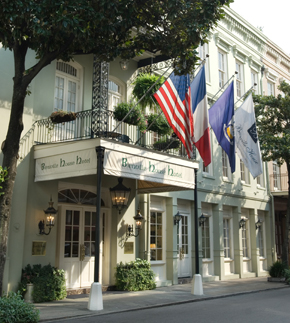 In the 1930's the Bienville House Hotel almost went the way of the wrecking ball when the city considered demolishing the blighted neighborhood of abandoned warehouses in which the hotel stood.  Instead, in a stroke of civic genius, the city created the protected Vieux Carre historic community to be treasured forever. The hotel and its guests are all a little better off for that; with its blend of old and new – lush magnolias, graceful balconies, elaborate ironwork, and a picturesque poolside courtyard accented by all the modern amenities – it's a true NOLA experience.
Eat
Where does one start when it comes to NOLA's world famous culinary scene? It might be easier to just write about where NOT to eat, as this is a city that knows food. It should be noted that I did not have a bad meal during my visit – but, alas, if I have to pick my faves, here they are…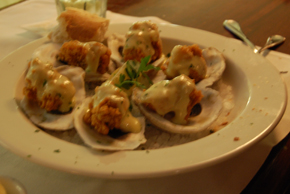 Mr. B's Bistro – for authentic drinks, a knowledgeable staff, lovely food and atmosphere, this French Quarter staple is a must – the fried oysters on the half shell with bacon-horseradish hollandaise are unforgettable. Muffulettas (a very large sandwich served on an Italian bread loaf, stacked with ham, salami and provolone cheese and garnished with an olive relish) were invented at the Central Grocery. I've eaten others in the city, but this hands down, is the best. Grab one to go and enjoy it while staring out at the mighty Mississip' nearby. Head to the Gumbo Shop for authentic Cajun staples like crawfish etouffee and seafood okra gumbo.
Now, it's not really a N'awlins trip without a visit to Café Du Monde for a café au lait and beignets…little pillows of heaven enjoyed al fresco with a great view for people watching.
A few more must-eats – Mother's, a New Orleans institution famous for its "debris" po'boy which is de rigueur for diners; Jacques-Imos (Creole-Cajun like you wouldn't believe) and don't forget to hit ACME Oyster House for seafood and po'boys (don't let the line scare you away, it's worth the wait).
Your splurge meal? My first choice is Chef Paul Prudhomme's K-Paul's Louisiana Kitchen. Chef Prudhomme is likely the most famous chef in New Orleans (besides the overexposed Emeril, a.k.a BAM!). Prudhomme made culinary history using cast-iron skillets to blacken meats and he also created Turducken (the carnivore's dream meal of chicken stuffed inside a duck stuffed inside a turkey – oink, oink) served at Thanksgiving.
For a non-Cajun option (and because I can eat pizza pie no matter the city), go to Slice Pizzeria for delicious slices and great salads.
Drink
The Louisiana local brew is Abita – a decent light beer served on draft at virtually every bar in New Orleans. Don't miss Pat O'Brien's for the ironically worst-named drink – The Hurricane – it was invented here. Delish, but, drink in moderation – it'll rock you like one.
New Orleans is famous for one of my all-time favorite cocktails – The Pimm's Cup (made with Pimm's Gin, soda or sparkling lemonade and garnished with a cucumber). It's fabulous and refreshing. Imbibe one at the Napoleon House, a hole-in-the-wall that hasn't seen a paintbrush in at least 100 years – but the history, ooh the history – many a famous (and not so famous aspiring) writer drank here and the drink itself was famously recreated from the English original 1840 version. Lastly, I know it's trite and already a tired subject in mixology communities, but when in Rome…absinthe is where it's at. Drink a modern version of "The Green Fairy" at the Pirates Alley Café.
Do
Get your palm read or have a tarot reading…psychics pop up on seemingly every corner. It might serve you well to have a couple of questions in mind, as my palm reader kept asking "Do you have anything specific you want to know" and well, my mind went kind of blank (blame it on the afore-mentioned Hurricane cocktails). Here, weeks later, I have a slew of questions I'd love to know the answers to (like when will the City of Atlanta get around to picking up our overflowing recycling bin?).
I'm quite fond of old bookstores. N'awlins has many of them – the best and most famous – Faulkner House Books. The bookshop is intimately sized, but amazing, and I could've stayed for hours. While you're there, be sure to meet the fantastic Standard Poodle Zulie wandering around at large – she's a sweetheart and will accept your pets as her honored guests. Head to the French Market to find deals on everything under the sun – this is America's oldest city market, and a wonderful place to wander.

Magazine Street – a fabulous shopping district with unique stores that cannot be missed. For a sweet souvenir try the macaroons and handmade chocolates at the luxurious Sucre chocolate boutique. Just blocks away, stroll through the historic Lafayette Cemetery No. 1, located in the Garden District, it is on the National Register of Historic Places.
Two fun night-out activities are The Rock 'N' Bowl and Tipitina's. Tipitina's started as a neighborhood juke joint named after the lady in Professor Longhair's song "Tipitina." Longhair's influence on New Orleans sound is evident among his musical peers including – Dr. John, the Meters, the Neville Brothers, and Allen Toussaint, among others. Tipitina's today continues to be a great place to check out bands. The Rock 'N' Bowl is great with a group – the aging Mid City Lanes was revived into a 1950's-style bowling alley with live music, funky food, dancing and, of course, bowling.
Getting around in the city is easily done without a car.  Between streetcars, taxis and foot, you'll have no problems doing and seeing everything. One tip – New Orleans references directions in terms of the Mississippi River…so, north, south, east and west directions do not exist. Direction is referred to by local landmarks and is geocentric – for instance Uptown is west of the geographical center and refers to upriver.