February 6, 2009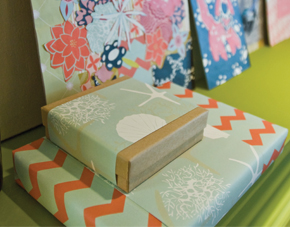 Life is immeasurably enhanced when we take close note of it – literally and figuratively.
I'm not talking CliffsNotes or e-mail here, I'm speaking of that indefinable wonderfulness when one practices the art of honest to goodness pen to paper quality writing of actual words and letters. As an obsessive (I'm the first to admit it's a borderline neurosis) jotter and list maker, I pay close attention to all the paper in my life – from the paper I use to write those endless notes to the gift wrap, business cards and stationery I use – anything that potentially ends up in the hands of others (or just my own for that matter) is a reflection of me.
Thankfully, there's Daisy Princess Paperie – they've extracted the stuffiness and formality from otherwise beautiful papers and emerged with a full line of whimsical, yet sophisticated paper goods…and had me at notepad.
Here's the Q&A with Daisy Princess Paperie.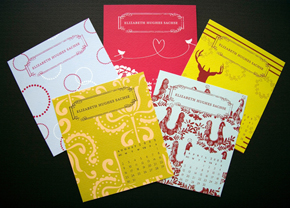 danapop (dp) Who designs the paper patterns for Daisy Princess Paperie?
Daisy Princess Paperie (Daisy) Sara Hughes Hathcoat is the Creative Director/Artist but our line planning and product ideas are collaborative. Alex is instrumental in the organization and ideas behind the line and we ALWAYS ask for the OK from our publicist Allison Beale, she has impeccable taste.
dp Is there still a standard proper etiquette to invites, thank you notes and announcements as far as timing of sending and such? Has etiquette morphed through the years?
Daisy We say "No" to a standard and "Yes" to expressing your self with style and taste. Letter writing etiquette has certainly morphed, it is more of an extension of personal style than ever!
dp With the surge of green practices, how does paper stay a relevant industry?
Daisy Because we are human beings we innately want to feel and touch, thus paper will always be relevant – books, notes, stationery, etc. will not go away.  However, every population, generation, industry demands green conscious practices.  It's our job as responsible stewards and citizens.
dp I think the name of a company says so much about its business – the tone and mood – how did you come up with Daisy Princess Paperie?
Daisy Whimsical and Upbeat is what we are…the name morphed from that vibe.

dp Have you observed changes in the industry, like wedding invitations/blotter paper etc with greening practices?
Daisy There are certainly more resources in the U.S. for green printing practices. Our initial lines were printed in Canada because we could not find local printers with green facilities and paper choices.  Now, it is unusual if we find a printer who is not Eco-friendly or in the process of becoming so.
dp What got you interested in the stationary industry?
Daisy We began licensing and selling our artwork on other stationery and paper companies in the late 90's and with a background in that along with product design and development we couldn't resist!
dp What is your favorite thing to make out of your paper? Wrapping paper? Craft projects? Invitations?
Daisy Right now stationery and desktop paper items like notepads and calendars are at the top of our list. It seems like we have really begun to be able to spread our wings with those items added to our ever-growing invitation line. We really have a love for anything paper and art.
dp What are your favorite fonts?
Daisy Serif; Bernhard, Mrs. Eaves, Lilith – San Serif; Gill Sans, Futura – Script; Murial and Feel Script
dp Do you see a trend in custom orders and prints? With that, do you think the rise of online competition has that hurt or helped you?
Daisy Seems like personalization is here to stay and that people want to see their names on desktop items. Our Calendars that Neiman Marcus featured with personalization were a hit and they have since picked up coordinating notepads and notecards that will be personalized. Online competition is good and cannot be ignored — we are committed to evolving and online is absolutely a part of that, so we are IN!
dp Do you think people are returning to the art of hand written letters?
Daisy We do. Email and Facebook have been revolutionary, but can never replace a hand written note.
dp How is it working with a relative?
Daisy Alex is my Bro-in-law, I have known him since he was 14 and I was 15. It is one of my fave friendships EVER.
dp What do you predict the trends for 2009 are in design? Simple? Whimsical? Monogram?
Daisy All of the above for sure, in the uber-connected world we live in now, seems like trend itself has even changed…more broad, more encompassing. We can forecast what we are into and will continue to explore, pattern, icons, personalization, more flora and fauna, even more pattern…
dp What is your favorite invitation design that you have created?
Daisy The girl cameo is my favorite. I had cameo on the brain and was being poo-pooed by others, and it (ahem) was a hit, we even morphed it into Our O! To Be A Girl stationery set.
dp I notice a lot of high-end paper goods sell calling cards – are those like business cards? Who is the demographic for that?
Daisy Exactly! Even If you have business cards for work, seems like more and more women like to have an alternative for gift enclosures, luggage tags, social or school settings that just include their name and or email. We have found the demographic works for women – all ages and we even have some children's design that work splendidly as enclosures or luggage tags. I presented and gave out our kids designs for career day at my daughter's school and encouraged the kids to inscribe or print name and phone number to give to friends, at summer camp and even for job possibilities around the neighborhood.
i.e.
Claire Hathcoat,
dog washer
918.434.6436
dp How do you balance the creative side of your work vs. the business aspects of it?
Daisy We really have a collaborative work concept. But when it gets down to "handling it" – Alex does the business and Sara creates.
dp I know you work and live in Tulsa, where can I buy Daisy Princess Paperie goods?
Daisy We started out that way, but I moved to Boulder, CO six months ago. We talk at least once a day. Our personalized calendars are available at Neimanmarcus.com, horchow.com and not personalized at daisyprincesspaperie.com, we carry our calling cards and stationery at daisyprincesspaperie.com as well. For a great selection of our invitations we recommend properpear.com and beeinvited.net.