October 18, 2012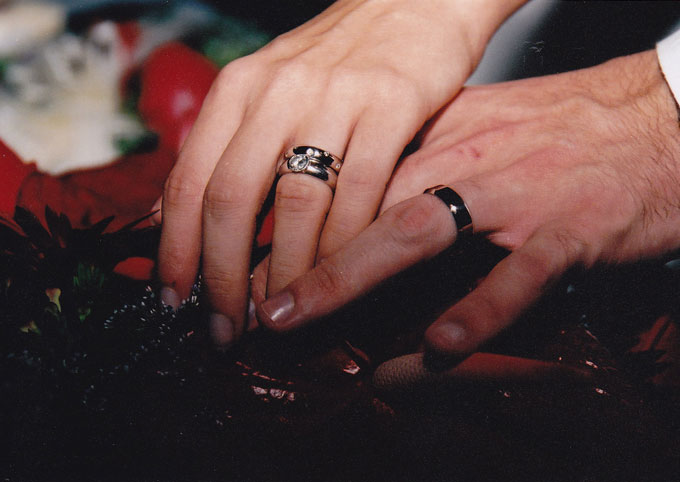 Today is my ninth wedding anniversary.
I remember back when I met my husband, when we were "just friends," dressing up one New Year's Eve with him in mind. A mutual friend used to throw epic NYE parties, and while getting ready I had that wonderful butterfly feeling in my stomach. The flutters you get when you're excited to see someone and wonder when and if they'll show up to the party.
I still remember the exact outfit I wore that night (and not just because there's photographic evidence). It was a fitted pale purple blouse from Urban Outfitters that my mom bought me in SoHo over the holidays, paired with black trousers that zipped in the back. He did show up to the party, and I still smile thinking of how I felt when I saw him walk into the kitchen where I was talking with a friend. Our "just friends" status changed roughly a week after that, and about a year later we were engaged. While I had no clue what sort of wedding I'd want, I did know the type of ring I would want to wear the rest of my life.
A decade later and my engagement ring and wedding band set is my most cherished possession. It was designed by the jeweler my husband's family uses in his hometown of Cincinnati, and it resembles the Tiffany & Co. Étoile collection. It means star in French and it makes me think that anything is possible with love.
We're headed here tonight for dinner. I can't wait to dress up a bit, albeit the clothes this time around won't be as form fitting.