May 1, 2009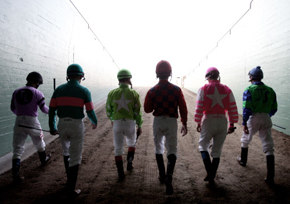 This past winter my husband and I became obsessed with the Animal Planet show: Jockeys – a documentary/reality program following the lives of seven jockeys at the Santa Anita racetrack in Arcadia, California. Both the visuals and the storyline were fascinating. Plus, I can openly admit I have a crush on Mike Smith despite the high probability that I'm taller than him.
So to honor Jockeys and the Run for the Roses at Churchill Down's tomorrow, this week's food & drink is Kentucky Derby inspired…complete with two Southern favorites – mint juleps and derby pie. First, derby pie – one of my favorite desserts,  it combines chocolate and nuts (I'd eat those two things in combo with anything) in a flaky crust.
And then there's the mint julep. Both of my sisters make nice ones from when they attended college in the Blue Grass State – so dignified sounding, but I assure you, they likely were sipping the juleps out of plastic Solo cups instead of the traditional monogrammed silver tumbler. What truck drivers they are; honestly, I can't take them anywhere.
I often daydream about what I'd name a horse if I ever had one, whether or not he or she was derby material – Magellan's Map, Bordeaux Binge and Piñata are solid contenders. No question, if I ever win the lottery, I'm buying a horse. It's on the list just after the in-ground swimming pool and my own in-home Pilates studio.
For now, my money is on Dunkirk.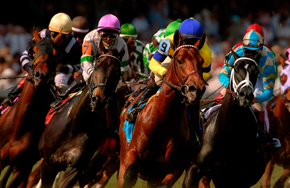 Derby Pie
Crust
•    40 reduced-fat vanilla wafers
•    2 T brown sugar
•    1 T butter, melted
•    1 large egg white, lightly beaten
•    Cooking spray
Filling
•    1/2 c coarsely chopped pecans, toasted
•    1/3 c semisweet chocolate chips
•    2/3 c dark corn syrup
•    1/2 c packed brown sugar
•    3 T bourbon
•    1 tsp vanilla extract
•    1/4 tsp salt
•    3 large eggs, lightly beaten
1.  Preheat oven to 350°.
2.  To prepare crust, place cookies in a food processor, process until finely ground. Add 2 T brown sugar, butter, and egg white; pulse 2 to 3 times or just until moistened. Press mixture into bottom and up sides of a 9-inch pie plate coated with cooking spray. Bake at 350° for 5 minutes. Cool on a wire rack.
3.  To prepare filling, sprinkle pecans and chocolate into bottom or prepared crust. Combine syrup and remaining ingredients, stirring well with a whisk. Pour over pecans and chocolate. Bake at 350° for 27 minutes or until set. Cool on a wire rack.
Yield: 10 servings.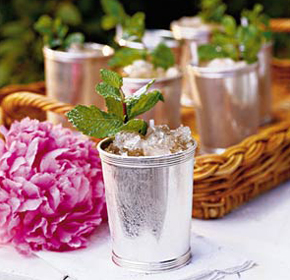 Mint Julep
Adapted from the Kentucky Derby website's Early Times recipe
•    2 cups sugar
•    2 cups water
•    Sprigs of fresh mint
•    Crushed ice
•    Early Times Kentucky Whiskey – in our house that just won't fly…it's Maker's Mark all the way
•    Silver julep cups
Make a simple syrup by boiling sugar and water together for five minutes. Cool and place in a covered container with six or eight sprigs of fresh mint, then refrigerate overnight. Make one julep at a time by filling a julep cup with crushed ice, adding one tablespoon mint syrup and two ounces of whiskey. Stir rapidly with a spoon to frost the outside of the cup. Garnish with a sprig of fresh mint.