January 25, 2012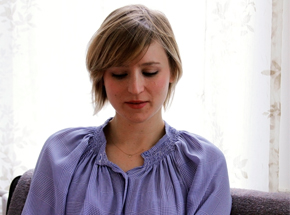 Jeralyn Gerba is often credited with an irrepressible knack for spotting the undiscovered long before it's on trend. It served her well as a former DailyCandy editor, and now, as co-founder and editorial director of the travel website, FATHOM. I've been a fan of the site since its launch July 2011 and Gerba was gracious enough to grant me an interview. Here it is.
danapop (dp): What's the inspiration behind the site? How does collaboration come to play with what you're doing at FATHOM?
Jeralyn Gerba (JG): FATHOM is a website for global-minded travelers who tour the world spontaneously and deliberately, who mix business with pleasure, and who seek out the new while appreciating the familiar. We combine inspirational anecdotes (the travel stories you tell at the dinner table) with practical advice (the essentials for making it happen). We know that everybody collects both, and we want to provide a place where people can plan their trip and then come back and tell their story.
dp: Do you have a favorite section? Why?
JG: I love the FATHOM Questionnaires — our version of the Proust questionnaire. It's such a nice way to get to know a writer or traveler I admire. I also really enjoy editing (and reading) itineraries like Best Day Ever, and A Few Days In, which are great starting points for planning a trip.
dp: What are some of your favorite websites to peruse?
JG: So many websites, so little time. I really enjoy The Rumpus and McSweeney's for my literary fix. Thank You Ok, Cup of Joe, Pinterest for the pretty pictures. Diners Journal and NY Mag and Slate and DailyBeast and NYT for the local happenings. And a million little blogs for inspiration.
dp: In this economy, do you have any tips for staying on a travel budget (besides not going)?
JG: In exchange for volunteering, many places offer a free place to stay (like this cool ashram in Buenos Aires). If you put in the legwork, you can find five-star vacations at two-star prices. You can always apartment swap, camp, go on a road trip, backpack, or couch surf. You can also explore a little closer to home. It's amazing how much you can discover when you act like a tourist your town or city or just beyond.
dp: How many countries have you traveled?
JG: About two dozen.
dp: What's one of your fondest travel memories as a child? Adult?
JG: My family used to go camping in the Catskill Mountains. We'd hike through the woods, swim in freezing streams, make huge bonfires, play games, and catch all sorts of critters. My mom is still the best frog-catcher around.
These days I mostly travel to big cities, which I love, but most of the places I dream about going back to involve some sort of incredibly scenic drive (Pacific Coast Highway) and lots of hikes through nature (Switzerland).
dp: What's the most memorable upgrade or perk you've ever gotten?
JG: Catching a ride in a Bentley to the Vegas airport.
dp: Something you never leave home without?
JG: Pocket-size notebook and several writing utensils.
dp: What the first electronic device you turn on when over 10,000 feet?
JG: I am more than happy to stay unplugged up in the air. I rarely even turn on the in-flight television. I prefer reading, writing, sleeping, snacking, and staring out the window.
dp: Are you able to differentiate work verses pleasure travel? Is there a difference in your line of work?
JG: Rarely. Whenever I travel I am taking notes and looking for a new discovery or story angle. At least it's fun work.
dp: Where are you headed next?
JG: To London, where my husband is DJing at a great little club called Plastic People. Then to Edinburgh and Berlin — two favorites — to catch up with old friends, and, of course, check out new sites.
dp: Favorite recent purchase while on the road?
JG: A few weeks ago, at an apothecary in Beijing, I found black charcoal Japanese toothpaste and matching all-black Q-Tips. They make for a very severe set-up on my bathroom counter.
dp: Where do you call home?
JG: New York City. And I'm always glad to be back.