July 20, 2010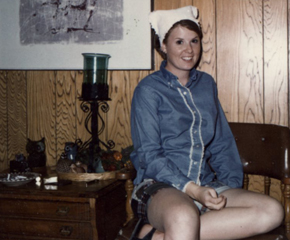 We know what this road looks like, you see. In 2004, we walked it. I was a month shy of my one-year wedding anniversary when I was back in Kansas for my ten-year high school reunion. My mom had a mass on her neck. Just in the vicinity of her collarbone.
She actually discovered it while we were on talking on the phone one night a few weeks prior. Those days, I used to get off work late since my show was on the air from 10-11 p.m., and my routine was to call her after my show. She'd generally already be in bed, and was lying with the phone nestled in the crook of her neck. It was then that she felt something.
And now, she felt it again–this time in her armpit.
Non Hodgkin's Lymphoma. That's what she was diagnosed with as all of us kids and spouses sat in the room at KU medical center listening to mom's oncologist tell us the stage (three), the prognosis (treatable, but could come back), and the treatment (chemo with one medicine, and a clinical trial) six years ago.
We've walked this road.
But, it's back, as we all knew it would be, as Non-Hodgkin's is a reoccurring cancer in most cases. This time, it's stage two, but much more aggressive in its growth. As is her treatment plan (chemo with a five medicine cocktail and a much longer duration). Right now, we're all sort of plowing through our schedules and getting reacquainted with words like scans, white-blood count, port, chemotherapy, treatment, mass, lymph nodes, insurance, and appetite.
My mom is incredibly strong. She got through this once, and we're all hopeful and encouraged that she'll do it again. But just because you've already walked it, ran it, crawled it, long-jumped it, it certainly doesn't make it less scary of a path to walk.