January 27, 2009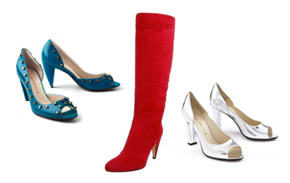 Most of the time, I try to let the experts guide me when it comes to what's in my closet. Because if left to my own accord, I might end up wearing up wearing a pair of jeans, a tank top and Havaianas everyday (not the worst thing in the world, I suppose).
My fashion reference bibles are Nina Garcia's The Little Black Book of Style and Rachel Zoe's Style A to Zoe: The Art of Fashion, Beauty, & Everything Glamour. One thing that both Garcia and Zoe agree on is to pay the bucks for wardrobe classic staples and spend less on trendier items. The theory is that if you invest in the good stuff, the styles will eventually come back around and you can rewear them because they're that well made and classic. I was thrilled to be enlightened to read that shoes are in fact, a staple.
So about those shoes…a friend of mine went to high school with Monica Favela, designer and owner of Gigi Favela, purveyors of to-die-for gorgeous Italian shoes. Using the six degrees of Kevin Bacon method and the magic of email, I scored an interview. Here's the Q&A.
danapop (dp) How did you get started in the shoe designing business?
Gigi Favela (Gigi) Before launching my line, I worked at a high-end boutique to see the sales side of the business. Then I took a week-long workshop at shoeschool.com, started networking at trade shows, went to Europe and knocked on many factory doors until the right one opened.
dp What or who inspires you?
Gigi I love American pop culture, there's so much to inspire between movies, fashion, and art. I also draw inspiration from nature, architecture, and the materials themselves. If I love a material but don't have a design that it will look good on, I create a design specifically for that material.
dp What is your favorite part to owning your own company?
Gigi Seeing the label Gigi Favela stamped on a smokin'-hot shoe and knowing that I'm completely responsible for its creation. My other favorite part is when I meet someone who wears Gigi Favela's and she tells me she's stopped multiple times while wearing them by people complementing her on her shoes. It's creative validation in a very tough business.

dp How does where you live influence your designs?
Gigi I live in Virginia, just outside of DC, and work in Italy 8-10 weeks of the year. I am able to concentrate more on my designs when I am in Italy because there are no distractions – I'm there only to create new and better Gigi Favela's. I'm surrounded by the processes (manufacturing) and materials (suppliers) in an artisan culture that values workmanship and craft. It's been an ideal environment to learn in, and my designs are better for the collaborations I have with the suppliers and technicians.
dp Do you find your customers' taste changes depending on where they are from? Meaning do you have a different American base than European?
Gigi Thus far Gigi Favela is only available in America and Saudi Arabia, and I haven't been able to gauge a difference.
dp Does that influence your design?
Gigi Designing for a predominantly American market thus far has pushed me to strive for really wearable shoes – American women are less keen to suffer for fashion than women from other countries. Hopefully a worldwide clientele will benefit from that. But I don't see myself tailoring designs to different audiences in the future as I have a distinct heel-loving aesthetic. I want a woman, no matter what part of the world she's from, to buy the shoes because she loves the design and has to have them.
dp How do you separate your business self from your home life?
Gigi I do most business outside of my home, whether designing in Italy or doing trade shows and sales trips in the U.S.  I also work late night after the hubby and child are asleep. I strive for balance but it is difficult because I wear about 5 different hats and run the entire operation. As long as I get my yoga and workouts in, I am able to maintain. Many times I am el fuego because there's a lot to do. I can't really separate my home self from my work self, because at this point me, myself and I are the brand.
dp I'd imagine with shoes, it's a very fine balance between function and a great aesthetic – how do you deal with that line?
Gigi I place a high value on wearability, my term for comfortable function, but the first concern is how the shoe looks. It has to be a really good-looking shoe to justify the pricetag of Italian craftsmanship. After creating a design that delivers my version of aesthetic beauty, I then concern myself with tweaking the structure for function, such as adjusting the width of the toe box (Americans tend to have slightly wider feet than Europeans) or making the boot shaft roomier for U.S. calves, and test fitting the shoe on several pairs of feet. I also use Poron anti-shock/comfort material in the footbed to provide support, and keep heel heights walkable so that a woman can walk down the street and own it versus prancing or teetering.
dp How far in advance do you dream up collections?
Gigi Sometimes I work on an idea for several seasons before we are able to arrive at the technically correct shoe. I originally created the Krystal three seasons ago and went through at least seven prototypes before we came up with the correct version. But in most cases, I design a collection one year in advance.
dp Where do the shoe names come from?

Gigi From the shoes. They whisper their names to me when they roll off the line – one of the best parts of the job!
dp Where do you do your best creative work? For some people, creativity comes while driving their car blasting pop music. For others, it's lounging in a hammock in Bali – I'm just always curious.

Gigi In Italy, holed up in either my apartment or the factory workroom, often listening music on my big-bass deejay headphones. My creations tend to have more energy if there's a good beat in my ear.
dp What's a typical day like for you?
Gigi In Italy I wake up at 7:30 and catch a quick double cappuccino before heading to the factory. I run errands the first half of the day to source materials and collaborate with last or heel technicians (I design the majority of my heels – they're proprietary to Gigi Favela) or walk the prototypes down the assembly line to make sure the shoes are mounted correctly and to learn more about the techniques of the craft. I usually catch up on U.S. business e-mail at lunch, work 'til 7, work out, and then go to a late dinner with my agent. There's so much work to be done in a short time that I'm completely el fuego while there. I usually pull an all-nighter the last night of my trip before handing it all off to my agent and collapsing on the plane.
dp I look at your shoes and wonder about the person wearing them. They all look so fun and like they need a good night on the town strutting their stuff. Who is the woman that wears your shoes?
Gigi The female wearing Gigi Favela's is fun and independent with a sense of humor. She is up for an adventure and embraces what life has to offer, including fun, often gorgeous, and highly wearable shoes.
dp I'm partial to your Dana shoe. Do you have a favorite?

Gigi I love the Sonya blue punkies with the demi-cone heel, I've worn three pairs to pieces because they are so comfortable and the color is the perfect pop to almost any outfit. I am also very fond of the cherry red suede Angel boots. They are killer, classic, and drool-worthy.
dp Where can I buy Gigi Favela shoes?
Gigi The best place to find most of the collection is endless.com and shop.gigifavela.com. They are also found at higher end boutiques throughout the States.