April 18, 2012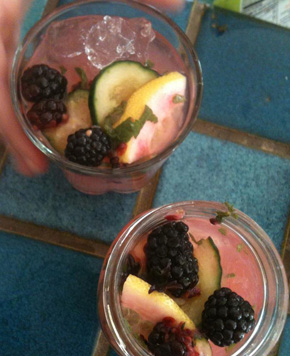 Here's what trend I see popping up in the spirits category this year—gin, gin, gin, gin and more gin, gin. Juniper is having a serious moment here. Snoop had it right back in 1994. I actually wasn't a fan of it, always favoring the more subtle and smooth vodka in my cocktails, but then I tried Hendrick's, and besides having incredibly clever packaging made to look like a vintage apothecary jar, it's the best tasting sip there is.
I've now stumbled across what sounds like the most delicious, perfect springtime-into-summer sip of choice–the blackberry cocktail. Of course, it contains gin. This is Atlanta chef Anne Quatrano's recipe, which was published in a back issue of Southern Living, and I cannot wait to make it. I mean, mint, lime, cucumber, and blackberries all swimming in a sea of gin … how great is that?
Get the recipe here. Don't know about you, but it helps me keep my mind on my money and my money on my mind.