November 7, 2008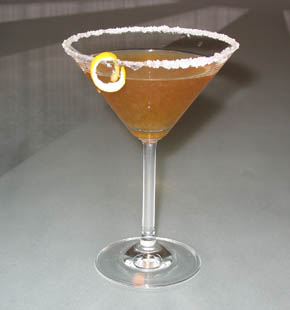 The cocktail trend has really run the gamut the past couple of years from pomegranate everything to the floating lychee garnish to scores of drinks that end in "tini" to the recent "south of the border" influx on bar menus (personally, I think people just like saying words like Caipirinha and Mojito, they just roll off the tongue).
Cocktail consumption goes in stages – with a noticeable divide running between the pre and post college imbibing style. And as there's an increase in salary and social functions where you can't act like an arsehole anymore (weddings, work events, holidays with significant other's family) one has to be a bit more circumspect.
Here's where it gets tricky though – those sweet, totally drinkable bright popsicle colored drinks that will get you mascara running, high-heel carrying, random mobile phone dialing, girl drink drunk. You know, those fruity drinks that would make the Kool-Aid man break through his brick wall screaming "Oh Yeah!" as you order another.
So, here it is – a classic drink recipe that's sweet enough for the tastebuds and when sipped properly it's the perfect order for said social functions. But, if you're not careful and go all Kool-Aid dude with these, you might still end up girl drink drunk…
Sidecar
Adapted from Ina Garten
Ingredients
Sugar
1 cup Cognac
½ cup Triple Sec
¼ cup freshly squeezed lemon juice, plus a bit more for glass rim
Lemon peel, to garnish
Directions
To frost the glasses, dip the rim of 4 martini glasses in a shallow plate of lemon juice, then in the sugar. Allow to dry for 15 minutes. Combine the Cognac, Triple Sec and lemon juice in a pitcher. Pour some into a cocktail shaker with ice, shake well and pour into the glasses. Garnish with lemon peel. Makes 4 cocktails.