December 1, 2010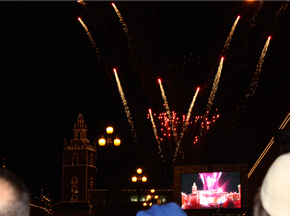 I saw Nigella Lawson on book tour last year touting her holiday cookbook, Nigella Christmas. She gave a fantastic history lesson about medieval times and the tradition of glowing lights (err lanterns) lining the exterior of houses, making it easier for loved ones to find their way, despite the frigid weather and blackness of night. Those lights–warm and comforting, beaconing family and friends inside.
That story is so fitting because I just got back from spending the holiday in my hometown of Leavenworth, Kansas, just outside of Kansas City. One thing I love the most about KC is the plaza lighting ceremony, an annual event Thanksgiving night, marking the outdoor district open for the shopping season. That one night sums up what Kansas City means to me, it's about family and friends and being bundled up and, as Nigella's history lesson proved, one seeped in tradition.
But, not many people outside of Kansas City know about it, or other events similar to it for that matter. These iconic events that define a city, specific to a certain time and place; this country is full of them. Here are my picks for some of the lesser-known iconic events that sum up a time and space.