June 29, 2010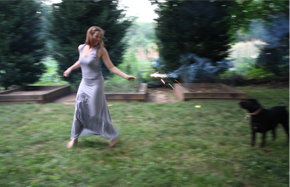 My dad's mom, Grandma Mary, used to drink one beer every July 4. And just that day. If memory serves, I think she said something about it being patriotic to drink a beer out of a can.
So, every year around this time I picture her and that beer. This year, I've spruced it up a bit with my version of how a beer should taste–The Shandy. It's a ginger beer-based cocktail that originated in Britain in the mid 19th century. Which is ironically very un-patriotic of me, but I'm not one to overanalyze my cocktails.
Thankfully this drink, adapted from an old Gourmet magazine recipe, uses mint because my garden is overfilled with it at the moment. It also strays from the ginger-beer, calling for a good pale ale. In any case, this the most refreshing way to watch those fireworks while you ooh and ah.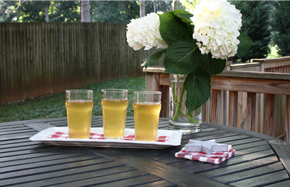 ingredients
1 cup sugar
3 cups water
four 3-inch strips lemon zest, removed with a vegetable peeler
1 cup fresh lemon juice
2 fresh mint sprigs
chilled beer, I'm partial to Sweetwater 420 extra pale ale
preparation
In a small saucepan bring sugar and 1 cup water to a boil, stirring until sugar is dissolved, and stir in zest. Cool sugar syrup to room temperature.
Transfer syrup to a small pitcher and stir in remaining 2 cups water, lemon juice, and mint. Chill lemonade until cold. (make about 4 ½ cups lemonade).
Pour ¼ cup lemonade, or to taste, into each of 4 chilled beer glasses and top off with beer.