October 24, 2008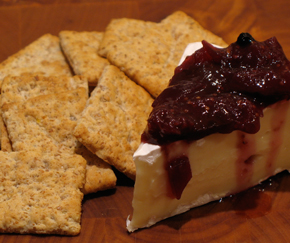 I am usually no good with these sorts of things – recipe exchanges. Well, if we're being totally honest, recipes and exchanges that involve spontaneity. I'm good with things that involve advance notice of in-law visits or making something sweet concocted with peppermint extract during the month of December – I can handle that sort of preparation.
My twin sister is a funny little thing. We're very similar in some ways, but opposites in a lot more ways. She's very willy-nilly and I love her for it – willy-nilly doesn't really come into mind when people describe me, so I've heard.
So, when she brought up the idea of a jam exchange between herself, me, and a friend of hers that lives in Vermont, I got in full Martha mode and googled the hell out of preserves, jams, marmalades and jellies both sweet and savory.
My sister automatically knew that's where I was headed with this whole mess – over the top, planning and canning, and setting myself up for failure already matching cheerleader hair bow ribbons to the fabric around the jars. Completely glossing over the teensy issue of not really knowing how to make jam.
My first ever (and last) attempt at jam involved using canned cherry pie filling, a packet of cherry gelatin, and Tupperware containers to toss in the freezer – none of which seemed like TRUE jam making ingredients. I always thought jammin' involved a hazmat-ish sterilization of jars process, scientific thermometers, and boat motor fruit mashing. Nowhere in that image were can openers and reused margarine tubs for storage.
So my sister and I had a phone conversation like this –
Me – (panic-stricken) "What kind of jam are you making for the exchange?"
Her – (breezy and carefree) "Hmmm…dunno – peaches looked good today at the farmer's market, so maybe that…not sure."
Me – (totally freaking out) "You're just getting whatever?"
Her – (calm, cool, collected) "Yeh, just get what looks good. Try it. Don't go into the store with a list. Buy what looks good and make it. Whatever is in season, find a recipe and make it around that ingredient."
Me – (completely baffled) "People do that?"
The answer is, yes, people DO do that. And for one lovely afternoon of market shopping and jam making, I was one of those people. Consider this proper documentation for the occasion – no need to call the local TV affiliates. I can't take credit for the recipe though – I trusted Martha for that.
Gettin' Figgy With It…Peppercorn & Fig Jam
Recipe adapted from Martha Stewart Living
Ingredients
4 teaspoons whole black peppercorns
12 sprigs fresh thyme
4 cups roughly chopped shallots
4 cups dry red wine
2 cups red-wine vinegar
2 teaspoon salt
1 ½ cup sugar
4 pounds very ripe fresh Black Mission figs, stems removed cut into ½ -inch chunks
Directions
Place peppercorns on cutting board.Using the bottom of a small saucepan, crack peppercorns. Tie the thyme in a bundle with kitchen twine. Place peppercorns, shallots, red wine, red-wine vinegar, thyme bundle, salt, and sugar in a medium saucepan. Set over medium-high heat, and bring to a boil.

Reduce the heat to medium low, and simmer until the liquid has thickened, about 45 minutes.

Remove and discard the thyme bundle. Put figs in a large pot. Pour wine mixture over figs. Cook, stirring frequently, until figs break down, about 20 minutes. With a potato masher, mash the figs up a bit. Remove the pan from heat.

Transfer to a large bowl set over an ice bath to chill; store in an airtight container, refrigerated, up to 4 weeks. Makes 12 half-pint jars.
Serving Tips
Slather on homemade pizza topped with prosciutto

Drizzle over cheeses (lovely on goat or any soft cheese)

Use as a dipping sauce for pork, chicken or beef