February 14, 2013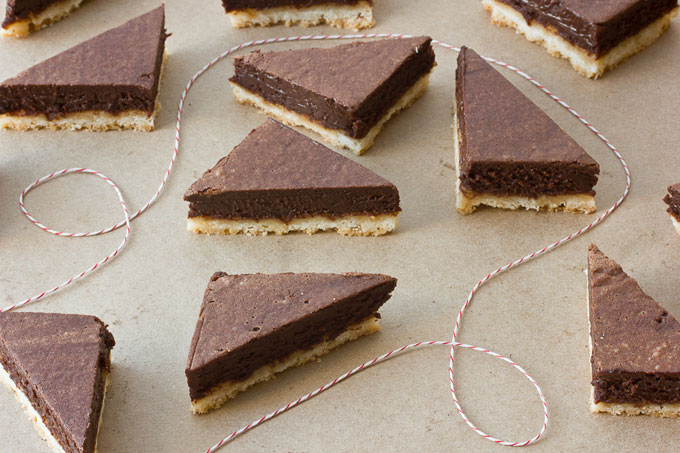 We all know the way to most hearts is through the stomach. With that in mind, one of the best food bloggers around, Dixie Caviar, was so kind to share her recipe for Kahlúa truffle triangles that will surely have your love swoon this Valentine's Day.
From Dixie Caviar
Contrary to popular belief, and despite my blog's name, I cannot claim a "signature" dish. I do not have a restaurant-worthy dinner rotation (just ask my fiancé) and oftentimes I forage my pantry for Nutella and call it lunch. As a full-time food writer, recipe developer, and cooking instructor, I really ought to be ashamed of myself.
I am a complete culinary commitment-phobe, you see, and the thought of making the same thing twice literally makes me cringe. Despite trying hundreds of recipes over the years, most of them actually quite good, I can never seem to settle on just one. In fact, I can't seem to settle on any.
My fiancé—a creature of habit—has begun to complain. He begs for the chicken & mushroom lasagna I made that one time, and pleads for the black bean enchiladas I whipped up just last year. My answer, poor guy, is typically no. I'm either in search of my next delicious discovery, or worse, pawning off cupcakes and cookies as dinner. (It gets old, I swear.)
Then again, there are those Kahlúa truffle triangles I discovered only a few short years ago. It was Valentine's Day and I was hoping to impress a very new beau. I'm not sure if it was the buttery shortbread crust, the silky smooth chocolate filling, or perhaps even me, but he took a liking to something that day. The very next year I made those same decadent triangles, in hopes of keeping cupid's sweet spark alive. And the year after that? He asked when I was making the truffles?
Here we are five years later, and he's still my one and only Valentine. We don't really celebrate the holiday, but even so, I am looking forward to spending the night lounging on the couch, wedged in between our farting, drooling children bulldogs. We'll watch old movies and eat cold delivery pizza (Domino's Black Box, my favorite!), and it'll be perfect. To finish, we'll nibble on a batch of those same Kahlúa truffle triangles. Or wait. Since I've made them five times, perhaps I should call them my "signature" dish?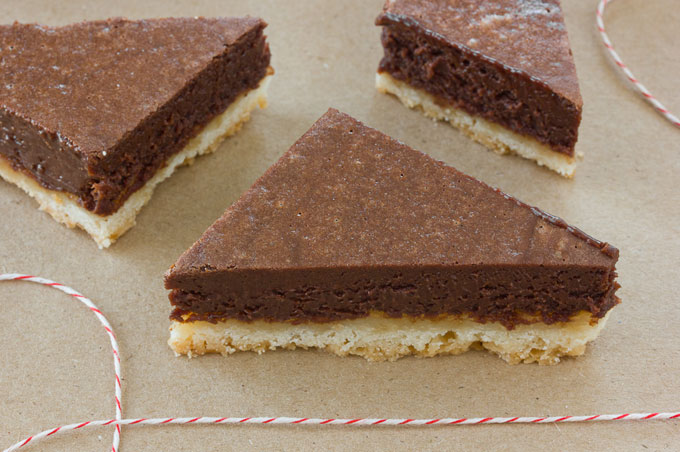 Kahlúa Truffle Triangles
Adapted from Fine Cooking
Yields: approximately 36 triangles
For the crust:
6-3/4 ounces (1-1/2 cups) all-purpose flour
3 ounces (3/4 cup) confectioners' sugar
1/4 teaspoon table salt
6 ounces (12 tablespoons) cold, unsalted butter, cubed
1/2 teaspoon vanilla bean paste or pure vanilla extract
For the filling:
1 pound good-quality semisweet chocolate chips (Ghirardelli or Guittard)
3/4 cup whole or 2% milk
4 ounces (8 tablespoons) unsalted butter, cubed
4 large eggs
2/3 cup granulated sugar
3 tablespoons Kahlúa
For the crust: Preheat the oven to 350°F. Line the bottom and sides of a 9×13-inch baking pan with foil, allowing foil to hang over the long sides of the pan to act as handles for removing the cookie later. Lightly butter the foil.
Combine the flour, confectioners' sugar, and salt in the bowl a food processor. Process the dry ingredients to combine, about 15 seconds. Scatter the cold butter pieces and the vanilla over the flour mixture and pulse on and off until the dough becomes crumbly, about 45 seconds – 1 minute, being careful not to overmix.
Pour the mixture into the prepared pan. Press the dough firmly but quickly into a smooth, even layer. Bake for 20 -24 minutes, until the crust is very pale golden on the inside and golden-brown around the edges. Be careful not to overbake or the crust will be hard and crispy. (I have tendency to err towards caution and remove it on the early side, since it cooks a bit more in the pan.) Transfer the pan to a cooling rack and begin the filling.
For the filling: Lower the oven temperature to 325°F.
Combine the chocolate, milk, and butter in the bowl of a double boiler (or a medium glass bowl set over simmering water) and heat until just chocolate is just melted, whisking occasionally until the mixture is smooth. Set aside to cool slightly.
In the bowl of a stand mixer fitted with the paddle attachment (or with a hand-held electric mixer) beat the eggs, sugar, and Kahlúa on medium speed for 2 minutes, until foamy and light. Add the cooled chocolate mixture, then beat on medium speed until well blended, about 30 seconds, stopping occasionally to scrape down the bottom and sides of the bowl.
Pour the chocolate batter over the baked crust and spread to distribute evenly. Bake until the sides are slightly puffed and a toothpick inserted near the center comes out wet and gooey, but not liquid, 30 to 35 minutes. (I usually pull it at exactly 30 minutes. It may seem a tad wet in the center, but it cooks a bit more while it cools.) Transfer the pan to a wire rack to cool. (The center may sink a little bit; the recipe says to use your fingertips to gently press the edges down to the level of the center, but I just leave it be, and later cut the edges off for snacking.)
When completely cool, cover with plastic and refrigerate until very cold, at least 12 hours or up to 2 days. Remove from the refrigerator for 5 -10 minutes. Remove the rectangle from the pan by gently lifting the foil out, using a large spatula if necessary. Place on a cutting board and carefully peel away the foil from the bottom and the sides.
Prepare a large glass of hot water and dampen a dish towel with warm water. Heat the knife in the water for a few seconds. First cut away the edges of the rectangle (for snacking!), dipping the knife blade in the hot water and wiping clean after each cut.
Cut the rectangle crosswise into 1-1/2 inch long strips. (If the chocolate seems to be getting a little soft, refrigerate the strips for a few minutes before continuing on.) Cut the strips into 2-inch bars, continuing to warm and wipe the blade after each cut.
Cut each bar in half diagonally to make triangles. Place triangles on a large sheet pan, cover in plastic wrap and refrigerate until ready to serve (up to two days). Let sit at room temperature for 5 minutes before serving.