September 18, 2012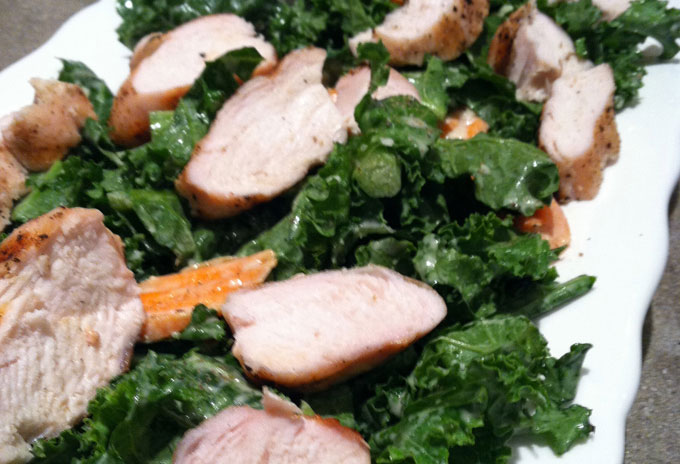 All hail Caesar. Or rather, all kale Caesar. Last month, I met my friend, Jennifer (who, by the way, broke this story for People), for lunch at Richard Blais's newish spot, the Spence. While there, we spilt a burger and a kale Caesar salad with chicken. We both were blown away by this salad. I'm a Kale lover, but had never had it replacing traditional romaine in a Caesar salad.
I've always just stuck to steaming or making some sort of Asian-style salad with the leafy green (ginger, sunflower seeds, rice vinegar, oil) and that's served me pretty well.
I tried to recreate the Spence salad for dinner to a great weeknight meal success. Just a mound of kale, prepared dressing (I know, I'm lazy, but I like Newman's Own), grilled chicken that's been seasoned with a healthy dose of salt and pepper, I threw on carrots because they were taking up space in the veggie bin, and gave a good squeeze of lemon from one that was just about a day away from walking itself to the trashcan.
All hail Caesar.