November 14, 2008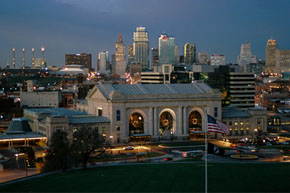 A thriving arts scene, James Beard Award-winning chefs, all in an idyllic Midwestern backdrop surrounded by fountains (it is said to have more fountains than any city except Rome). And don't forget, all this while you can literally see buffalo roam. This week, I'll give the pop on Kansas City.
Stay
Kansas City is an industrial town rich in history that owes its birth to the railroads. Modern KC gives a nod to it's working class past, and a wink to it's cosmopolitan future. Two hotels that truly capture the heart of KC are the Hotel Phillips and the Raphael. Both are benchmarks of service, quality, luxury and relevance.
Hotel Phillips, located downtown, is a grand old hotel, but newly remodeled. It is within striking distance of KC's highly popular shopping and restaurant districts – Power and Light, Crossroads, City Market, among others. The Raphael is a charmingly elegant boutique hotel, located square on the Country Club Plaza, the most well known district in KC; a must-see slice of the city filled with fantastic boutiques, restaurants, and bars.
Do
Kansas City has a long-booming art community that has also long been overlooked. But that is quickly changing; in the past few years, the Crossroads District has enjoyed a resurgence with urban redevelopment transforming run-down buildings into a flourishing cultural Mecca. The district – easily accessible to roam by foot or trolley is home to numerous art galleries and studios where you can wander to your heart's content. For a more structured experience, both the Nelson-Atkins Museum of Art and Kemper Museum of Contemporary Art are worth the trip.
Eat
…it's what's for dinner – saying that the Midwest takes their beef pretty serious is an understatement, and Kansas City is no exception. Barbecue and steak rule the belly in KC (there's a reason a special cut of beef bears this town's name). For decades, the Hereford House (est. 1957) with five locations, one downtown and the four other suburban and Plaza III (est. 1963) have been the best places to go for steak. They still sit solidly at the top of my list, but a contender worth noting is the Majestic. Established in 1993, the Majestic serves corn-fed beef and live jazz nightly. Side note – The Hereford House had a fire in October 2008 and its downtown location is closed indefinitely.
For BBQ, head to Oklahoma Joe's Barbecue (located in a gas station) or Arthur Bryant's (original location). Both hole-in- the-wall joints located in a bit off the beaten path neighborhoods (the best kind).
If you're all beefed out, other great eats to mention – try Carmen's Café located in the cute Brookside neighborhood. Lidia's is a KC institution and one of my favorites for Italian, or try the James Beard Award-winning Michael Smith, for a splurge meal (both waistline and wallet), and be sure to hit Classic Cup for a lovely brunch.
Go
For a one-day wander, head to the university town of Lawrence, Kansas. Stroll Mass Street for great boutique shopping and must- sips and eats. My food recs – Freestate Brewing Company (order the Copperhead Pale Ale), Quinton's Bar & Deli(bread-bowl soups and sandwiches are killer), Papa Kenos for pizza (slices big enough for sharing). Drive by Beatnik William S. Burroughs' (the late, longtime Lawrence resident) house at 1927 Learnard Avenue. If you find yourself in Lawrence needing a place to rest your head – book a stay at the Eldridge, Lawrence's famed hotel, alive with history.