April 21, 2009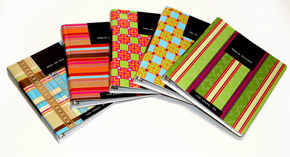 My relationship with lists has been duly noted (see Daisy Princess Paperie). I make lists for lists…or to steal a line from my twin sister and her boyfriend that they stole from some Cameron Diaz movie – making a plan to make a plan. With age comes acceptance and as I grow older, I'm trying (honest) to truly embrace the Type-A that I am. And every once in a while a product comes along that leapfrogs my military-precision organization skills to a whole other level – that product is The Life Library.
I recently interviewed its creator, Jean Martin. Here's what she had to say:

danapop (dp) How did you come up with the concept for The Life Library?
Life Library (LL) Self defense. I was simply tired of searching through drawers and piles of paper looking for the information I needed.
Gathering the information for my tax returns took forever. I was always buying belated birthday cards. I had drawers full of restaurant menus, recipes and unused grocery coupons. And, I could never remember the plumber's name, much less find his business card.
I also wanted help from others. Gathering the data into binders made the information available to my whole family. They can help when I need it!
dp Which Life Library do you use the most?
LL I use Keeping Count every day to stay on top of my bills, track expenses, and plan ahead. I use Eat In…Recipes almost every day because I am cooking more. And, I wouldn't have made it through Christmas 2008 without Keeping Christmas.
dp What do you think the organization process does to one's life?
LL It sets you free! Mentally, you stop beating yourself up for being a disorganized dingbat, for losing things, forgetting a birthday, not paying a bill on time, etc. And, you feel proud to be in control of details instead of the victim of the clutter.
Physically, you reclaim the space the stacks and piles once occupied. You take back the time.
dp In my experience, whenever there is organization, there is purging. What advice can you give on how items go from keep pile to throw away?
LL Be tough. There is no time for wimping out. But, instead of actually throwing things away, think: Repurpose. Recycle. Reuse.
dp If someone could organize only one area of their clutter, where would you suggest they start?
LL One person's clutter is another's comfort system. So, it's a very personal thing. You have to decide what is not working for you and what frustrates you most.  Perhaps it's your closet or your kitchen. But, everyone needs some order in addressing the paper we collect. If you start there and gain control, you will soon find both the time and inclination to move on to other areas.
dp Do you have any new Life Libraries in the works?
LL The mind boggles! If I could organize the half-written books and have the funds, I would publish right away:
Keeping Up…with kids, pets, parents
Keeping it Together
About Me