June 8, 2010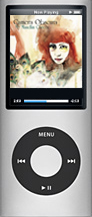 I've always been a fan of solid Brit pop. From the '90s Blur, James and Oasis to today's Travis and Coldplay. I'm a sucker for brooding scowls and accents duking it out with a catchy beat.
As I've mentioned before, we're traveling for a wedding in mid-August and we've just begun the planning stage. It's looking fairly certain that we'll have three legs to this trip–England, Hungary, and Poland, or more specifically, London, Budapest, and Krakow.
For now, I'm putting together the London version of my playlist that includes a heavy dose of UK invasion, plus a few I think will be perfect for gazing out train windows, daydreaming.
Time has Told Me by Nick Drake (One of my favorites by him, such a waste that he only made it to 26).
Maybe Tomorrow by Stereophonics (I don't think I've made a playlist yet without including these boys … I never tire of them and my friend who's getting married introduced me to them).
There Goes the Fear by The Doves (The great thing about traveling is you can step outside of your norm, fear included).
Dreams by Passion Pit (Their version of the Cranberries original is so beautiful).
Daylight by Matt & Kim (Fit it all in from sunup to sundown).
You Told a Lie by Camera Obscura (The summer before my own wedding in 2003, I went to Scotland with said friend, though we didn't make it to Glasgow where this band is from).
Quelqu'un M'a Dit by Carla Bruni (Model, singer, and married to the President of France, a luxe life indeed).
Sleep the Clock Around by Belle & Sebastian (A sleep mask and dose of Ambien will aid in the time change).
Svefn-g-englar by Sigur Rós (Almost eleven years to the day the brilliance that is Ágaetis Byrjun was released; such a gorgeous album and particularly this song).
Daniel by Elton John (It's so strange when you go to a new place how many people remind you of others you know, my interpretation of this song is a bit of that).
I Was Made For You by She & Him (I know Zooey Deschanel's doe eyed act bothers some, but I do think she has a fabulous voice and everyone could use a sing-a-long).
Shiver by Coldplay (I was gifted this album long before it was cool to own and could not get this song off repeat).
Back to This by Helio Sequence (The trance-like beat on this one is unbelievable).
Young Americans by David Bowie (Can you really list Brit bands without Bowie? More importantly, we'll do our best to blend in during our travels).
Subterranean Homesick Alien by Radiohead (We won't be gone long enough to really get homesick–other than missing Otis the wonder puppy).
Holiday by Hourly Radio (It's ironic how everyone but Americans call vacations a holiday. Going on holiday sounds so official, like you're declaring it festive, period).
Lay me Down by The Frames (I adore this band from Dublin whose lead singer has since become one part of The Swell Season, equally as good).
Song to Say Goodbye by Placebo (This is an angst-riddled song that's perfect to blast when you're feeling frustrated or better yet, totally over it. The lyric, 'you lying, trying, waste of space' really sums it all up).
Talk her Down by Starsailor (This English band is said to be influenced by Jeff Buckley. I've seen them live several times and believe the comparison).
1901 by Phoenix (I gulped the Kool-Aid, love, love, love this song, muah).