December 26, 2008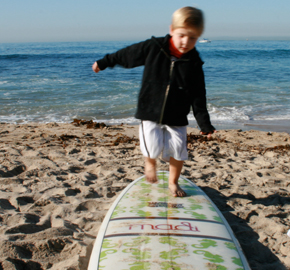 It's always around this time of year when the Holiday hub-bub is just about over that I get the urge to travel. Specifically, taking a trip that involves a beach. For now, I must only write about it than actually experiencing it myself. So, here's a wishful thought for surfing in the new year…
For me, surfing, much like life, is mostly about balance. That thin line of being steady, in control and powerful, dueling in sharp contrast with wiping out in one quick misstep. I recently discovered an amazing product that combines the notion of surfing with the design aesthetic of custom artwork – London L Surf.
I was fortunate enough to chat with Brittany Tripp, designer of London L Surf, a custom surfboard company out of Costa Mesa, California.
danapop (dp) I first have to ask you – are you really a surfer?
London L I can surf – but I am a fair weather surfer. I'll go out if the sun is shining, the water's warm and my boyfriend comes along so he can push me into the waves
dp Why surfboards? Are they a good canvas?
London L I grew up in Newport Beach, and have been around surfboards all my life. When I started working at Wallin and realized John (Levandoski, owner of Wallin) had created a process that allowed us to put anything on the boards, I became a lot more interested in surfboards as a canvas. I was never interested in art on surfboards before because it is generally just color swirls (tie die) or paint pen art once the board has been glassed.
dp How did you partner with Wallin surfboards? What makes its boards so great?
London L Wallin Surfboards is actually the parent company to London L. Wallin is very unique in the surf industry because of our printing process. We are the only company that is capable of applying full board graphics to the surfboard without jeopardizing the integrity of the board.
dp When you first created the printing on the board were you thinking of it more from a design/artistic standpoint, or function?
London L The printing process was actually created by John. He has a pretty unique background (he is from Chicago, was in advertising for 10 years before he became partners with Brian Wallin). And he developed the printing process for artistic purposes.
dp Do you think typography and custom monogram is overlooked in the art realm?
London L I do. I think that type is something that most people take for granted. I love Michael Perry's books Hand Job and Over & Over. I find a lot of inspiration in each of those books.
dp A little about the actual process – how are the designs printed on the boards? How do they withstand the elements of the sea (salt, rocks, grit, sand, sun)?
London L The designs are printed on a specially blended paper with UV safe ink. The boards are made the same as any other surfboard, just with the design inlay (which is applied just before the board is glassed).
dp Have you always been interested in design? Have you always been creative?
London L I have always loved design. When I was growing up my mom was always being creative. I guess it has always been in me, it just took a while for me to be comfortable with putting myself out there.
dp How do you balance your work and business with your life? Does it intermingle or are they separate entities?
London L My work and my personal life are one in the same. I think that when you love your work and you feel passionate about it, you don't want a separation. I am always thinking and talking about London L outside of work, and most of the time that is when I come up with my best ideas!
dp Do you find parallel components with surfing and life?
London L In a way it's kind of a spiritual outlet, something we can go to when life is tough but that still reminds us of the good things in life, and that tomorrow is always a new day.
dp What was the first thing you created and sold?
London L The first board I created was the Madi board (the green and brown repeated seahorses) for my niece, Madi on her 13th birthday. It now hangs in her bedroom when I'm not borrowing it for photo shoots.
dp Where do you find your inspiration?
London L My designs are usually inspired by the people in my life – that is why each design has a name. My friends and family all have very unique tastes, and it helps me to think of them when creating new designs.
dp Where did the name of the company come from?
London L As we were creating London L, John had a baby, named London. We decided to name the company after her, London L(evandoski). I also love that the name is London because I lived there while in college and it is my favorite city in the world.
dp Where can someone purchase your boards and what is the process to get them custom made? What are the shipping capabilities?
London L Customers can place orders on the website, londonlsurf.com. Once they have placed their order we will send them of proof of their custom design. The process takes about 4 weeks (between the proof approval process, printing, and shaping the board). We are able to ship anywhere in the world!