October 30, 2012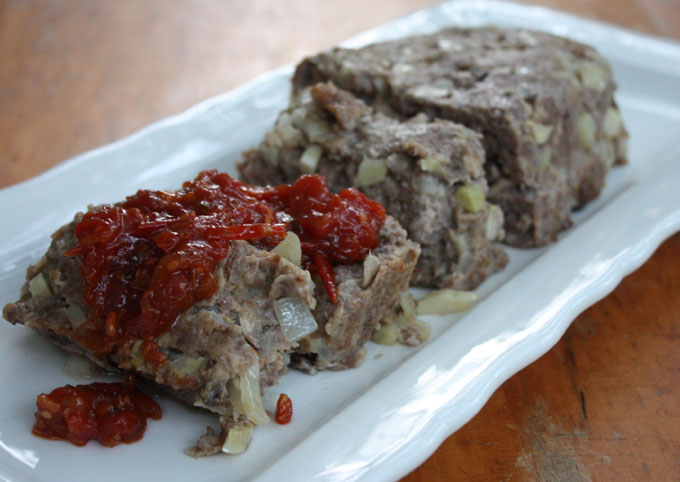 Growing up, we didn't eat a lot of meatloaf. In fact, we didn't even know of its existence. It was not a favorite dish of my father's as his mother's version came out (surprise, surprise) a really funky texture and supremely bland. It was a dish, according to him, that even heaps of ketchup couldn't save.
But, my husband loves the stuff. It really is the ultimate in man food. I've always liked meatloaf just fine, but it's taken me a while to find a recipe I truly loved. My version is tweaked from the tried and true Better Homes and Garden Cookbook (the one with the iconic red and white gingham cover) using traditional beef, but adding finely chopped fennel and mushrooms into the mix. It's filling and good, but pretty rustic, as I like to keep it with very little binder so it still resembles something edible.
Mushroom Fennel Meatloaf
1 beaten egg
¾ cup dry breadcrumbs (I sometimes do a breadcrumb/panko combo)
¼ cup apple juice (or hard cider)
¼ cup finely chopped onion
¼ cup finely chopped fennel
¼ cup finely chopped mushroom
2 tablespoons parsley
1 pound ground beef
2 tablespoons ketchup (or tomato jam, which I highly recommend)
In a mixing bowl combine egg; breadcrumbs, apple juice, onion, fennel, mushrooms, parsley with ½ teaspoon of salt and ¼ teaspoon of pepper. Add ground meat and mix well.
In a shallow baking dish pat mixture into a 7x3x2 inch loaf.
Bake in a 350° oven until no pink remains. Bake loaf for 45 to 50 minutes. Transfer to a platter. Drizzle with ketchup (or tomato jam, which is what I top mine with and it really puts it over the edge!).
This makes one loaf. For variation, you can make smaller versions in muffin tins or ramekins, which freeze especially well. Just thaw out and reheat a few and you have a hot meal in an instant. This recipe also works fantastically with ground turkey instead of beef.