November 5, 2008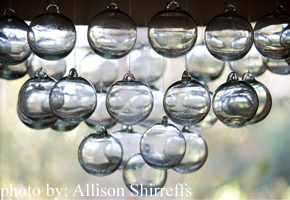 This year, the idea of travel has been seriously tweaked. With words like staycation added into everyday vernacular, the notion of stepping out and exploring your own city is becoming common practice. I have always thought there's merit to that, down economy or not, I just love the idea of wandering around your own city streets. When we travel we often do things we wouldn't normally do in our everyday life, but this doesn't have to be limited to travel that takes us far from home.
It's fair to say that I have mixed feelings about B&Bs. On one hand, I've seen my share of exquisite looking accommodations; on the other hand, my friend's anniversary B&B stay replete with an Egyptian-themed room (think pyramid and sphinx wallpaper) sounded so funny it made me NEVER want to book a stay. But more commonly, the average B&B boasts plaid and toile décor, homemade quilts, cedar chests, breakfast casseroles, chatty innkeepers, and liquor you bootlegged in. No thanks.
Enter Stonehurst Place, an eclectic mix of eco-chic meets clean European lines sprinkled with southern charm. It is Atlanta's only EarthCraft house and my kind of B&B (if we're being technical, it's actually called a boutique inn). The original house was built in 1896 by George Hinman for his wife Cara Farnsworth Hinman, then renovated in 2007 when Barb Shadomy purchased it and transformed it in to what it is today.
Throughout Stonehurst Place you see Shadomy's unfailing eye for design and detail. Her vision is a fluid one and everything – each piece of furniture, all the artwork and all the lighting fixtures – have a backstory. Shadomy has created an eclectic showplace but with a cohesive look that completely makes sense; you don't question the Warhol hanging just around the corner from a chandelier the Hinman family purchased at The Chicago World's Fair. Besides works from the Prince of Pop (I counted at least 9 Warhol pieces) Stonehurst houses an iconic Eames lounge chair with ottoman, a curio cabinet displaying vintage Hermès handbags, Bill Wegman lithographs, a Christo photograph, Dale Chihuly blown glass, and the entire 12-issue Flairmagazine collection all mixed with historic Hinman family relics. It should be noted that all the artwork is original.
The five guest rooms are equally opulent but never garish. The three rooms on the main level are an homage to both Hollywood and the Hinman family. The Farnsworth and Piedmont rooms mirror each other in appearance and are Los Angeles in the 1940's with Marlene Dietrich and Rita Hayworth as the inspiration.
The Hinman room showcases a four-poster bed with a dreamy canopy made to look like twinkling stars. Shadomy does a remarkable job of including modern amenities like flat screen televisions and gadget docking stations that somehow still seamlessly blend with the décor. Upstairs, the Gables Suite and the Master Suite, redefine luxe; they don't just hold sumptuous amenities, they are true sanctuaries.
Several items worth mentioning – all beds in Stonehurst Place are fitted with 1,000 count Egyptian cotton sheets, perfect to really sink into. And all the bedrooms have private bathrooms – think showers with multiple heads, heated towel holders, marble flooring, Thymes bath products, and plush robes.
And the food? Well, innkeeper Trenell Smith will whip up just about anything you can think of in the kitchen. I was treated to her homemade lemon poppy muffins drizzled with cream cheese icing (I still dream about them).
Stonehurst also boasts exquisite common areas including a music room, and several outdoor porches that blend the comfort of the indoors with the glory of the outdoors, including fully stocked bars – lovely for sipping something special.
Also, the eco-standards are incredibly progressive – whole-house icynene insulation to reduce energy use, efficient HVAC systems and low-VOC materials to improve indoor air quality, rainwater harvesting and greywater recycling, and ten solar thermal panels that heat the hot water used throughout the inn.
To fully understand the posh microcosm of Stonehurst Place, I must emphasize that this is my wish for a much larger trend in Atlanta. Let this be the shift from the false southern persona to a more modern reality. For Atlanta to be seen as cosmopolitan as any other major American city.
While I think Stonehurst is a completely unique experience, search around your own city for a night away. Even if your travel budget is tight, stay focused on quality…because right now in particular, it's all about escaping a bit, even if it's just for a single night.