September 8, 2009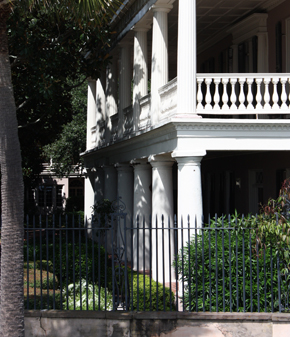 I first visited Charleston as a freshman in college, to visit my first love, my then boyfriend who attended The Citadel, or as it's formally called–The Military College of South Carolina. And while he's an amazing person whom I'd predict now is a doting father and husband (if I had to guess … but I honestly have no idea where or how he currently is) the best thing out of that relationship was my introduction Charleston. Well, that and my first taste of Russian teacakes during the holiday season (courtesy of his mother). I was charmed by both, even then.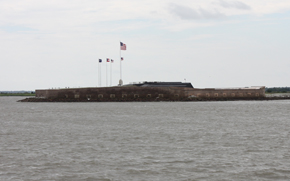 Charleston has it all including history–(um, hola Civil and Revolutionary Wars) and because of it, there's a strong "across the pond" vibe going on–great boutiques, award-winning chefs taking local and Southern cuisine to a whole new level, and an integral, yet gorgeous harbor currently the nation's fourth busiest container port. Celebrities love it too– Reese Witherspoon and Ryan Phillippe chose Charleston as their wedding location (hmm maybe not such a good example). My friend, travel and food writer extraordinaire Hope, says (I'm paraphrasing) that it's the snootier version of New Orleans, and I think that's a fair observation.
But, even so, I've always been more than a bit smitten with the city, much like that first boyfriend you always seem to go back to (no matter how immature and ridiculous things get). Though a side note, on this last visit, I noticed even Charleston cannot escape the housing market–there were loads of for-sale signs. One of the reasons I like Charleston so much is because of all of its old buildings (especially when compared to where I live in Atlanta), so, I was sad to see a lot of tearing down of old properties and building new this time around, which is never a good thing. But, this isn't a piece on the economy or property development, it's an article on traveling to one of the best little big cities in the South–the pop on Charleston.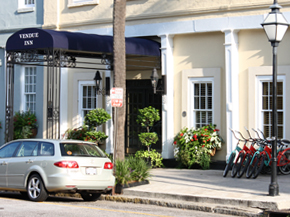 Stay
In the past, I've stayed at the Francis Marion Hotel–which I adore. It's historical and in the heart of the city on King Street, but a bit off the path of the amazing harbor. So, I booked at Vendue Inn, which is about 2 blocks from Waterfront Park. The Vendue is a pretty special boutique hotel in a gorgeous location. The happy hour in the late afternoon and milk and cookies late night are nice touches. Also, I will say the rooms are on the romantic side (fireplaces in the kings–natch). If you're ever having trouble in the bedroom, maybe book a stay here? Just a suggestion.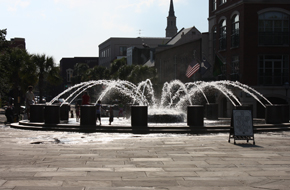 I must make mention though, one of the main reasons we booked at Vendue was for what we thought was going to be an impressive rooftop bar overlooking the harbor. However, I alluded to it earlier, condos, condos, and more condos are blocking what once was (so we heard time and time again) a killer view (rumor had it as one of the best in the city).
For a complete and total splurge, Wentworth Mansion is just about the nicest place you'll ever set foot in. They also have sister B&B's which are lovely and luxe as well. You can check them all out through Charming Inns.
I've also heard, and my researched backed the claim, that Planters Inn (where previously mentioned celebrities got married) and Charleston Place are both superb.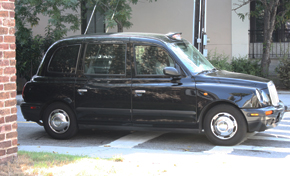 Do
Be sure to stroll Charleston. In general, it is a very walkable city–just dress for the weather, as with most Southern cities, depending on the time of year you go, there's a high probability of it being hot and muggy. If that's the case, the black cabs are so cool, as are the rickshaws … if you or your feet need a breather.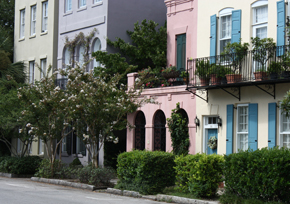 It's not a trip to Charleston without walking through the city market, checking out the houses on Rainbow Row, resting on a swing in Waterfront Park, or walking the sea wall to The Battery.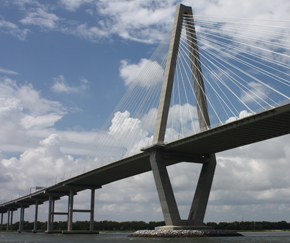 Take a harbor tour to hear all about Charleston's past and present; it makes for a pleasant afternoon. Shopping on King Street is a must–it's a mix of local boutiques and chain stores, providing many cool shops to hit.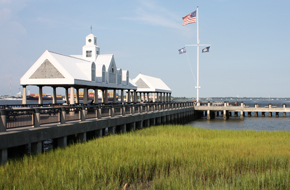 And just wander, wander, wander … you won't be bored in Charleston.
Eat
I was a bit adventurous in Charleston both in the food and the drink departments. I tried sweetbread for the first time and drank bourbon (a drink I normally do not particularly enjoy) pretty much exclusively the entire time I was there (except for the Vendue wine happy hour and Firefly). It was very hot and very humid, so a cool glass of bourbon really did the trick.
As for food, ah … where do I even start with the culinary scene in Charleston? It's so damn good. I mean, we have fantastic restaurants in Atlanta, but this little sister of a city is giving it a fight on a smaller scale. Here are my top picks…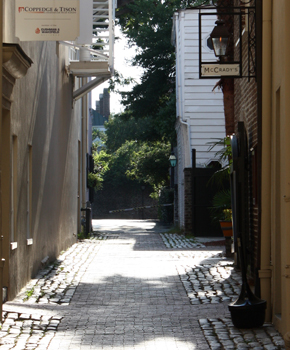 McCrady's Restaurant–you have to try it. It's a quest just to find the place, as the entrance is situated in an alley off East Bay, but you won't be disappointed. Chef Sean Brock, decorated with tons of awards and full of innovativeness, won't let you down.
Now, if I were placing bets, my money would be somewhere else…on Chef Mike Lata at FIG (food is good). My father-in-law declared the shrimp and radicchio salad as the best he's ever eaten. That's a pretty bold statement from a man raised on a farm in Perry, Ohio. My appetizer was nothing to scoff at either–roasted tomato tart-tatin (say that 5 times fast). The entrée though was where the real stuff happened … the aforementioned sweetbread. I figured if I was ever going to try them, it'd be at a place like FIG. So freaking worth the order. My description cannot do them justice other than to say they are incredibly rich and delicious with a texture like nothing I could compare, but decadent and wonderful. Paired with chanterelle mushrooms and creamed spinach on the plate and spicy Chilean Malbec in the glass–I was one happy customer. Our whole table was. Don't miss dessert either, if it's in season, try the mint ice cream (it's paired with the molten chocolate cake, but the ice cream is the star on that plate). FIG isn't messing around with its local message either; everything is fresh and from the area.
A few other places of note, S.N.O.B., Hominy Grill, The Boathouse (on Isle of Palms), and Trattoria Lucca (I'm married to an Italian, what can I say). If you need something a little more casual, I like the Shem Creek Bar & Grill, especially if you're an oyster fan. A fantastic coffee shop/bakery is Baked (it does have a sister location in Brooklyn, NY for all of you keeping count on my distaste for chain operations).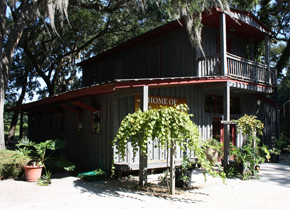 Drink
Like most Southern cities, Charleston takes its drink situation quite seriously. Firefly Vodka is produced on the neighboring Wadamalaw Island. It is sort of the little engine that could story, except it's the little engine that exploded … so much so, that it can't exactly keep up with production demands. It's a local favorite that's enjoyed throughout South Carolina, and now across the continental United States. This sweet tea infused vodka was launched just last year and has spread like wildfire ever since. From first hand experience, they are not kidding when they call it a "small batch" operation. Seriously this is about as mom and pop as you can get without calling it moonshine–but I think that adds to its charm. Try it, like it, love it, and if you can't get it in your area, have a chat with your local liquor shop owner.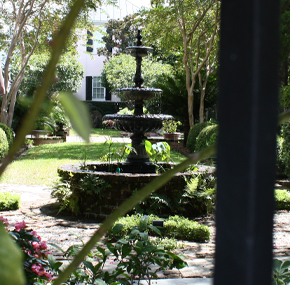 In my experience, no matter how much time you spend in Charleston, it will charm you and leave you wanting more … much like that first boyfriend's perfectly worn-in sweatshirt. But make no mistake, it's the finest sweatshirt around.