December 18, 2008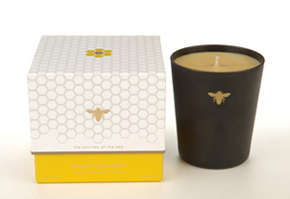 When I write, I tend to be more focused and inspired when I light a candle. So, it's not uncommon for me to have one burning most of the day. The balance of scent is tricky…I never want something too strong in its note (too floral or fruity or one that makes me want to devour a plate of sugar cookies or an entire apple pie). So, finding that perfect line of candles is complex with a ton of fragrance induced headaches and mysterious food cravings.  I found my solution years ago though, when a friend gifted me a Paddywax candle.
From first match strike, I knew, this was the candle company for me. Hand poured, eco friendly, family owned and operated…I had to get an interview with its founders. So I did. David Duncan and I sat down for a chat about the company he founded with his wife Gretchen, Paddywax.
Also, a timely sidenote – Paddywax candles are on my wish list for stocking stuffers…and should be on yours too.
danapop (dp) I'm always fascinated by entrepreneurial stories like yours. But, I know these types of things don't happen overnight. How did you make the leap from concept/dream idea to Paddywax actually coming into fruition?
Paddywax We started in our kitchen. What we had going for us is that we were very young – we had $5 to our name and we had nothing to lose. When something takes off from the beginning like that, you're not going to question it, you're just going to keep going. We had some hurdles, the first was the technology crash in the late1990's and early 2000.  It was then that we basically recreated ourselves and we haven't had a down market since. Neither Gretchen nor I had ever had a business classes. I think part of our success I attribute to that because we weren't jaded by that, we completely thought outside the box on everything. We just did what made sense. We've made a ton of mistakes, but we do try to learn from everything.
dp Is the name really from the childhood rhyme "knickknack, paddywhack"?
Paddywax Yes. Gretchen was in a what am I going to do with my life phase – this was just before we met and she was talking to her sister Heidi and said something like it's this knick knack paddy whack crap and that's how it started.
dp What makes your candles so special?
Paddywax Materials. Quality materials. There certainly is an artisan piece to what we do, but by far the selling point is in the quality. The design is important – color combinations and packaging, but the actual candle itself – we don't skimp there.
dp I know your candles are sold in boutiques and stores throughout the country and online, with the rise in demand, are you able to hand pour all the candles?
Paddywax It's a simple process – we are not a mass manufacturer, we are a boutique manufacturer, a small batch manufacturer. So, being a boutique, selling to boutiques, that's one of our core values and by definition you can't do that with mass production. We also have great employees.
dp Tell me about your soy candles. What makes them different than other candles?
Paddywax Every container candle we do is soy. Our wax descriptions are all soy blends. We think soy is just the right material to use. People think soy and they think lush green fields and they think of paraffin and think of smog, but soybeans go through that same process. It's not the soy wax that makes it a better candles, it's the right wax with the right fragrance it's the combination of all these ingredients that make it a clean burning candle, which is ultimately what you want.
dp How do you respond to the argument that candles are bad for the environment? Do you think they are?
Paddywax Sure, I've heard people say things. Paddywax as a company offsets our carbon footprint 100% – we bring in independent parties. Just sitting here breathing we're creating carbon dioxide, so there's going to be an extreme to everything, I just think that's a ridiculous argument. Black smoke, now, that's a bad candle. All of my competitors use similar products and raw materials that we do. I happen to think ours are the best. For the most part, boutique-made candles, they are all safe.
dp How do you come up with fragrance ideas and blends?
Paddywax That's really Gretchen. She's the creative director of the business. She looks at the market and says we're going to introduce this concept for this collection. For instance, the Journey of the Bee collection – she was sitting in our backyard with one of our daughters who loves bugs and they watched a bee fly from plant to plant – everywhere a bee might land is what she came up with for the fragrances – freesia, blackberry, honey. 
dp What do you think candles and scents do for a home? Do you think they are mood and outlook enhancers? 
Paddywax Absolutely. It's about creating an ambiance and setting a mood, candles are also part decoration as well and there is a utility aspect to them. But, it's definitely an ambiance thing. I believe in the power of aromatherapy. The sense of smell is a strong sense, it'll evoke a memory, and each person will react differently. Each person has their own palate too when it comes to candles.
dp You work with your wife, how are you two able to transition from home life to work life?
Paddywax We don't shut it off. When we first started it was a constant power struggle and it was hard. I have a funny story about our offices in our old building. They were separated by kind of a partition and one of us would be on the phone – we had this argument b/c we were right on top of each other. And while I was on the phone, Gretchen literally built a wall. We now, have identified our roles and really trust each other, so we don't have work conflict. I can't imagine having a better business partner. When we are away from each other I find myself not knowing what to do with myself.
dp Did you two always know you'd start a business together? Why candles?
Paddywax When we first met and started dating, from the minute we started dating, it was the night that the flame was lit for the Atlanta Olympics, from that night forward we were basically together the rest of the time. It was not a conscience decision that we were going to be business partners; it was a natural process. And the concept of a candle, consumable product – we are able to create a brand behind it which I think is a reflection of both our personalities.
dp Where do you find your inspiration?
Paddywax It's everyday. I am incredibly passionate about the power of the individual and the power of the entrepreneur. My inspiration comes from other business owners and entrepreneurs and just the general dialogue you have with them. It makes me feel like anything is possible. My personal inspiration comes from my kids. And no matter what level of financial success that we achieve, we'll always look at ourselves as scrappers or fighters.
dp Where does that come from?
Paddywax For both of us that comes from our families. Gretchen's father and stepmother own a lamp company. That's how we knew this industry. I consider Harvey, her father as one of my mentors. And my parents taught me the value of hard work.
dp Are there any new lines that you are working on that you can share?
Paddywax We'll be introducing new collations in June 2009. Gretchen is already working on holiday 2009. So, the process starts 12 months in advance.