December 7, 2010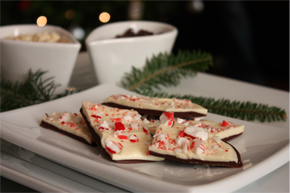 Growing up, my family didn't have many holiday traditions. I can remember two—opening one gift each on Christmas Eve, and an annual Thanksgiving morning competition to decide which team has dish duty (the year of the pinball tournament was the best). But I can't remember food ones that stuck year in and year out. Some years my mom would bake her holly cake—a jelly-rolled number shaped like a log with frosting spruced up with mint extract, and decorated with jellied gummies that she'd cut into leaf shapes—we loved it. Or some years she'd make candies like fudge or use cup molds for caramels and peanut butter meltaways.
Like most traditions, ours just sort of happen once and then are requested year after year. But most are labors of love, entailing loads of stress (I get that the turkey stuffed inside a duck was fun one year, but maybe it's just a one-time deal?). In my family's case, my guess is that there were so many of us kids that the recipe requests varied, and my mother tried her best to appease us all. Maybe that'll be my story once we have children too, but the first year I was married I stumbled on Paula Deen (I think) making peppermint bark on television and have been making it each December since.
The thing with peppermint bark is that it's everywhere—Target, Williams Sonoma, department stores—everywhere. Which totally surprises me, because it's the most embarrassingly simple thing to make. I riffed off Deen's basic recipe and made it into something I could actually tell people about—even two glasses of wine in. You'll see what I mean below. At any rate, it's a favorite around our house. This year I'll package it in sleek tins, nest in pretty tissue, and make labels to give the bark as gifts. Or I might do them Donna Hay style and put them in metallic cups for individual little treats. Either way, it's a holiday staple we cannot live without, and a tradition not worth stressing over.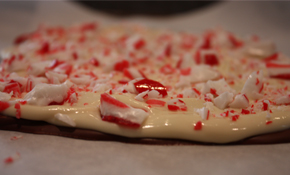 Peppermint Bark
• 2 bars high quality white chocolate or a 11-12 oz. bag of chips
• 2 bars high quality dark chocolate (honestly use any combo you want, if you like milk use it, semi-sweet, done) or a 12 oz. bag of chips
• Peppermint extract
• 1 peppermint stick (I like to use the really fat sticks rather than tiny canes—the pattern is prettier and you're not stuck unwrapping cellophane for an hour).
Line a cookie sheet with parchment paper. In a plastic baggie, crush peppermint stick with meat mallet (this part is really fun). Set aside.
In a microwavable bowl or a double burner, melt dark chocolate (if using bowl/microwave method do at 50% power). Once at a silky consistency, add a couple splashes of peppermint extract. Stir.
Spread dark chocolate mixture over parchment paper. Pop in freezer while you do the exact same thing to the white chocolate mixture (melting, adding extract). Let cool slightly. Before you pour over the bottom layer, make sure it's hard enough to take the top layer of chocolate. Working quickly as to not melt together, spread the white chocolate and top with crushed peppermint.
Put in freezer for about 1 hour (until really hard). Flip the parchment paper over and break into pieces. Can be stored in freezer, fridge, or room temperature in an airtight container for about a week.